Teach the Vote's Week in Review: April 7, 2023

Teach the Vote
School Finance Texas Legislature Congress | Federal Educator Rights TEA | Commissioner | SBOE Privatization | Vouchers Deregulation | Charter Schools School Safety Educator Compensation | Benefits
Date Posted: 4/07/2023
The ATPE Governmental Relations team recaps the past week's education news, legislative and election updates, and regulatory developments.
---
The Texas House of Representatives voted to add an anti-voucher amendment to the state budget bill, April 6, 2023.
VOUCHERS: Legislators put in a marathon day at the Capitol Thursday, casting key votes on vouchers in both chambers before heading home for the Easter holiday. The House and Senate took opposing stances on vouchers, setting up a showdown for the remaining weeks of the legislative session, including another important voucher debate early next week.

The House approved a state budget of more than $300 billion in House Bill (HB) 1 by a vote of 136 to 10 Thursday evening. Earlier in the day, House members voted 86–52 to attach an anti-voucher amendment by Rep. Abel Herrero (D–Corpus Christi) to the budget bill. Republican Reps. Ernest Bailes (R–Shepherd), Glenn Rogers (R–Graford), Stan Lambert (R–Abilene), Ken King (R–Canadian), and Charlie Geren (R–Fort Worth) signed onto the amendment as co-sponsors in a bipartisan show of opposition to vouchers.

When it came time for a vote on the Herrero amendment, 11 representatives registered as "present not voting," including multiple members of the House Public Education Committee.This is the House's first record vote on vouchers this session, and Republican lawmakers were facing enormous political pressure to vote against it. View an unofficial breakdown of the vote on the Herrero anti-voucher amendment here.
Sen. Brandon Creighton answers questions about his voucher bill during a Senate floor debate, April 6, 2023.
Within minutes of the House vote, the Senate took up its own voucher bill,
Senate Bill (SB) 8
by Sen.
Brandon Creighton
(R–Conroe), dubbed the "Parental Bill of Rights." Unlike the House, the Senate approved vouchers on an 18-13 vote, with Sen.
Robert Nichols
(R–Jacksonville) casting the lone Republican vote against the bill.
"We are grateful to those … who listened to the thousands of educators who contacted them this week to explain how allowing taxpayer dollars to be spent without accountability will hurt Texas children," ATPE Executive Director Shannon Holmes said 
in a statement issued Thursday evening.
"We know they are facing enormous political pressure to vote the other way."
Find more context on the voucher votes in
this post by ATPE Associate Executive Director Jennifer Mitchell,
as well as
this article from The Texas Tribune.
Next Tuesday, April 11, the House Public Education Committee
will consider multiple voucher bills
. ATPE is encouraging educators who are able to be away from school that day to attend the hearing, which begins at 8 a.m. but is likely to last several hours. For guidance on participating in the hearing,
contact ATPE Governmental Relations
.
---
EDUCATOR PAY: The Senate also approved SB 9 by Creighton, the so-called "Teacher Bill of Rights," on a 22-9 vote Thursday. The bill includes a one-time stipend for some teachers, with $2,000 earmarked for teachers in large and mid-sized districts and $6,000 for teachers in charter schools and smaller districts. "Providing a one-time $2,000 stipend to some classroom teachers at a time when we are experiencing historic inflation and the state has a historic budget surplus will not address the critical recruitment and retention challenges districts across the state are experiencing," ATPE Executive Director Shannon Holmes said in a statement. "Many educators, including school librarians, counselors, and nurses, wouldn't even receive the stipend. We believe a $10,000 across-the-board raise for educators is both achievable and necessary. There are also huge tradeoffs in the bill for such a disappointingly low stipend, including changes that will negatively affect educators' working conditions. The voices of Texas educators are missing in this so-called 'bill of rights.'"
---
SCHOOL DISTRICT ADVOCACY:  The full Senate took up a number of other bills Thursday beyond vouchers and "teachers' rights." Among those, the Senate passed SB 175 by Sen. Mayes Middleton (R–Galveston), dubbed a "taxpayer funded lobbying" prevention bill. SB 175 would prohibit political subdivisions of the state, including school districts, from employing lobbyists or using public funds to pay dues to an organization that lobbies the legislature. Senators added a floor amendment to the bill to carve out an exception for lobbying related to military matters. The Texas Association of School Boards (TASB) has been a target of SB 175 and was brought up during the floor debate. ATPE opposes the bill, which aims to prevent public schools from having a voice in critical legislative policy decisions. SB 175 passed the Senate by a vote of 19 to 12 and now heads to the House for consideration. Sen. Nichols was the lone Republican voting against the bill, while Sen. John Whitmire (D–Houston) was the lone Democrat voting for the bill. 
---
SCHOOL SAFETY:  On Wednesday, the Senate Education Committee heard SB 11 by Sen. Nichols, which contains funding for school safety and security and changes the truancy definition to six unexcused absences within eight weeks. ATPE provided neutral testimony on SB 11, pointing out that the bill would give the unelected education commissioner the ability to seize control of a local school district that fails to comply with certain school safety requirements. The commissioner could then exercise broad, unilateral authority in areas potentially unrelated to the initial cause of the takeover. Learn more about other bills heard and voted on by the committee in this recap from ATPE Senior Lobbyist Mark Wiggins.
---
SCHOOL FINANCE: During Tuesday's House Public Education Committee hearing, ATPE advocated that the Legislature raise the Basic Allotment and provide an across-the-board pay raise for educators before considering other programs. The committee heard testimony on two major finance bills, HB 11 by Rep. Harold Dutton (D–Houston) and HB 100 by Rep. K. King. Committee members also advanced several bills to the full House, including the ATPE-opposed HB 2890 by Rep. Charles Cunningham (R–Humble), which would make it harder for the State Board of Education (SBOE) to veto charter school expansions. ATPE Lobbyist Tricia Cave has the full details in this blog post.
ATPE's Monty Exter discusses school funding at a press conference, April 4, 2023.
Also on Tuesday, ATPE Governmental Relations Director Monty Exter spoke during a Texas State Capitol press conference organized by Rep.
Gina Hinojosa
(D–Austin) to address school finance. Numerous education stakeholders, including ATPE and other educator organizations, school superintendents, and advocacy groups, pressed the Legislature to use its historic budget surplus to increase public school funding this session.
Watch an archived video of the full April 4 press conference here
.
---
TRANSGENDER STUDENT-ATHLETES: On Thursday, the Biden administration proposed rules relating to the participation of transgender student-athletes in K-12 and college sports. The rules under Title IX, which are subject to public comment, would allow states to impose limited restrictions on transgender students' participation in competitive environments but prohibit overall bans, such as the Texas ban signed into law by Gov. Greg Abbott (R) in 2021. The Texas Tribune shared more in this article from The Washington Post.
---
06/02/2023
The HB 100 voucher scheme dies at the end of regular session, plus a special session and the TEA takeover of Houston ISD begin.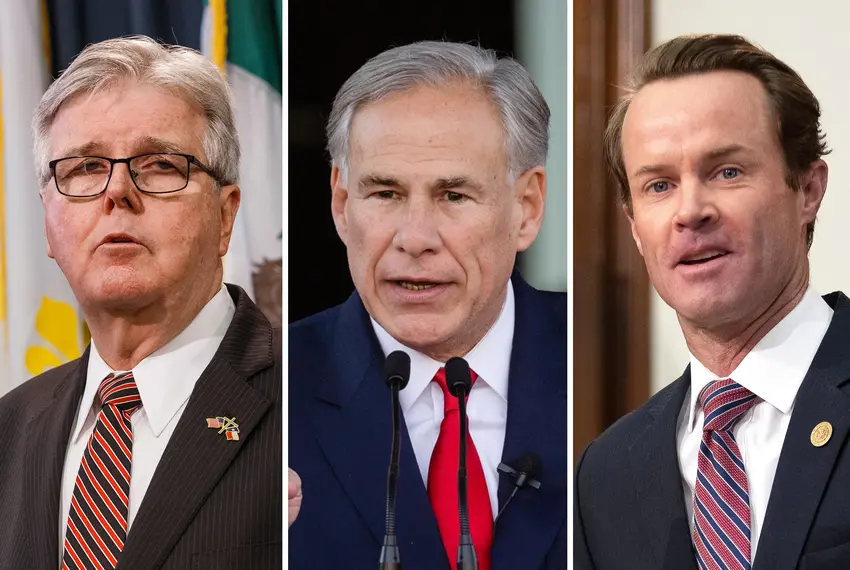 06/01/2023
Always happy to castigate the Texas House, Patrick breaks form to criticize the governor as misinformed and unsympathetic toward homeowners.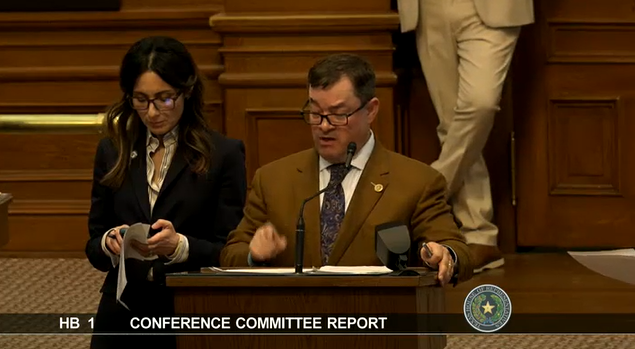 School Finance, Retirement | TRS | Social Security, Texas Legislature, Privatization | Vouchers, Educator Compensation | Benefits
05/30/2023
HB 100 was a casualty of a breakdown in communications between the House and Senate as the regular session drew to a close.