What will a Biden presidency mean for education?

Teach the Vote
Congress | Federal Elections
Date Posted: 11/24/2020 | Author: Andrea Chevalier
On November 7, the Associated Press and numerous other news outlets called the 2020 Presidential Election for former Vice President Joe Biden. Since then, much speculation has surfaced on what a Biden presidency will mean for education, especially in light of a Congress that will likely be divided. Let's take a look at what a Biden presidency may mean for education.
Highlights:
---
Biden's education platform: Early childhood, teachers, equity, and CTE
The cornerstone of President-Elect Biden's education platform during the 2020 election was a promise to triple Title I funding and require the increase to first be used for pre-K, teacher pay, and ensuring a robust curriculum across campuses in a district. Related to funding, Biden's policy advisor Stef Feldman told the Education Writers Association (EWA) in a recent interview that Biden would ban for-profit charter schools from receiving federal dollars. "No one should be getting rich by taking advantage of our kids," Feldman stated during the campaign.
Biden ran on a platform that included providing teachers with competitive wages and benefits, investing in teacher mentoring, leadership, and continuing education, and helping educators pay off their student loans. Additionally, Biden proposed doubling the number of psychologists, counselors, nurses, social workers, and other health professionals in schools, which is aimed at addressing student mental health while freeing up teachers to focus their time on teaching.
President-Elect Biden's focus on equity included supporting grow-your-own educator preparation programs and working with historically black colleges and universities (HBCU) and minority-serving institutions to diversify the teacher pipeline. Biden also proposed supporting schools with wraparound services and efforts to desegregate and diversify schools. The president-elect promised to fully fund the Individuals with Disabilities Education Act (IDEA) over the next 10 years, citing that current funding levels only cover 14% of the extra costs for providing special education services rather than the law's original intent of subsidizing 40%.
The Biden education platform heavily emphasized the concept of "investing in all children from birth," which included providing high-quality universal pre-K for 3- and 4-year-olds and placing early childhood development experts in community health centers. Biden also proposed expanding home visiting so families can receive coaching from specialists on preventative health and prenatal practices.
Biden's plan also covered career and technical education, namely making sure middle and high school students have access to meaningful vocational training by investing in this area. For a detailed overview of the Biden plan, see a breakdown of Feldman's interview with EWA.
In terms of higher education, the Biden plan touts relieving student debt, making college affordable, eliminating controversial Title IX policies, reversing course on the previous administration's treatment of DREAMERs, and renewing regulations on for-profit colleges. Biden has proposed making community college free and providing additional funding and incentives to help vulnerable students graduate. Additionally, Biden wants to double funding for Pell Grants.
Most items on the president-elect's wish list will require the approval of Congress. These proposals will face an uncertain partisan makeup in the U.S. Senate, where two seats in Georgia remain undecided pending a runoff election in January.
---
Addressing education during a pandemic and school reopening
Over the summer, Biden rolled out a plan to reopen schools that focuses on getting the virus under control and providing enough funding and resources for schools to reopen safely. Biden supported the HEROES Act passed by the U.S. House of Representatives earlier this year, which the Senate has not acted upon; and he said he would work with Congress to provide funding for ventilation, custodial and health services, and reducing class sizes.
Biden's plan tasks the Centers for Disease Control (CDC) with developing metrics such as the level of community spread and risk to guide schools through reopening. His plan aims to work against politics-driven reopening plans that have been based on ultimatums, such as withholding funding until schools return to in-person instruction.
President-Elect Biden wants to ensure high-quality learning during the pandemic by initiating a U.S. Department of Education effort to share best practices. He plans to create a White House initiative to work towards combating equity gaps exacerbated by the pandemic and launch a grant program to help fund efforts in this area.
When asked whether Biden would waive federal testing requirements due to the pandemic, Feldman didn't promise anything. She said the answer "depends on how much progress we can make in supporting our schools and getting them back up and running."
---
An educator as U.S. Secretary of Education
This week we saw the first names released as Biden's cabinet picks. An announcement could be made soon regarding the important post of U.S. Secretary of Education. In her EWA interview back during the campaign, Feldman confirmed that Biden would nominate a public school educator to be his Education Secretary, but she did not clarify whether this meant a K-12 educator or one from higher education. The U.S. Senate must confirm the president's cabinet nominees, and with two Georgia Senate races not set to be decided until January, it is too soon to know the partisan makeup of the upper chamber and how that might have an impact. According to this Education Week article, some potential picks could include national labor union leaders (who would have a tough, if not unsuccessful confirmation process in a Republican-led Senate), high-profile school district leaders, state education chiefs, or even U.S. Rep. Jahana Hayes (D-Conn.), who was the 2016 National Teacher of the Year.
Those in the higher education community argue that a community college-level expert would fit the bill and potentially alleviate problems with Senate confirmation. Dr. Jill Biden is a community college expert herself, having completed a dissertation in the subject and being a longtime community college professor. Other potential picks could be HBCU leaders, especially since Biden's running mate, Sen. Kamala Harris (D-Calif.), is an HBCU graduate.
One thing we do know is that President-Elect Biden's education transition team is being led by former public school teacher Dr. Linda Darling-Hammond, a legend in the education policy and research world and a leader for equity in education. She is a professor at Stanford University, president of the Learning Policy Institute, and president of the California State Board of Education. Darling-Hammond also led President Obama's education transition team in 2008.
---
Dr. Jill Biden: A veteran educator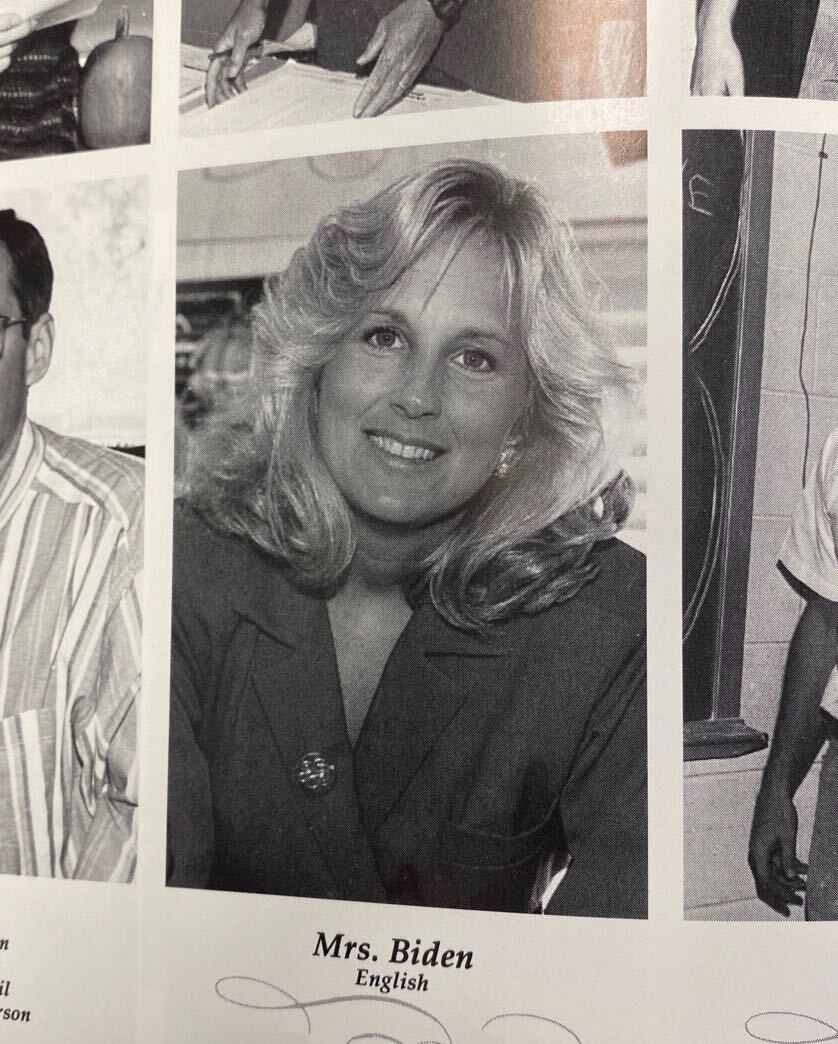 Dr. Jill Biden (credit)
In his acceptance speech November 8, President-Elect Biden said, "Jill's a mom — a military mom — and an educator. She has dedicated her life to education, but teaching isn't just what she does — it's who she is. For America's educators, this is a great day: You're going to have one of your own in the White House, and Jill is going to make a great First Lady." Biden's reverence for his wife may mean she will have a meaningful influence on education policy during his tenure.
Dr. Biden has been an educator for over three decades. While earning her two master's degrees, she taught English to adolescents with emotional disabilities at a psychiatric hospital. She also taught at the high school and community college levels. Biden has a doctorate in education from the University of Delaware. Her dissertation focused on maximizing student retention in community colleges and her work as former Second Lady focused heavily on community colleges. This background may influence the president to pick a higher education educator for U.S. Secretary of Education.
Also of note, Dr. Biden has announced her intent to continue teaching while serving as First Lady. She reportedly will have the distinction of being the first woman to maintain outside employment while holding that role. Dr. Biden teaches courses at a community college in nearby Virginia.
School Finance, Retirement | TRS | Social Security, Texas Legislature, Congress | Federal, Elections, Curriculum | Instruction, TEA | Commissioner | SBOE, Privatization | Vouchers, Deregulation | Charter Schools
11/11/2022
Today's post from the ATPE lobby team features election results, loan forgiveness news, TRS resources, voucher updates, thanks to our veterans, kudos, and more.
Educator Preparation | Certification, Texas Legislature, Educator Rights, Curriculum | Instruction, TEA | Commissioner | SBOE, Deregulation | Charter Schools, School Safety
03/29/2023
The committee met Tuesday, March 28, 2023, and ATPE testified on several bills. Votes on pending bills were also taken.
School Finance, Texas Legislature, School Safety
03/28/2023
The House Select Committee on Youth Health and Safety heard several bills Monday, March 27, 2023, intended to address school shootings.