Texas signals it may send federal K-12 dollars to private schools

Teach the Vote
School Finance COVID-19 Privatization | Vouchers
Date Posted: 5/20/2020
This post has been updated from its original version to reflect new guidance issued by the Texas Education Agency on May 21, 2020. See details at the bottom.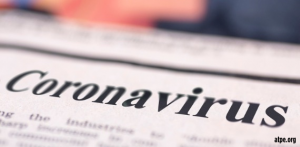 Federal stimulus funding appropriated by Congress to help states and school districts deal with the effects of the coronavirus pandemic could find its way into the coffers of private schools and virtual education vendors. Even though public schools sorely need the federal emergency funding for their own students, U.S. Secretary of Education Betsy DeVos is calling for districts to set aside an unprecedented amount of their CARES Act funds for use by private schools. While other states have pushed back against that guidance, Texas officials seem more inclined to go along with DeVos's plan.
The Coronavirus Aid, Relief, and Economic Security (CARES) Act allocated $13.5 billion for the K-12 Elementary and Secondary School Emergency Relief (ESSER) fund and another $3 billion for the Governor's Emergency Education Relief (GEER) fund for K-12 and higher education needs. While both streams of funding are based to some degree on the number of low-income students, 90% of CARES Act funding aimed at K-12 schools will be distributed using Title 1 formulas. Second only to California, Texas is set to receive $1.29 billion in CARES Act ESSER funds and $307 million in GEER funds.
At the end of April, DeVos issued guidance from the U.S. Department of Education (ED) directing school districts to use their federal emergency funding under the CARES Act to provide "equitable services" to all students attending private schools in their districts, which is a dramatic expansion of the population qualified to receive such services. As districts look to use these funds, questions remain as to whether Texas officials will press districts to adhere to ED's questionable guidance.
"Equitable services" is a term that has existed in the Elementary and Secondary Education Act (ESEA) since its passage in 1965. It refers to a school district's duty to a specific population of students — those who live in the attendance zone of a Title I school, are low achieving on the basis of multiple, educationally related, objective criteria, and attend a non-profit private school. After a consultation process and an equitable services agreement with a private school, districts must provide equitable services to eligible students. Services include such things as counseling, professional development for the students' teachers, or other instructional services that would improve their academic outcomes. DeVos, a long-time supporter of private school vouchers, wants to expand the population of eligible students from those described above to cover all private school students, including those from wealthy areas or not at risk of poor educational outcomes.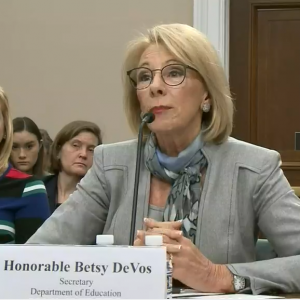 U.S. Secretary of Education Betsy DeVos
Under federal law, the proportion of funds districts set aside to pay for equitable services agreements is determined based on the number of eligible students living in the attendance zone of the public school district as a percent of total Title I eligible students. DeVos and her ED colleagues, however, have interpreted the CARES Act in such a way as to divorce it from the ESEA's standard eligibility criteria for equitable services. The interpretation effectively requires public school districts to offer equitable services to all non-profit private school students living in the district. This includes private schools that have never participated in an equitable services agreement in the past. To illustrate the change, the ED guidance includes a simple proportional example in which 10% of the children in a school district's attendance zone are enrolled in private schools, which would be eligible now to receive 10% of that school district's ESSER and GEER funds.
The secretary's privatization efforts are no surprise to the education community, which has witnessed numerous privatization and anti-public school proposals being pushed from the start of DeVos's tenure, from partnering with Sen. Ted Cruz to promote his federal voucher legislation to her most recent call for microgrant vouchers using federal emergency funds. Unable to garner congressional approval for the Trump administration's voucher ideas, DeVos appears to be circumventing the legislative process by exploiting perceived ambiguities in emergency legislation that was intended to help public schools address the coronavirus crisis.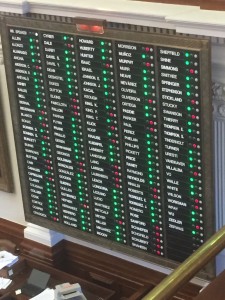 An electronic board in the Texas House chamber showed legislators' votes for a budget amendment prohibiting vouchers in 2017.
The decision on how to use federal emergency funds meant for public schools is now mostly up to governors, state education agencies, and local school districts. As we have been reporting here on Teach the Vote, ED's parameters for implementation of the CARES Act give governors significant discretion over how their state will spend the stimulus money. There are fears that Gov. Greg Abbott will allow the state's set-aside of federal emergency funds to be used for private school voucher or virtual voucher programs here in Texas. Such an executive action would fly in the face of numerous polls that have shown little appetite among Texas voters for private school vouchers, not to mention repeated decisions by Texas legislators to reject voucher bills.
We expect to hear soon, perhaps this week, more detail on how state officials intend to use Texas's CARES Act funds. The Texas Tribune reported in an article published today that Texas will adhere to DeVos's plan for making at least a portion of the stimulus money available for all private school students, according to the Texas Education Agency. Unlike the other states that have rejected DeVos's guidance, it appears that Texas state officials are poised to direct school districts to adhere to the ED recommendation, or possibly even take state-level action to funnel CARES Act funds to private schools prior to sending the remaining money to public school districts.
Stay tuned to our blog and @TeachtheVote on Twitter for the latest as developments occur.
---
UPDATE as of May 21, 2020: The Texas Education Agency published new guidance on CARES Act funding for school districts on May 21, 2020. Confirming the state's decision to abide by the direction from Secretary of Education Betsy DeVos to expand eligibility for equitable services, the agency explains in its FAQ document that school districts must use their stimulus funding to offer equitable services to all private nonprofit schools within the attendance zone. TEA adds that the district must provide the services, as chosen by the private school, to any of the private schools who opt to participate. Under this guidance, school districts would not be forced to send the stimulus money directly to the private school for its own discretionary use, but the districts would have to pay for services requested by the private school.

Texas Legislature, Congress | Federal, COVID-19, Curriculum | Instruction, TEA | Commissioner | SBOE, School Safety, Educator Compensation | Benefits, Testing | Accountability
08/26/2022
The ATPE Governmental Relations team recaps the past week's education news, legislative and election updates, and regulatory developments.
06/02/2023
The HB 100 voucher scheme dies at the end of regular session, plus a special session and the TEA takeover of Houston ISD begin.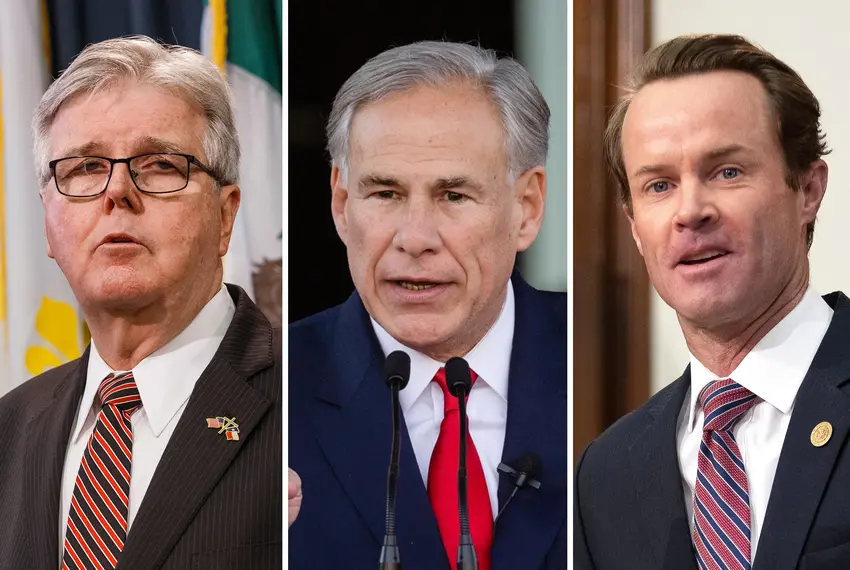 06/01/2023
Always happy to castigate the Texas House, Patrick breaks form to criticize the governor as misinformed and unsympathetic toward homeowners.