Texas primary election results for 2020

Teach the Vote
Elections
Date Posted: 3/03/2020
Texas held its Republican and Democratic primary elections yesterday, March 3, 2020. The "Super Tuesday" primaries brought out a record number of voters in parts of the state, with some voters reportedly waiting in line until after midnight to cast their votes.
Texas early voting turnout from Feb. 18-28 was slightly higher at 12.87% than early voting in the 2016 presidential primary. However, during these four years, Texas added 2 million voters to its rolls. The total turnout percentage during early voting and election day looks to be slightly lower than in 2016, with over 4 million Texans casting votes.
Some precincts in Texas have still not reported final numbers, and there have been discrepancies noted between the vote counts reported on the Secretary of State's website and various county voter registrar's totals, particularly for larger metro areas. As a result, some race results are still unknown, and some races are so close that a recount is nearly certain.
Federal races
The presidential race at the top of the ballot drew a number of voters, particularly on the Democratic side where multiple candidates have been vying to become the party's nominee. Here in Texas, former Vice President Joe Biden earned the most votes, followed by Sen. Bernie Sanders. Texas awards its delegates proportionally, so both candidates will benefit. On the Republican side, more than 94% of the votes predictably went to President Donald Trump. A crowded field of Democratic candidates seeking a place on the November ballot opposite Sen. John Cornyn (R), as well as some hotly contested congressional races also captured voters' attention.
State Board of Education (SBOE)
In contested races for the State Board of Education (SBOE), results in the race for one open seat in central Texas raised eyebrows. In District 5, candidate Rebecca Bell-Metereau won the Democratic nomination, while the Republican primary resulted in a runoff between second-place finisher Lani Popp and controversial figure Robert Morrow, who earned the most votes despite barely mounting a campaign for the seat.
In District 6, another open seat, Democratic candidates Michelle Palmer and Kimberly McCleod are advancing to a runoff. Marsha Burnett-Webster earned the Democratic nomination for District 10, and in District 15, incumbent and former ATPE State President Sue Melton-Malone easily won the Republican primary.
"Winner take all" primaries
As we reported in our "Primary Colors" blog series last month, there were several Texas House races in which all candidates who filed to run for the seat were affiliated with the same political party, meaning there would be no remaining contest for the seat in November. Here are the unofficial results in those "winner take all" primaries:
House District (HD) 9 Republican primary: Rep. Chris Paddie with 77.8% of the vote easily defeated Mark Williams.
HD 30 Republican primary: Rep. Geanie Morrison earned 78.7% of the vote to defeat her challenger, Vanessa Hicks-Callaway.
HD 36 Democratic primary: Rep. Sergio Munoz garnered 68.2% of the vote, surviving another challenge by Abraham Padron.
HD 37 Democratic primary Rep. Alex Dominguez appears to have narrowly survived a challenge, earning 51.4% of the vote, just 340 votes more than his challenger, Amber Medina.
HD 59 Republican primary: Rep. J.D. Sheffield was the second-place finisher in this three-person race that now heads to a runoff. Chellenger Shelby Slawson earned the most votes at 45.6%, followed by Sheffield's 30.4%. Candidate Cody Johnson garnered 24.1% of the vote. The winner of the runoff will become the presumptive winner of the seat with no other candidates vying for it in November.
HD 72 Republican primary: With 87% of the vote, Rep. Drew Darby easily defeated challenger Lynette Lucas.
HD 76 Democratic primary: Claudia Ordaz Perez is the presumptive winner of this open seat. She earned 56.4% of the vote, compared to the 43.6% of votes that went to Elisa Tamayo.
HD 80 Democratic primary: Rep. Tracy King is headed for another term in the Legislature after earning 68.4% of the vote to beat repeat challenger Danny Valdez.
HD 100 Democratic primary: Rep. Lorraine Birabil, who only became the incumbent in this district last month after winning a special election runoff, is facing yet another runoff. Birabil earned 29.2% of the vote in this crowded primary against five challengers. Second-place finisher Jasmine Crockett also made the runoff with 25.9% of the vote.
HD 131 Democratic primary: Also cruising to another term in the House is Rep. Alma Allen, who earned 78.9% of the vote against her two challengers, Carey Lashley and Elvonte Patton, who won 10.6% and 10.5% of the vote, respectively.
HD 141 Democratic primary: Rep. Senfronia Thompson unsurprisingly beat her challenger, Willie Roaches Franklyn, with 81% of the vote.
HD 147 Democratic primary: Finally, with 61.1% of the vote, Rep. Garnet Coleman survived a challenge by two candidates, Aurelia Wagner and Colin Ross, and will land another term in office.
Hot races
We also reported last week on our blog about a half dozen state legislative races deemed to be the "hottest" and most competitive in Texas, per the Texas Tribune. Here's a look at how those hot Texas legislative races shook out last night:
In the Democratic primary for Senate District (SD) 27, Sen. Eddie Lucio Jr. faced off against two challengers: current SBOE member Ruben Cortez and attorney Sara Stapleton Barrera. Sen. Lucio almost won the primary outright, but with 49.8% of the vote, he'll head to a runoff against Barrera, who earned 35.6% of the vote.
In the Republican primary for HD 2, Rep Dan Flynn (R-Van) is facing a runoff with repeat challenger Bryan Slaton. Flynn earned 44.5% of the votes, compared to Slaton's 35.2%. Dwayne 'Doc' Collins was the third candidate in the race.
In the HD 59 Republican primary, Rep. J.D. Sheffield (R-Gatesville) faced two challengers: Cody Johnson and Shelby Slawson. As we mentioned above, this race is headed to a runoff between Slawson and Sheffield. Since no other candidates filed to run for this seat, the winner of the runoff in May will become the winner of the seat.
The open seat being vacated by Rep. Jonathan Stickland (R-Bedford) in HD 92 drew a number of candidates. In the Republican primary, the candidates were Jeff Cason, Taylor Gillig, and Jim Griffin. Cason won the Republican nomination outright with 54.1% of the vote, compared to Griffin's 36.6% and Gillig's 9.3%. In the Democratic primary, was a contest between and Jeff Whitfield was the winner with 56.2% of the vote, defeating Steve Riddell.
In HD 132, Rep. Gina Calanni (D-Houston) will face a rematch in November against former representative Mike Schofield, after he earned 53% of the vote to defeat Angelica Garcia for the Republican party's nomination.
Finally, in the Democratic primary in HD 148, Rep. Anna Eastman (D-Houston), who just won a special election for this seat in January, faced four different primary opponents: Adrian Garcia, Cynthia Reyes-Revilla, Emily Wolf, and Penny Morales Shaw. Eastman earned 41.8% of the vote and is headed to runoff with Shaw, who earned 22.2%.
Runoffs
Below are the races in which no candidate earned a majority of the votes last night, leading the top two candidate to a runoff that will take place on May 26, 2020:
Texas Senate races headed to a runoff.
SD 19 Democratic primary: Xochil Peña Rodriguez vs. Rep. Roland Gutierrez
SD 27 Democratic primary: Sen. Eddie Lucio, Jr. vs. Sara Stapleton Barrera
Texas House races headed to a runoff.
HD 2 Republican primary: Rep. Dan Flynn vs. Bryan Slaton
HD 25 Republican primary: Ro'Vin Garrett vs. Cody Vasut
HD 26 Democratic primary: Suleman Lalani vs. Sarah DeMerchant
HD 26 Republican primary: Matt Morgan vs. Jacey Jetton
HD 45 Republican primary: Carrie Isaac vs. Kent "Bud" Wymore
HD 47 Republican primary: Jennifer Fleck vs. Don Zimmerman* *Zimmerman beat a third candidate, Justin Berry, by only a single vote, which means this race most likely will be subject to a recount.
HD 59 Republican primary: Shelby Slawson vs. Rep. J.D. Sheffield
HD 60 Republican primary: Jon Francis vs. Glenn Rogers
HD 67 Democratic primary: Tom Adair vs. Lorenzo Sanchez
HD 100 Democratic primary: Rep. Lorraine Birabil vs. Jasmine Crockett
HD 119 Democratic primary: Elizabeth "Liz" Campos vs. Jennifer Ramos
HD 138 Democratic primary: Akilah Bacy vs. Jenifer Rene Pool
HD 142 Democratic primary: Rep. Harold Dutton* vs. Jerry Davis. *The Secretary of State reported that Dutton won the primary outright, avoiding a runoff by only a single vote, but the numbers reported by the counties in this district were different. Further counts may be needed to verify the outcome of this one.
HD 148 Democratic primary: Rep. Anna Eastman vs. Penny Morales Shaw
Ballot propositions
The primary elections are also an opportunity for the state political parties to poll their voters on major issues in order to help shape the party's platform. Both the Republican and Democratic party primaries included a set of these non-binding ballot propositions asking voters for their opinions. In the Democratic primary, voters overwhelmingly supported all 11 of the position statements set forth by the state party, covering topics ranging from healthcare to immigration. Republican primary voters similarly favored all 10 of the state GOP's position statements on the ballot, which addressed such issues as school prayer and "taxpayer-funded lobbying."
View complete election results from last night's primaries on the Secretary of State's website here, keeping in mind that the results remain unofficial and are still being verified and updated. ATPE thanks all those who voted in the primary election.
Texas Legislature, Elections, Curriculum | Instruction, Privatization | Vouchers, School Safety
05/05/2023
Don't forget to vote Saturday in the May 6 local election. Plus, the House will be tackling its first Saturday calendar, which means sine die is nigh.
06/02/2023
The HB 100 voucher scheme dies at the end of regular session, plus a special session and the TEA takeover of Houston ISD begin.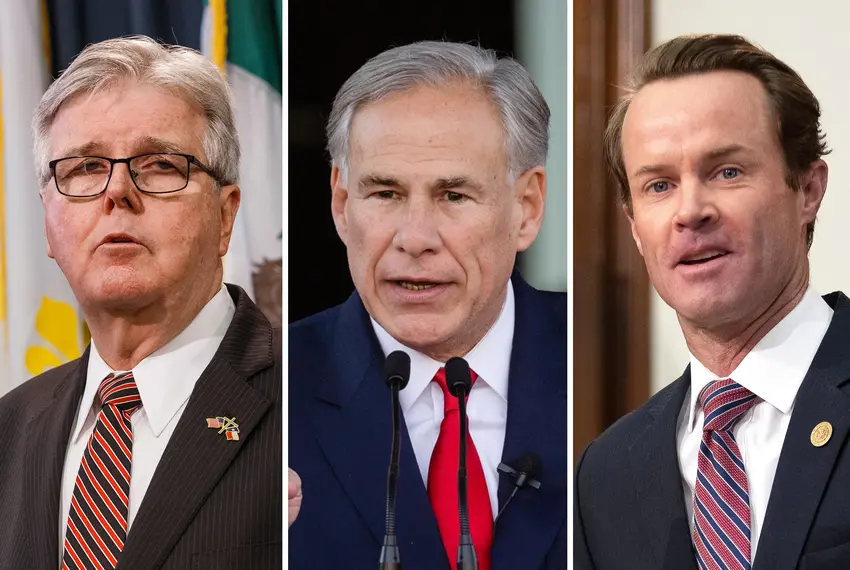 06/01/2023
Always happy to castigate the Texas House, Patrick breaks form to criticize the governor as misinformed and unsympathetic toward homeowners.