Texas election roundup: Week 1 of early voting

Teach the Vote
Elections
Date Posted: 2/20/2020 | Author: Mark Wiggins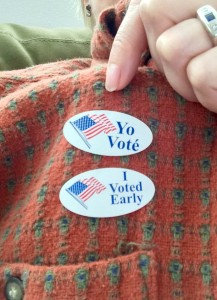 We're more than halfway through the first week of early voting in the Texas primary elections, and preliminary information is trickling in that gives us an idea of who is showing up to the polls in these first few days.
According to TXElects.com, Bexar, Travis, Collin, and Montgomery Counties saw record turnout on the first day of early voting in the Democratic primary, while Harris, Denton, Fort Bend, Hidalgo and Galveston Counties saw record turnout in both parties' primaries.
A new report by election data researcher Derek Ryan found 85% of people who have voted so far in the Republican primary were voters who vote regularly in Republican primaries, while 9% had voted in a general election but had not voted in a primary election since at least 2012. In the Democratic primary, 70% were the usual Democratic primary voters, while 18% were general election voters casting a primary ballot for the first time since at least 2012. About 2% of 2020 Republican primary voters and 4% of Democratic primary voters were voting for the first time in either a primary or general election.
The same report shows that the voting history of people who have shown up to the polls so far in the 2020 Democratic primary tracks pretty closely to those who showed up in the 2018 and 2016 primary elections. While Republican primary voters in 2020 look pretty much like Republican primary voters in 2018, Republican primary voters in 2016 included a much higher proportion of general election voters participating in their first primary since at least 2012 and crossover primary voters who most recently voted in the Republican primary.
A new University of Texas/Texas Tribune Poll out this week shows Bernie Sanders leading among Texas Democratic primary voters in the presidential race. Support for Sanders has grown to 24%, followed by Joe Biden at 22%, Elizabeth Warren at 15% and Michael Bloomberg at 10%. Among Republicans, 80 percent said they would "definitely" vote to reelect President Donald Trump, and 10% said they "probably" would. The numbers are flipped among Democrats, with 88 percent saying they would "definitely not" and 4% saying they would "probably not" vote to re-elect Trump in November. When it comes to "independents," 38% said they would "definitely" or "probably" vote to reelect, while 62% said they would "definitely not" or "probably not" vote for Trump.
Finally, state Sen. Kirk Watson (D-Austin) announced this week he is retiring from the Texas Legislature and will become the first dean of the University of Houston's new Hobby School of Public Affairs. This will trigger a special election to fill Watson's Senate seat, most likely to be held on either the May 2 or November 3 uniform election dates. The Austin area has no shortage of potential contenders to succeed Watson, including a half dozen state representatives with deep ties to the community and extensive political networks.
As always, it's critical that you head out to the polls this week and vote in the primary elections, as we wrote about in ATPE's recent "Primary Colors" blog series for Teach the Vote. Because of the way Texas voting districts are gerrymandered, the primary elections are often what determines who will be elected to that seat. The earlier you vote during primary season, the less likely you are to run into the long lines we see as we get closer to election day. School funding, educator compensation, and your political voice are just a few of the issues that are at stake in the elections being held right now. So head out there and vote!
School Finance, Retirement | TRS | Social Security, Texas Legislature, Congress | Federal, Elections, Curriculum | Instruction, TEA | Commissioner | SBOE, Privatization | Vouchers, Deregulation | Charter Schools
11/11/2022
Today's post from the ATPE lobby team features election results, loan forgiveness news, TRS resources, voucher updates, thanks to our veterans, kudos, and more.
02/07/2023
Northside (20) ISD Superintendent Brian Woods, president of the Texas School Alliance, and Cypress-Fairbanks ISD Superintendent Mark Henry have a powerful op-ed in the Feb. 6 San Antonio Express-News.
School Finance, Texas Legislature, Curriculum | Instruction, TEA | Commissioner | SBOE, Privatization | Vouchers
02/03/2023
The SBOE squeezed a four-day meeting into two, and most legislative activity was canceled this week due to a winter storm. Read more from ATPE Governmental Relations.