Texas election roundup: Runoff endorsements and late surprises

Teach the Vote
Elections
Date Posted: 3/12/2020 | Author: Mark Wiggins
As the rest of Texas turns its focus to the primary election runoffs, it turns out there is still a surprise or two left over from last Tuesday's primary elections. In House District (HD) 47, Justin Berry now appears to lead Don Zimmerman by a single vote for the second spot in the Republican party runoff. Until Wednesday, it appeared Zimmerman held the one-vote lead over Berry. Votes will be canvassed today and a recount seems likely. The winner will face top primary finisher Jennifer Fleck in the Republican runoff in May.
The runoffs have already brought a fresh round of endorsements. In the Senate District (SD) 27 Democratic party runoff, former Texas Parent PAC endorsed candidate Ruben Cortez endorsed Sara Stapleton Barrera on Friday. Stapleton Barrera is challenging longtime Sen. Eddie Lucio, Jr. in the runoff. Emily's List endorsed former congressional candidate M.J. Hegar in the Democratic runoff for U.S. Senate against state Sen. Royce West (D-Dallas). The winner will face Republican U.S. Sen. John Cornyn in November. There was also one highly unusual anti-endorsement in the Republican runoff for State Board of Education (SBOE) District 5. All 10 Republican sitting members of the SBOE endorsed Lani Popp over former Travis County GOP Chair Robert Morrow. Morrow won 40% of the vote in the primary, but is an extremely controversial figure who has been the source of no small amount of angst for Republicans.
In the Texas Senate, state Rep. Eddie Rodriguez (D-Austin) and Travis County Judge Sarah Eckhardt have each announced they are running for the seat being vacated by state Sen. Kirk Watson (D-Austin) in SD 14. Lt. Gov. Dan Patrick has appointed Sen. Judith Zaffirini (D-Laredo) to the Senate Education Committee to replace Watson, whose resignation will be effective April 30, 2020. Gov. Greg Abbott has not yet set a date for the special election to fill the SD 14 seat.
Some interesting statistics have emerged from last week. The Fort Worth Star-Telegram reports that Democrats outvoted Republicans in typically conservative Collin and Denton Counties. Across four Dallas-Fort Worth metropolitan counties, 22% more Democrats than Republicans voted in this year's primary elections. While Democratic turnout was up, Republican turnout was down 43% from 2016. According to Jeff Blaylock of TXElects.com, this year marked the third time in Texas history that 4 million Texans voted in a primary election. The other two times that happened were in the 2008 and 2016 presidential election years. Turnout in last week's primaries was about 25%, which is the third highest since 1992. Turnout in Texas was historically higher before then, with a spike above 35% back in 1978. Thanks, Jeff, for crunching those numbers.
The runoffs offer educators a chance to cast the most influential vote of the year. You can read more about why that is, as well as see who's running, in this post about runoffs here on Teach the Vote. You can also sign up for important election reminders by visiting our coalition website for Texas Educators Vote.
School Finance, Retirement | TRS | Social Security, Texas Legislature, Congress | Federal, Elections, Curriculum | Instruction, TEA | Commissioner | SBOE, Privatization | Vouchers, Deregulation | Charter Schools
11/11/2022
Today's post from the ATPE lobby team features election results, loan forgiveness news, TRS resources, voucher updates, thanks to our veterans, kudos, and more.
Retirement | TRS | Social Security, Congress | Federal
12/02/2022
ATPE and retiree groups are urging Congressional leaders to complete negotiations by the end of 2022 on a deal to fix the Windfall Elimination Provision.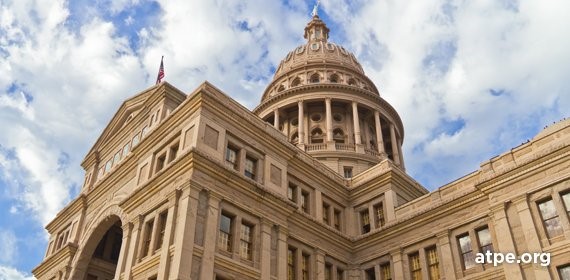 School Finance, Educator Preparation | Certification, Texas Legislature, Curriculum | Instruction, Privatization | Vouchers
12/01/2022
The Texas Commission on Virtual Education met Wednesday to discuss a draft of the commission's findings and recommendations for the 2023 legislative session.