Texas election roundup: HEB owner advocates for voter safety

Teach the Vote
Texas Legislature Elections
Date Posted: 9/03/2020 | Author: Mark Wiggins
Charles Butt, the owner of beloved Texas grocery chain H-E-B, wrote a letter to the Texas Supreme Court this week arguing in support of the ability of Texans to vote by mail during the COVID-19 pandemic. The letter comes in response to a fight between Harris County and Texas Attorney General Ken Paxton over voting by mail, which unfortunately has become a partisan issue.
"We've worked hard to give customers the opportunities to buy their food in the safest way. In light of this, I also support efforts to allow voting by mail, which is the safest means for people to exercise this vital right during this time," wrote Mr. Butt. "It's always been my impression that the more people who vote, the stronger our democracy will be."
Oh wow: In a letter to the Texas Supreme Court, the head of @HEB Charles Butt appears to side with Harris County Clerk @CGHollins that everyone should be able to request a mail ballot during the pandemic #txlege pic.twitter.com/gEzck0EAcn

— Scott Braddock (@scottbraddock) September 3, 2020
Houston has become the focal point in the battle over voting by mail. In the latest turn, the Texas Supreme Court has ordered Harris County not to send all voters applications for mail-in ballots. Paxton filed the original lawsuit in response to a decision by the Harris County clerk to send applications to all voters in the county with the aim of ensuring safer voting during the pandemic. The clerk now plans to send applications to all voters over the age of 65, which is just one of the categories of persons eligible to vote by mail.
It's important to note that applications are not the same as ballots. A voter must meet the requirements for voting by mail and return a completed application for a mail-in ballot to their county election official in order to receive a ballot in the mail. Once the voter receives their actual ballot, they can fill it out and mail it back to the county election department to cast their vote.
The field of candidates is now set for the special election scheduled for September 29 in Senate District (SD) 30 in North Texas. The special election comes after state Sen. Pat Fallon (R-Prosper) announced plans to resign the seat in anticipation of his likely election to the U.S. Congress. SD 30 voted to reelect U.S. Sen. Ted Cruz (R-TX) by a margin of more than 44%, making it virtually certain the Senate seat will remain in Republican hands.
Friday marked the deadline to file for the open seat, and several contenders have thrown their hats into the ring. The Republican candidates include state Rep. Drew Springer (R-Muenster), Denton Mayor Chris Watts, beauty salon owner Shelley Luther, bootmaker Craig Carter, and consultant Andy Hopper. Union activist and electrician Jacob Minter is the lone Democrat to file. Early voting runs Sept. 14 through 25.
The latest Texas poll shows President Donald Trump (R) and former Vice President Joe Biden (D) remain in a statistical tie. A Morning Consult survey conducted after the two party conventions shows Trump leading Biden 48% to 47% in Texas, which is within the poll's margin of error. The 1% margin is unchanged from before the conventions, in which Trump led Biden by 47% to 46%.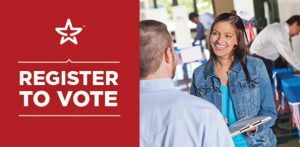 October 4 is the last day to register to vote for the Nov. 3 presidential election. You can check your registration status here and get started on your registration if you are eligible and not already registered.  
School Finance, Retirement | TRS | Social Security, Texas Legislature, Congress | Federal, Elections, Curriculum | Instruction, TEA | Commissioner | SBOE, Privatization | Vouchers, Deregulation | Charter Schools
11/11/2022
Today's post from the ATPE lobby team features election results, loan forgiveness news, TRS resources, voucher updates, thanks to our veterans, kudos, and more.
Educator Preparation | Certification, Texas Legislature, Educator Rights, Curriculum | Instruction, TEA | Commissioner | SBOE, Deregulation | Charter Schools, School Safety
03/29/2023
The committee met Tuesday, March 28, 2023, and ATPE testified on several bills. Votes on pending bills were also taken.
School Finance, Texas Legislature, School Safety
03/28/2023
The House Select Committee on Youth Health and Safety heard several bills Monday, March 27, 2023, intended to address school shootings.