Texas election roundup: 50 years since lowering the voting age to 18

Teach the Vote
Texas Legislature Elections
Date Posted: 7/01/2021 | Author: Mark Wiggins
This week marks 50 years since the ratification of the 26th Amendment to the U.S. Constitution, which states that the right of U.S. citizens who are 18 years of age or older to vote shall not be denied on account of age.

There had been growing support across the U.S. through the middle of the 20th Century to lower the voting age from 21 to 18, motivated in part by the Vietnam War. Many supporters argued that if 18-year-old citizens were old enough to be drafted into military service, they should be allowed to vote as well.

Early proponents included First Lady Eleanor Roosevelt and President Lyndon Johnson. Congress proposed the amendment, and it was ratified by three-fourths of the states on July 1, 1971.

Polling News and Special Session Plans 

A new poll by the University of Texas/Texas Tribune shows Texans are split over the job Gov. Greg Abbott (R-Texas) is doing as governor. According to the poll conducted in June, 44% of Texans approve of Abbott's performance and 44% disapprove. All other Texas officials in the poll received negative ratings, including Lt. Gov. Dan Patrick, House Speaker Dade Phelan, and Attorney General Ken Paxton. 


A separate poll by Quinnipiac University shows 46 percent of Texans believe Abbott should be reelected as governor, compared to 48 percent who believe he does not deserve reelection. Yet 82 percent of Republicans believe Abbott deserves reelection, which suggests primary challenges by former state Sen. Don Huffines and former Florida Congressman Allen West, who briefly chaired the Texas GOP after moving to Texas, both face uphill battles.  

The same poll shows that a plurality of Texans oppose the unsuccessful election bill that triggered Gov. Abbott's call for a special session set to begin next week. According to the poll, 41 percent said they disapprove of the bill, and 35 percent said they approve, with 24 percent not registering an opinion.  

The 30-day special session is scheduled to begin July 8, although Gov. Abbott has yet to formally announce what legislative topics will be included in the call. Any new election reform legislation proposed during a Texas special session could be buoyed by the decision announced today by the Supreme Court of the United States to uphold voting restrictions enacted in Arizona. 

Campaign Announcements

Texans for Lawsuit Reform PAC, one of the most influential Republican fundraising machines, has endorsed former Texas Supreme Court Justice Eva Guzman for attorney general over embattled incumbent Ken Paxton. Land Commissioner George P. Bush has also thrown his hat into the Republican primary to challenge Paxton, who currently faces a whistleblower lawsuit over alleged abuse of office in addition to a felony fraud case that has been pending for several years.


While many legislators announced during the past couple weeks their intentions to run for either reelection or higher office, state Rep. John Turner (D-Dallas) said Monday he will not seek reelection to House District 114, where he has served since flipping the previously Republican-held seat in 2018.

State Rep. James White (R-Hillister) previously said he would not be running for reelection to his House District 19 seat, and now we know why.
The chair of the House Homeland Security and Public Safety Committee announced this week he will be running statewide for agriculture commissioner. White will challenge incumbent Sid Miller for the Republican nomination after Miller earlier announced he would not be wading into the gubernatorial primary.

If you're wondering why you've gotten more than the usual amount of candidate fundraising e-mails in the past week or two, it's because this week marks the close of the semiannual reporting period for state and federal candidates. Fundraising activities for the first half of 2021 must be reported by July 15, and that data will be used by political observers to evaluate the relative strength of candidates and campaigns.
Texas Legislature, Elections, Curriculum | Instruction, Privatization | Vouchers, School Safety
05/05/2023
Don't forget to vote Saturday in the May 6 local election. Plus, the House will be tackling its first Saturday calendar, which means sine die is nigh.
06/02/2023
The HB 100 voucher scheme dies at the end of regular session, plus a special session and the TEA takeover of Houston ISD begin.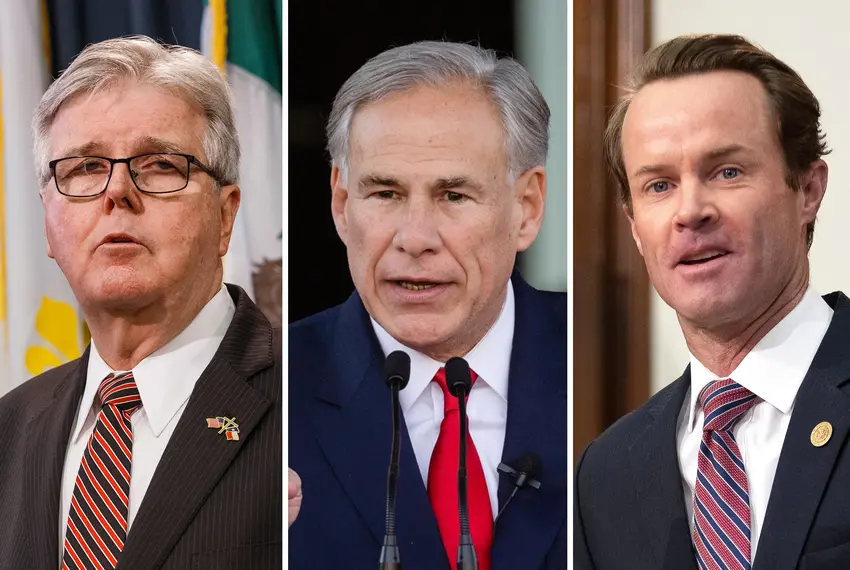 06/01/2023
Always happy to castigate the Texas House, Patrick breaks form to criticize the governor as misinformed and unsympathetic toward homeowners.