Texas Senate approves special education voucher bill

Teach the Vote
School Finance Texas Legislature Privatization | Vouchers
Date Posted: 5/04/2021 | Author: Mark Wiggins
The Texas Senate passed a special education voucher bill Monday, May 3, despite clear opposition from the public education community, including ATPE and advocates representing the special education students the bill purports to benefit.

Senators voted 21-9 to pass Senate Bill (SB) 1716 by Senate Education Committee Chairman Larry Taylor (R-Friendswood). During Monday's floor debate, Chairman Taylor tried to convince additional senators to support his bill, insisting that SB 1716 did not contain a voucher provision. The public education community disagrees, however.


Using taxpayer funds, SB 1716 would deposit direct payments of up to $1,500 into accounts accessible by the parents of qualifying students with special needs. These funds could be used to pay private and for-profit vendors for supplemental services.

The special education community opposed SB 1716, with advocates testifying during the Senate committee hearing in opposition to the voucher program. Advocates argued the program's price tag of at least $30 million per biennium represents funding that instead should be sent directly to classrooms to ensure students receive the special education services to which they are already entitled under federal law.

ATPE joined with special education advocates and the broader public education community in opposing SB 1716, emphasizing that existing laws provide for students to receive these special education services through the public education system at no additional cost to taxpayers.

The federal Individuals with Disabilities in Education Act (IDEA) requires school districts to provide the services prescribed under each student's Individualized Education Program (IEP) at no charge to the student. It is essential that public schools receive adequate resources, such as money for extra staffing, to fulfill their responsibility under IDEA for all students with disabilities and those needing special education services.

The SB 1716 voucher program would spend additional public funds to privately pay for the same type of services, and it would do so by allowing individuals outside the public education system to spend taxpayer dollars. These factors constitute the hallmark definition of a voucher program.

Those voting for the voucher bill, SB 1716, include:
Sen. Carol Alvarado (D-Houston)
Sen. Paul Bettencourt (R-Houston)
Sen. Brian Birdwell (R-Granbury)
Sen. Dawn Buckingham (R-Lakeway)
Sen. Donna Campbell (R-New Braunfels)
Sen. Bob Hall (R-Edgewood)
Sen. Kelly Hancock (R-North Richland Hills)
Sen. Chuy Hinojosa (D-McAllen)
Sen. Joan Huffman (R-Houston)
Sen. Bryan Hughes (R-Mineola)
Sen. Lois Kolkhorst (R-Brenham)
Sen. Eddie Lucio (D-Brownsville)
Sen. Borris Miles (D-Houston)
Sen. Jane Nelson (R-Flower Mound)
Sen. Robert Nichols (R-Jacksonville)
Sen. Angela Paxton (R-McKinney)
Sen. Charles Perry (R-Lubbock)
Sen. Charles Schwertner (R-Georgetown)
Sen. Drew Springer (R-Muenster)
Sen. Larry Taylor (R-Friendswood)
Sen. Royce West (D-Dallas)
Those who voted against the voucher bill include:
Sen. Cesar Blanco (D-El Paso)
Sen. Sarah Eckhardt (D-Austin)
Sen. Roland Gutierrez (D-San Antonio)
Sen. Nathan Johnson (D-Dallas)
Sen. Jose Menendez (D-San Antonio)
Sen. Beverly Powell (D-Burleson)
Sen. Kel Seliger (R-Amarillo)
Sen. John Whitmire (D-Houston)
Sen. Judith Zaffirini (D-Laredo)
Sen. Brandon Creighton (R-Nacogdoches) was absent for the vote.
The bill will now head to the Texas House of Representatives for its consideration.
12/02/2022
It's December! As ATPE gears up to fight for public education in the Texas legislative session starting next month, we're also pushing Congress to pass an important bill before its session ends.
Retirement | TRS | Social Security, Congress | Federal
12/02/2022
ATPE and retiree groups are urging Congressional leaders to complete negotiations by the end of 2022 on a deal to fix the Windfall Elimination Provision.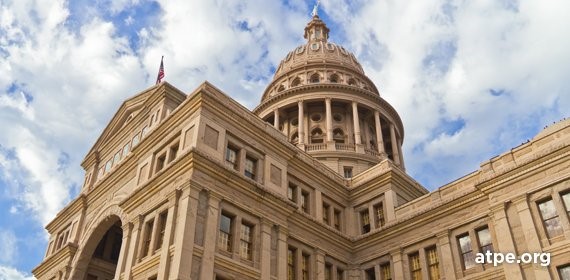 School Finance, Educator Preparation | Certification, Texas Legislature, Curriculum | Instruction, Privatization | Vouchers
12/01/2022
The Texas Commission on Virtual Education met Wednesday to discuss a draft of the commission's findings and recommendations for the 2023 legislative session.