Texas House Public Education Committee approves first Senate bills at May 3 meeting

Teach the Vote
Texas Legislature Educator Rights Curriculum | Instruction TEA | Commissioner | SBOE
Date Posted: 5/04/2021 | Author: Andrea Chevalier
The Texas House Public Education Committee voted to advance several bills at a formal meeting Monday, May 3, including its first Senate bills of the session.

ATPE opposes one bill that was approved by the committee yesterday. The Committee Substitute (CS) for House Bill (HB) 3979 by Toth (R-Conroe) would circumvent the established State Board of Education (SBOE) process for determining curriculum standards, while also dictating teachers' pedagogical practices. Neither of these is under the purview of the Legislature.
The bill mandates that SBOE change the Texas Essential Knowledge and Skills (TEKS) for social studies, government, civics, and related courses to prevent teachers from discussing "current events" or public policy issues that are "widely debated." HB 3979 also makes changes that could effectively eliminate the use of any private funding for certain instructional materials, training, and technology. Read ATPE's written testimony against the bill here.
 
HB 3979 had originally been set on the calendar for full House debate May 4, but the bill was sent back to the committee due to a procedural error associated with the bill. Following yesterday's committee vote, if the bill makes it onto a House calendar again, HB 3979 could be up for a floor debate by the full House soon. The Senate has already passed a companion version of the bill.

House Committee Vote on HB 3979: 8 Ayes (Dutton, Allison, Bell, K., Buckley, Huberty, Lozano, King, K., VanDeaver), 4 Nays (Allen, Bernal, González, Talarico), 1 Absent (Meza)

ATPE supports the following bills that also received a nod of approval from the committee at its May 3 meeting:
HB 24 by Dominguez (D-Brownsville) is an ATPE-supported bill that would provide additional funding for school districts to build an inclusive and accessible playground for students.
HB 204 by Thierry (D-Houston) is an ATPE-supported bill that would require school districts and charter schools to provide a landline telephone or "panic button" in every classroom. The committee substitute for the bill eliminates the landline requirement, clarifies that districts can use school safety allotment funds to implement the panic button technology, and provides an opt-out for districts.
The following bills were also advanced by the committee Monday:
Finally, the committee approved the following Senate bills that have been referred to the House Public Education committee and have identical companion House bills that the committee already heard:
The House Public Education Committee is meeting again Tuesday, May 4, to
hear a couple of House bills and several Senate bills
. The committee is expected to take additional votes on other pending bills. Watch for a separate post about Tuesday's hearing later on our Teach the Vote blog.
As always, ATPE members are encouraged to visit
Advocacy Central
to follow the progress of bills and send messages to their lawmakers about bills of interest or concern.
12/02/2022
It's December! As ATPE gears up to fight for public education in the Texas legislative session starting next month, we're also pushing Congress to pass an important bill before its session ends.
Retirement | TRS | Social Security, Congress | Federal
12/02/2022
ATPE and retiree groups are urging Congressional leaders to complete negotiations by the end of 2022 on a deal to fix the Windfall Elimination Provision.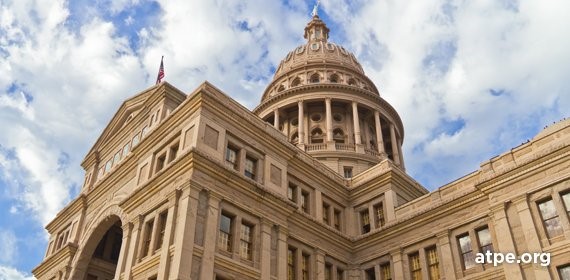 School Finance, Educator Preparation | Certification, Texas Legislature, Curriculum | Instruction, Privatization | Vouchers
12/01/2022
The Texas Commission on Virtual Education met Wednesday to discuss a draft of the commission's findings and recommendations for the 2023 legislative session.