Teach the Vote's Week in Review: Oct. 2, 2020

Teach the Vote
School Finance COVID-19 Elections
Date Posted: 10/02/2020 | Author: Andrea Chevalier
Here is this week's recap of the latest education news from your ATPE Governmental Relations team:
---
CORONAVIRUS UPDATE:  ATPE released a response to a press statement sent out by The Texas Education Agency (TEA) this week stating that the agency would extend the "hold harmless" funding period for school districts by six weeks to help mitigate the effects of enrollment drops across public schools in Texas. However, in a move that seems contradictory to the TEA's acknowledgement last week of COVID-19 hotspots, the agency has tied a district's access to the additional "protected" funding to whether a district offers in-person instruction. Read more about the development in this blog post by ATPE Lobbyist Andrea Chevalier, or in this article, quoting ATPE, by Aliyya Swaby of the Texas Tribune.
ATPE is here for educators. Be sure to check out our COVID-19 FAQs and Resources page and other resources:
---
ELECTION UPDATE: Are you registered to vote in the county you live in? Has your name recently changed? Have you been purged from the voter rolls? The deadline to register to vote is October 5, this coming Monday! Be sure to check your registration and learn how to register. Early voting begins October 13 and lasts for three weeks through October 30. Find more voting dates and reminders here.
The Texas Senate District 30 special election ended this week in a runoff. The date of the face-off between salon owner Shelley Luther and current state Representative Drew Springer (R-Muenster) has not yet been set by Gov. Greg Abbott. For more on this week's election news, including the recent straight-ticket voting court battle and Gov. Abbott's proclamation Thursday limiting mail-in ballot drop-off locations, read this informative blog post by ATPE Lobbyist Mark Wiggins.
October is Voter Education Month, so let's get learned! To learn about who makes education decisions (and which of these positions you can vote for), check out this post by our partners at the Texas Educators Vote coalition. Also, click here to learn about candidate forums being sponsored by Raise Your Hand Texas starting next week.
---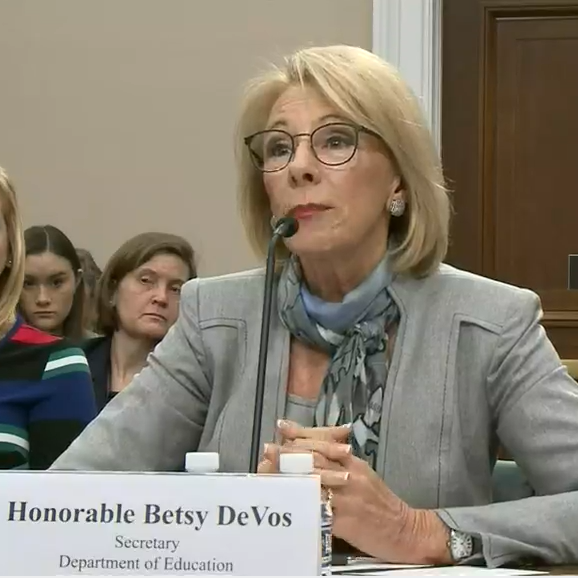 Sec. DeVos at a Feb. 2020 House Approp. subcommittee hearing
FEDERAL UPDATE: Remember when U.S. Secretary of Education Betsy DeVos asked public schools to spend an unheard-of amount of their Title-I-based federal emergency dollars on all students in all private non-profit schools within their boundaries? With DeVos's decision last Friday to not appeal a recent court case that vacated her inequitable interpretation of the CARES Act, it seems the "equitable services" saga has come to an end. Read more about the saga, from start to finish, in this blog post by ATPE Lobbyist Andrea Chevalier.
---
After data discrepancies, this week the state adjusted numbers on the Texas Education Agency (TEA) and Department of State Health Services (DSHS) dashboard that tracks COVID-19 cases in public schools. Updated every Wednesday, this week's numbers show 1,490 new student cases and 819 new staff cases reported for the week ending in September 27. Compared to the previous week's numbers for students and staff, both have changed slightly (2% decrease for students, 2.5% increase for staff). Read about the adjusted numbers in this blog post by ATPE Lobbyist Mark Wiggins.
---
This week, ATPE responded to formal requests for information from both the House Public Education committee and the House Appropriations Article III subcommittee, which focuses on public K-12 and higher education. ATPE's submissions covered educators' concerns with COVID-19, STAAR testing and accountability, educator and student mental health and well-being, and ways the state can prioritize funding to maintain the public education gains made by the 86th Texas Legislature. Read more about ATPE's submissions and our contribution to these committee's interim work in this blog post by ATPE Governmental Relations Director Jennifer Mitchell.
---
Are you retired or considering retiring? Be sure to check out these upcoming events to be in the know.
The Teacher Retirement System of Texas (TRS) has opened registration for its 2020 TRS-Care virtual information sessions. These webinars are intended to help retired public education employees, or those considering retirement, learn more about the TRS-Care Standard and TRS-Care Medicare Advantage plans for 2021. They will also introduce the new providers that will administer TRS health plans starting Jan. 1, 2021. You can register for these webinars at trs.texas.gov/trs-care-events.
This week, the Texas Retired Teachers Association (TRTA) hosted a virtual townhall on teacher retirement issues with incumbent U.S. Senator John Cornyn (R-TX). The second TRTA townhall will feature Cornyn's challenger, retired U.S. Air Force combat veteran M.J. Hegar on October 3 at 2:15 pm. Find more details on Cornyn's townhall and register for Hegar's townhall here.
ATPE is partnering with RBFCU and the RBFCU retirement program on a webinar on October 7 at 5 pm about retirement planning for educators. Find the sign up information here.
Texas Legislature, Congress | Federal, COVID-19, Curriculum | Instruction, TEA | Commissioner | SBOE, School Safety, Educator Compensation | Benefits, Testing | Accountability
08/26/2022
The ATPE Governmental Relations team recaps the past week's education news, legislative and election updates, and regulatory developments.
School Finance, Retirement | TRS | Social Security, Texas Legislature, Congress | Federal, Elections, Curriculum | Instruction, TEA | Commissioner | SBOE, Privatization | Vouchers, Deregulation | Charter Schools
11/11/2022
Today's post from the ATPE lobby team features election results, loan forgiveness news, TRS resources, voucher updates, thanks to our veterans, kudos, and more.
School Finance, Educator Preparation | Certification, Retirement | TRS | Social Security, Texas Legislature, Curriculum | Instruction, Privatization | Vouchers, School Safety, Educator Compensation | Benefits
03/24/2023
ATPE testifies against vouchers at marathon Senate Education Committee hearing, plus House committees hear bills on student restraint, curriculum, pre-k certification, and more.