Teach the Vote's Week in Review: May 22, 2020

Teach the Vote
School Finance COVID-19 Elections
Date Posted: 5/22/2020 | Author: Andrea Chevalier
As the 2019-20 school year winds down, state leaders continue to open Texas back up. While parents, students, and teachers focus on end-of-year tasks and COVID-modified celebrations, many education leaders are already focused on summer learning and how school will roll out next fall. This Memorial Day weekend, we hope our readers will get to take a much deserved break before starting the next chapter.
---
Gov. Abbott's May 18th press conference
CORONAVIRUS UPDATE: On Monday, May 18, Gov. Greg Abbott held a press conference to announce the further reopening of Texas. Child care centers and youth clubs were allowed to reopen that day, and businesses were allowed to have a limited number of employees back in the office. Today, restaurants may increase their capacity to 50% and bars can open at 25% capacity. On May 31, day camps and certain professional sports (without in-person spectators) can resume activity.
On June 1, schools can reopen to students, according to the governor, but with enhanced safety measures and physical distancing requirements in place. As noted in this article from the Texas Tribune republished on our site this week, Texas schools cannot require students to attend in the summer. Districts can make summer school attendance a condition for grade promotion, but only if they offer a distance learning option.
In conjunction with the governor's announcement about summer school, the Texas Education Agency (TEA) outlined health and safety considerations for reopening schools next month, such as taking students' temperatures daily and having students eat lunch at their desks. These overlap with the more comprehensive CDC school considerations, which also emphasize using masks and direct school systems to train their staff, have a back-up staffing plan, and strengthen paid/sick leave policies.
For more coronavirus-related resources from TEA, click here. Visit ATPE's frequently updated Coronavirus FAQ and Resources page and follow the ATPE lobby team via @TeachtheVote on Twitter for developments on the response to COVID-19. Also, check out our recent recap of legislative and regulatory developments impacting Texas and education since the pandemic began.
---
The Texas Education Agency (TEA) is attempting to respond to numerous questions about what next year's school calendars will look like. Commissioner of Education Mike Morath has spoken several times recently about flexible school years, urging schools to consider starting the 2020-21 school year earlier, ending it later, and building in flexible "breaks" to accommodate pandemic-related issues.
TEA's new school calendar FAQ stresses that calendar changes are local school board decisions, but that the calendar is a "key lever" in addressing student learning loss, even if this causes financial strain on the district. Teacher pay and contracts are also briefly addressed in the new FAQ, which states that, "in most cases, a district can require its teachers to work the extra days if the district: 1) provides additional compensation under existing contracts that permit extended calendar/number of days worked flexibility to the teachers for the extra time required to complete the adjusted school year; and 2) extends by agreement the existing teacher contracts to address the extra time and any associated compensation."
ATPE member and former Texas Teacher of the Year Stephanie Stoebe told CBS Austin news this week, "I could support us having longer breaks. I could support year-round school, but I definitely believe we need to be in the classroom." Also featured in the story, ATPE Governmental Relations Director Jennifer Mitchell noted that difficult school calendar decisions involve considerations such as childcare arrangements and the potential need for more funding that some districts may not have. Read ATPE's recent press statement about school calendar concerns here.
---
TEA released new guidance yesterday on CARES Act funding for school districts, which includes information about using federal stimulus funds to provide services to private school students and the ability of districts to use the emergency funds to supplant, not supplement, obligations in their current budgets.
Commissioner Mike Morath
As expected, Texas Education Commissioner Mike Morath sided this week with U.S. Secretary of Education Betsy DeVos's interpretation of "equitable services" under the CARES Act. DeVos asked states to instruct their public school districts to use Title-I-based federal emergency education funds to provide services (such as teacher professional development and technology) to all non-profit, private school students in their bounds, regardless of income or student residence location. This interpretation differs from the long-established intent behind the equitable services provision in Title I of federal education law, which requires equitable services only for students who reside within a public school's attendance zone located in a low-income area and are failing or at risk of failing to meet achievement standards.
Read more about the development in this Teach the Vote blog post.
---
ELECTION UPDATE: The on-again/off-again saga of mail-in voting in Texas continues, but appears to be off again for now. The Texas Supreme Court heard arguments this week on whether to expand mail-in voting in light of concerns about the spread of COVID-19. A state district court and appellate court both ruled in favor of expanding mail-in voting, but Texas Attorney General Ken Paxton (R) appealed the rulings.
Also this week, a federal judge ruled that the state's current restrictions on voting by mail violate the Equal Protection Clause of the U.S. Constitution and that all registered voters in Texas could apply to vote by mail. Again, at the request of Paxton, the U.S. Fifth Circuit Court of Appeals agreed one day later to temporarily stay the expanded vote-by-mail ruling while it decides whether to substantively overturn the decision.
Read more on the dispute in this week's Texas election roundup blog post from ATPE Lobbyist Mark Wiggins.
---
Gov. Greg Abbott, Lt. Gov. Dan Patrick, and Speaker of the House Dennis Bonnen (R-Angleton) sent a letter this week to state agencies and institutions of higher education asking them to submit a plan to reduce their budgets by 5% for the current biennium.
State leaders suggest cutting administrative costs that are not "mission critical." The Foundation School Program, school safety, and employer contributions to the Teacher Retirement System, among other essential government functions, are excluded from the call for a reduction.
Looking ahead to the next two-year state budget that lawmakers will adopt in 2021, the letter from "the big three" leaders also warns of additional belt-tightening in the months ahead.
"Every state agency and institution should prepare to submit reduced budget requests as well as strategies to achieve further savings. Furthermore, when the state revenue picture becomes clearer in the coming months, it may become necessary to make additional budget adjustments."

 
---
ATPE wants to hear from you regarding your concerns about returning to campus for the 2020-21 school year. We invite educators to take our short, confidential survey to share your feedback. Your input will help us develop resources and provide support for Texas educators and students during this uncertain time.
This survey is open to any Texas educator, so please share it with your colleagues. The survey may be taken only once from an IP address and will remain open through June 3.
Texas Legislature, Congress | Federal, COVID-19, Curriculum | Instruction, TEA | Commissioner | SBOE, School Safety, Educator Compensation | Benefits, Testing | Accountability
08/26/2022
The ATPE Governmental Relations team recaps the past week's education news, legislative and election updates, and regulatory developments.
Texas Legislature, Elections, Curriculum | Instruction, Privatization | Vouchers, School Safety
05/05/2023
Don't forget to vote Saturday in the May 6 local election. Plus, the House will be tackling its first Saturday calendar, which means sine die is nigh.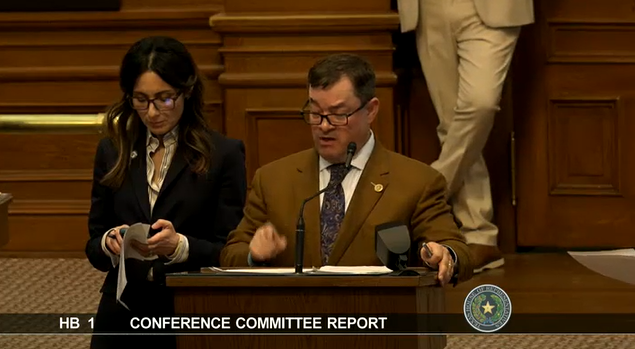 School Finance, Retirement | TRS | Social Security, Texas Legislature, Privatization | Vouchers, Educator Compensation | Benefits
05/30/2023
HB 100 was a casualty of a breakdown in communications between the House and Senate as the regular session drew to a close.