Teach the Vote's Week in Review: May 1, 2020

Teach the Vote
COVID-19 Privatization | Vouchers
Date Posted: 5/01/2020
If we've learned anything from COVID-19, it is that teaching is more than content; it is relationships. It is important to keep your friends and family relationships strong too. For more on what has happened this week, check out the latest installment of education news from the ATPE Governmental Relations team.
---
CORONAVIRUS UPDATE: On Monday, Gov. Greg Abbott announced a phased plan to re-open Texas businesses, starting today with limited capacity at malls, movie theaters, retail stores, restaurants, museums, and libraries. Establishments are limited to 25% occupancy, although those in counties with five or fewer confirmed COVID-19 cases are allowed up to 50% occupancy. After two weeks, if there has not been a resurgence in COVID-19 cases, the state will move into the next phase, loosening restrictions and opening hair salons, barbershops, gyms, and bars. Phase two could go into effect as early as May 18. One concern expressed by some Texans is that workers heading back to work in phase one are not considered "essential" and may not have access to child care, especially since Abbott has ordered schools to remain physically closed through the end of the school year.
The Texas Education Agency (TEA) this week updated its main coronavirus resource page on educator support, academics, student assessment, special populations and waivers, finance, and grants. TEA's guidance on educator certification and preparation answers questions mainly oriented to last week's announcement that certain educator certification candidates will be able to apply for a one-year probationary certificate. In particular, candidates will pay the probationary certificate fee now, plus the standard certificate fee later, once they pass the required examinations. Candidates must also meet all requirements for initial certification, which are outlined in the Texas Administrative Code (TAC) Chapter 230, Subchapter B, General Requirements (230.11), with the exception of passing an examination. These requirements include having a bachelor's degree and submitting to a criminal history review, though candidates who have already been fingerprinted will not have to repeat that process.
Educators in some districts may be confused and even alarmed by renewed talk of end-of-year student testing. Even though this year's STAAR tests were waived due to the difficulty of administration, and despite the reality that any test results gathered in the current environment would be unreliable, TEA is still encouraging districts to conduct voluntary end-of-year assessments. In addition, the agency will ask districts for another round of voluntary assessments at the beginning of the 2020-21 school year. The agency wants these assessments for the purposes of gathering classroom data.
For more resources related to the pandemic, visit ATPE's frequently updated Coronavirus FAQ and Resources page, and follow the ATPE lobby team via @TeachtheVote on Twitter.
---
FEDERAL UPDATE: The U.S. Department of Education (ED) announced this week that it will use some of the funding approved by Congress through the Coronavirus Aid, Relief, and Economic Security Act (CARES) Act for competitive grants to states that may used the money for private school vouchers. The $180 million "Rethink K-12 Education Models" or "REM" grant would be available for implementation of voucher programs, statewide virtual learning, or other models of remote learning. Education Secretary Betsy DeVos, a vocal proponent of vouchers, has previously said her department would urge Congress to approve a form of voucher termed a "microgrant," but many lawmakers were surprised by her decision to use the CARES Act funding, intended to provide coronavirus relief, in this manner. Read more about the development in this blog post here on Teach the Vote.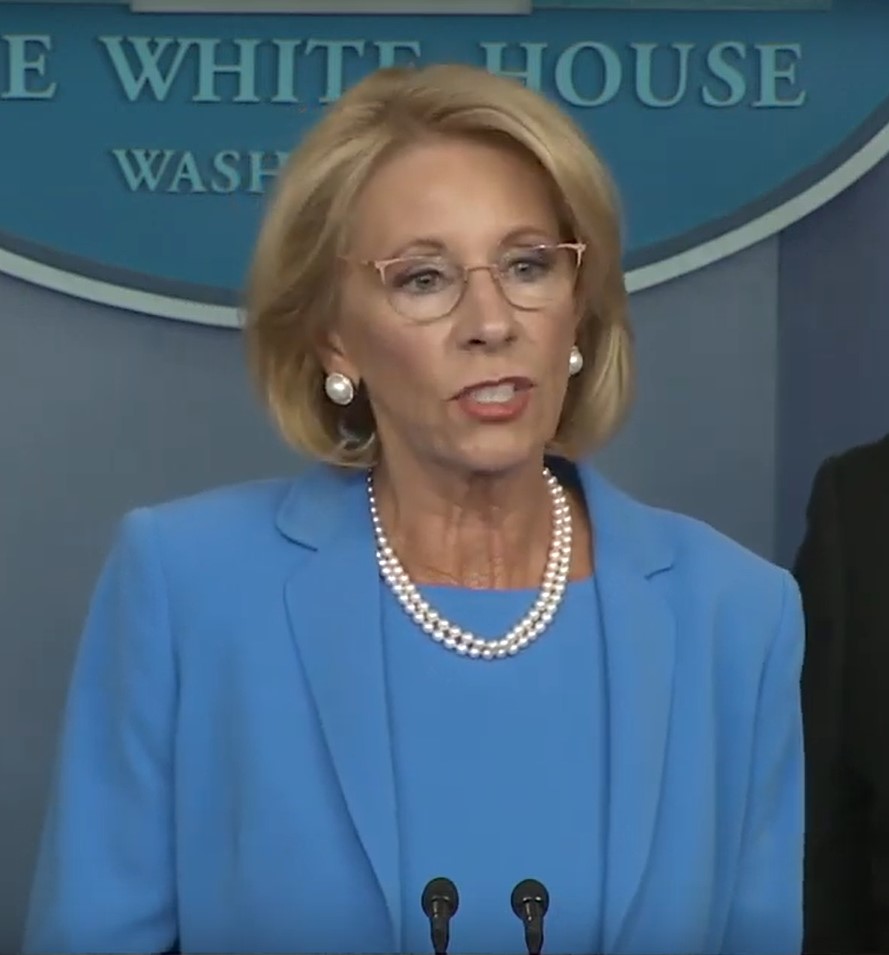 U.S. Secretary of Education Betsy DeVos
DeVos also announced this week that ED would not seek additional waiver authority from Congress on the Free Appropriate Public Education (FAPE) and Least Restrictive Environment (LRE) provisions of the Individuals with Disabilities in Education Act (IDEA). Additionally, the Department is not requesting further waiver authority from the Elementary and Secondary Education Act (ESEA), but it is requesting various waivers under other federal education statutes such as the Perkins Career and Technical Education Act, the IDEA, and the Adult Education and Family Literacy Act that mostly pertain to flexibility in using federal funds. The CARES Act required DeVos to notify Congress 30 days after its passage on any additional requests for waiver authority.
---
ELECTION UPDATE: We reported last week on a Texas district court's ruling that effectively allowed all Texans to vote by mail during the COVID-19 pandemic. Texas Attorney General Ken Paxton has now appealed that decision, notifying county officials in a letter today that his appeal prevents the district judge's ruling from taking effect in the meantime.
By state law, mail-in ballots in Texas have generally been restricted for use only by individuals who are over the age of 65, absent from the county during the election, or suffering from an illness or disability. Travis County District Judge Tim Sulak issued injunctive relief last month to expand opportunities for mail-in voting, treating fear of contracting COVID-19 under the disability portion of the statute and noting in his order, "Time is of the essence." Representing the state, the attorney general has taken the position that a healthy person's fear of contracting the coronavirus does not constitute a disability and therefore does not entitle such person to vote by mail. Paxton also used his letter today to warn that anyone advising voters that they can apply for a ballot by mail because of a fear of contracting the virus through in-person voting may be subject to criminal penalties.
In other news, a new poll by Public Policy Polling shows Joe Biden (D) with a narrow 47% - 46% lead over Donald Trump (R) in Texas if the November presidential election were held today. The same poll shows a slim majority of Texans disapprove of the president's job performance, with 49% expressing disapproval compared to 46% approval. Gov. Greg Abbott's approval was higher at 58%.
Asked about their feelings regarding the coronavirus pandemic, 45% of Texans said they are "very concerned" about being around others. Another 33% said they are "somewhat concerned," while 21% said they are either "not very concerned" or have "no concerns."
A 53% majority of Texans said they are in favor of allowing all registered voters to vote by mail due to health safety concerns, compared to 38% who oppose the idea. Sixty-three percent of Texans said they are either "very" or "somewhat" concerned about voting during the outbreak, yet 88% answered they still plan to vote in person in the November election if voting by mail is not an option.
Most local elections originally slated to take place tomorrow were postponed to November. The runoff election for the Texas primaries, which also would have occurred this month, has been rescheduled for July 14. Check out ATPE's election resources and candidate profiles here on Teach the Vote to learn about candidates running for office in your area.
---
The State Board for Educator Certification (SBEC) held its first-ever virtual board meeting today, May 1, 2020. ATPE Lobbyist Andrea Chevalier testified live during the video-conferenced meeting, conveying our support for options to address unintended consequences of last year's House Bill (HB) 3 for Master Teacher certificate holders.
ATPE Lobbyist Andrea Chevalier
HB 3 eliminated the Master Teacher certificates and barred them from being renewed, which means that without action by SBEC, some Master Teachers may not be able to keep their teaching assignments once their certificates expire. SBEC expressed agreement today with ATPE's position.
The board also voted to approve several proposals to implement the Science of Teaching Reading requirements of HB 3 and discussed effects of the coronavirus on educators. Read a comprehensive summary of today's SBEC meeting in this blog post today from Chevalier.
---
May is National Foster Care Month. Did you know there are nearly 17,000 Texas public school students and over 437,000 children and youth in foster care across the nation?
Students in foster care are subject to higher mobility, more absences from school, greater rates of trauma, and are 2.5 to 3.5 times more likely to be identified for special education services. The adverse childhood experiences that children in foster care experience can make learning difficult, which is why it is more important than ever to promote awareness this month as children are separated from some of the only constants and love they may know: their school and teachers.
To learn more about foster care in Texas, view the Texas Education Agency's foster care student success resources here, information from Texas CASA here, and resources from the Child Welfare Information Gateway including an outreach toolkit with shareable graphics and messaging tools here.
---
Social distancing is kind of the antithesis of teaching, so teachers are finding creative ways to stay close to their students. From reading to students at a safe distance in the driveway, to special signs in students' yards and art lessons on the lawn, teachers know their students need love as much as they need content. ATPE member Victoria Norris of Aubrey ISD in northeast Texas shared on social media this week that she made mini cutouts of her Bitmoji to send to students, along with a fun and sweet note. Special actions like these remind students how much their teachers care and lay the foundation for engagement and learning. Thank you, Victoria!
Since I can't be with my students during these last couple of fun weeks of school, I thought "Mini-Ms. Norris" could. I can't wait to see and hear about all the at-home adventures they go on! ❤️ #AubreyProud #InspiringChaps pic.twitter.com/yTQVpEzhHJ

— Victoria Norris (@MsNorrisTeach) April 27, 2020
ATPE sends our thanks to all educators who are transitioning to meet the unique needs of students during this time! #TeachersCan
Do you have a story to tell? ATPE wants to hear how you are adapting to a new educational environment during the coronavirus pandemic. Click here to email us your stories, best practices for distance learning, or strategies you're using to stay upbeat during the crisis.
Texas Legislature, Congress | Federal, COVID-19, Curriculum | Instruction, TEA | Commissioner | SBOE, School Safety, Educator Compensation | Benefits, Testing | Accountability
08/26/2022
The ATPE Governmental Relations team recaps the past week's education news, legislative and election updates, and regulatory developments.
06/02/2023
The HB 100 voucher scheme dies at the end of regular session, plus a special session and the TEA takeover of Houston ISD begin.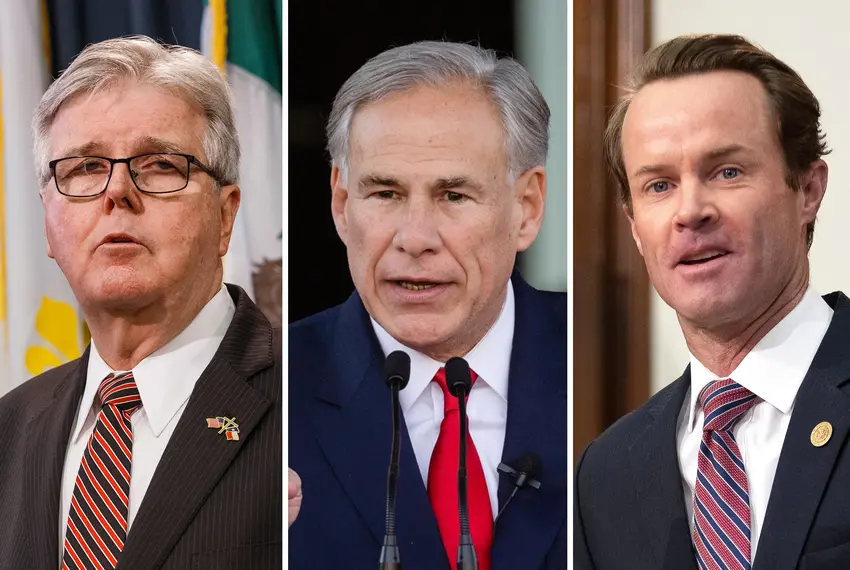 06/01/2023
Always happy to castigate the Texas House, Patrick breaks form to criticize the governor as misinformed and unsympathetic toward homeowners.