Teach the Vote's Week in Review: June 26, 2020

Teach the Vote
School Finance COVID-19 Elections
Date Posted: 6/26/2020 | Author: Andrea Chevalier
The education community saw a whirlwind of news this week as multiple pieces of guidance were released from the Texas Education Agency regarding the return to school in the fall, including a draft public health document that was posted online and promptly taken down. In this week's wrap-up, the ATPE Governmental Relations team will fill you in on the latest happenings.
---
CORONAVIRUS UPDATE: It was gone in the blink of an eye. On Tuesday of this week, the Texas Education Agency (TEA) posted a draft public health guidance document, seemingly by mistake. By the time it was taken down, the guidance had been widely circulated in the education community, and many were not happy with the lack of attention it paid to the worsening coronavirus numbers in Texas. Featured in a story by ABC affiliate KLTV-7 in East Texas, ATPE Senior Lobbyist Monty Exter said, "...while we would like for the state to give teachers and districts guidance in an expedient fashion, we're glad that the draft put up yesterday is not the final product."
As reported by the Texas Tribune, the guidance largely focused on suggesting health and safety practices to districts rather than mandating them, reflecting Commissioner of Education Mike Morath's statement last week that it "will be safe" to return to in-person classes in the fall. Morath has since appeared to walk back that sentiment as the state's coronavirus numbers have worsened, and the agency has said it is still soliciting feedback and developing the final guidelines. Unfortunately, this week's developments provide little solace to educators feeling anxiety about returning to school since Gov. Greg Abbott's announcement last week that in-person classes will resume this fall.
ATPE continues to meet with legislators, other stakeholder groups, and policymakers at the local, state, and federal level to share our members' feedback about the return to school. We released a statement on TEA's draft health guidance document this week, in which we strongly urge the state to require stronger actions to ensure the safety of school employees and Texas students. ATPE also asks school districts to listen to their employees and the recommendations of medical experts regarding the impact of the pandemic in their area as they implement their back-to-school safety protocols. In the statement, ATPE Executive Director Shannon Holmes says, "Elected school boards and superintendents now face a difficult balancing act between preventing COVID-19 outbreaks and ensuring children are in the most productive learning environment possible—a physical classroom with an in-person teacher. They deserve to have support and actionable guidance from the state of Texas." Read more about ATPE's response in this blog post by ATPE Governmental Relations Director Jennifer Mitchell.
Gov. Abbott gives a COVID-19 update on June 22, 2020
At the gubernatorial level, Gov. Abbott took several actions this week in response to a growing positivity rate for the coronavirus. As ATPE Lobbyist Mark Wiggins reported here on Teach the Vote, Abbott strongly encouraged (but did not mandate) wearing masks in his press conference on Monday. By Thursday, the governor had decided to halt the state's reopening plans, calling for cancellation of elective surgeries and by Friday, closing bars and reducing restaurant capacity to 50%.
Be sure to check the ATPE Coronavirus FAQ and Resources page, which offers answers to common educator questions related to returning to school in the fall, health and safety concerns, laws governing sick leave, and more. ATPE is continuing to update this page on a daily basis as new developments occur.
---
ELECTION UPDATE: Are you ready to vote? Get your hand sanitizer, stylus (a pencil with an eraser works), and mask ready! Early voting for the primary runoffs and the Texas Senate District 14 special election begins this coming Monday, June 29, and continues through July 10. Texas Secretary of State Ruth Hughes reiterated this week that voters should aim to vote early to avoid election day crowds, utilize curbside voting if possible, and follow minimum safety guidelines released by her office in May. Read more in this blog post by ATPE Lobbyist Mark Wiggins.
ATPE reminds voters that a decrease in election poll workers has reduced the availability of polling sites in some areas. Click here to find early voting sites near you, and check your county's election website for wait times during voting hours. The League of Women Voters vote411.org site has a personalized sample ballot generator and more! Lastly, check out candidate profiles here on Teach the Vote. Thank you for your commitment to voting, and stay safe!
---
This week TEA (intentionally) posted guidance on remote learning and attendance/enrollment for the 2020-21 school year, which gave districts a better idea of how they may operate this fall and how they will be funded. The agency gave districts two main options for remote learning that are differentiated by whether or not a student receives real-time, teacher-lead instruction. Additionally, the models have different ways of documenting student engagement for purposes of taking attendance. The agency plans to hold districts harmless for attendance for the first two six weeks, but this may not be enough to provide stability to districts in such an uncertain situation. Read more on the remote learning guidance in this blog post by ATPE Lobbyist Andrea Chevalier.
TEA also updated several other coronavirus resources this week, including personal protective equipment (PPE) updates, updates to general support (family mental health flyers and new child care emergency rules), "Strong Start" planning and survey tools, several updates to waivers, finance, and grants (new answers to equitable services FAQ, remote learning, attendance, missed school days, and more), and school nutrition (new letter to families on the P-EBT application).
---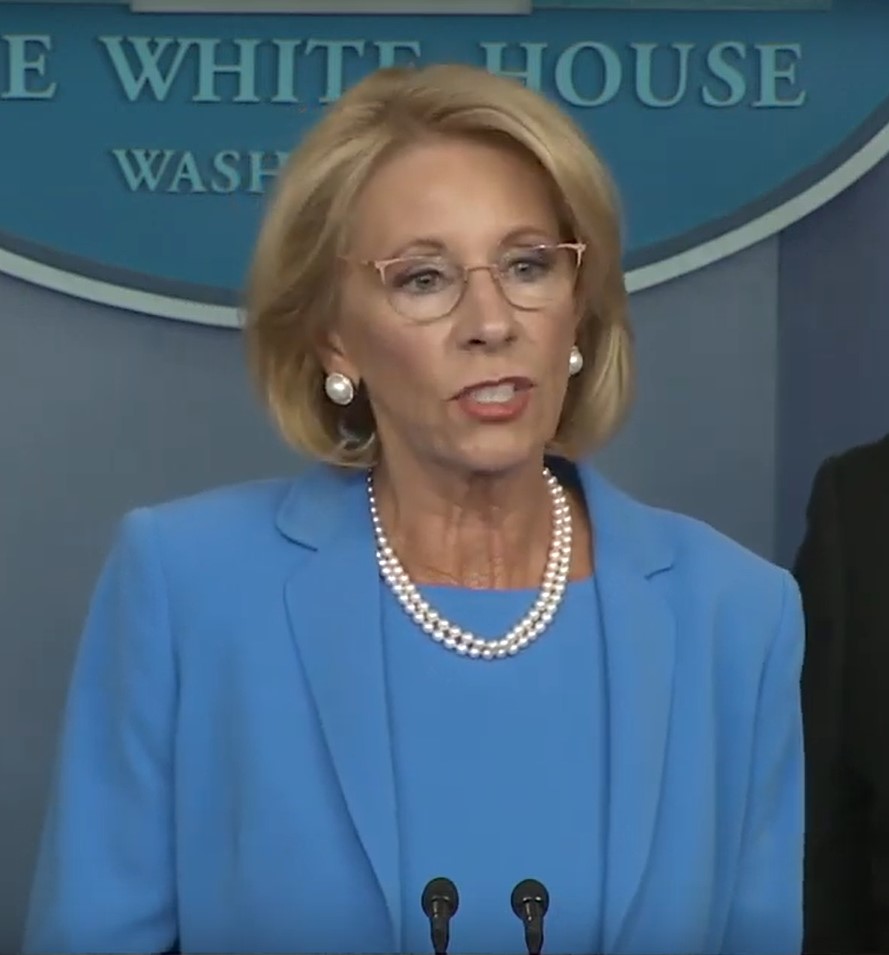 Betsy DeVos
U.S. Secretary of Education Betsy DeVos announced that the Department of Education will release a final interim rule on how public school districts must spend their federal emergency dollars under the CARES Act for equitable services provided to private schools. The rule, which is unofficially published for now, gives districts more flexibility than what was originally indicated by the department; but the new rule still misses the mark in its obvious intent to expand private school access to public school resources, using the department's strained interpretation of the CARES act. Read more about what the new rule entails in this blog post by ATPE Lobbyist Andrea Chevalier.
---
Texas 2020 Census response rates by county as of June 25, 2020
The decennial U.S. Census is crucial to ensuring adequate funding and programming for roads, infrastructure, our public schools, and so much more. The current national response rate for the 2020 Census shows that 61.7% of households have responded to their census. At 56.3%, Texas doesn't have the lowest response rate in the country, but we still have a long way to go.
The update/leave process is now underway, so you might see census workers in your neighborhood visiting households that have not responded yet. Find upcoming events, training, tool kits, and other resources at Texas Counts. Here are two things you can do to help Texas shine on the 2020 Census:
Text or call your family (even those great aunts) and friends and ask them if they have filled out the census. Walk them through the process if not. We have until October 31 to self-respond!
Pop a census reminder in student materials and family communications or staple to school lunch bags on a regular basis and make sure parents count even their youngest babies on the census.
Texas Legislature, Congress | Federal, COVID-19, Curriculum | Instruction, TEA | Commissioner | SBOE, School Safety, Educator Compensation | Benefits, Testing | Accountability
08/26/2022
The ATPE Governmental Relations team recaps the past week's education news, legislative and election updates, and regulatory developments.
School Finance, Retirement | TRS | Social Security, Texas Legislature, Congress | Federal, Elections, Curriculum | Instruction, TEA | Commissioner | SBOE, Privatization | Vouchers, Deregulation | Charter Schools
11/11/2022
Today's post from the ATPE lobby team features election results, loan forgiveness news, TRS resources, voucher updates, thanks to our veterans, kudos, and more.
02/07/2023
Northside (20) ISD Superintendent Brian Woods, president of the Texas School Alliance, and Cypress-Fairbanks ISD Superintendent Mark Henry have a powerful op-ed in the Feb. 6 San Antonio Express-News.