Teach the Vote's Week in Review: July 24, 2020

Teach the Vote
Congress | Federal COVID-19
Date Posted: 7/24/2020
With the start of school just around the corner, it's been another busy week for ATPE and the education community. Read about this week's developments below from the ATPE Governmental Relations team:
---
CORONAVIRUS UPDATE: ATPE's incoming State Vice President Karen Hames and Governmental Relations Director Jennifer Mitchell spoke on CNN's Chris Cuomo Prime Time show Thursday night, July 23, to contribute their perspectives on school reopening. Hames and Mitchell stressed that teachers care about their kids and want to be in school with them, but that educators have concerns about being exposed to the coronavirus in a classroom setting. Hames shared reasons why school choice would not provide any real solutions to parents' concerns about COVID-19, and Mitchell emphasized the need for additional federal funding and better guidance at the state level to help school districts prepare for reopening amid the pandemic. Watch video of the CNN segment here.
In other news related to COVID-19, the University Interscholastic League (UIL) released a long-awaited announcement this week that delays the schedules of 5A-6A conferences. Additionally, UIL shares that marching band practice in all conferences may not begin until September 7, 2020. Updates to TEA's COVID-19 Support and Guidance Page this week included a new summary of the agency's reopening guidance, several new "Strong Start" resources, and new CARES Act and attendance and enrollment information.
Visit the ATPE COVID-19 FAQ and Resources page for constantly updated resources and answers to common questions from educators. ATPE members can also use Advocacy Central to communicate with their elected officials regarding school reopening and other issues.
---
This week, ATPE submitted formal public comments on the U.S. Department of Education's (ED) interim final rule directing how districts spend their CARES Act federal emergency dollars on equitable services for students in private schools. The interim final rule, effective July 1, 2020, is estimated to cause public school districts to spend over $44 million of their Title I-derived emergency funds on private school students regardless of poverty — more than $38 million more than they would normally spend under the longstanding interpretation of equitable services in federal law. ATPE's comments urge the department to rescind its inequitable and distorted interpretation of the CARES Act, which goes against congressional intent. Over 5,200 comments have been submitted, but the department is not required to respond to them because of the emergency rulemaking process. Read more about the new federal rule in this recent Teach the Vote blog post. Read ATPE's public comments here.
---
ELECTION UPDATE: Last week saw one of the most unusual elections in recent memory: A runoff postponed due to a global pandemic that proceeded to intensify in Texas as the new election date approached. Early voting was expanded from the usual one week to two weeks in order to reduce the load on polling locations. Some voters also took advantage of alternative methods of casting their ballots to avoid contracting COVID-19 at the polls, although Texas broke ranks with other parts of the country by refusing to expand the ability to vote by mail amid the pandemic. Despite the failure of lawsuits aimed at expanding mail-in ballot options, Texas saw a substantial increase in mail-in voting during this runoff election, which caused official results to be delayed by a few days but did not result in changes to any of the unofficial race outcomes revealed on election night. The July 14 election also exposed troubling voting issues that will have to be corrected before the November election.
With double the time to vote early, this month's runoffs saw double the turnout over the primary runoff elections in 2018, 6.61% to 3.22%, respectively. After all of the debate over voting by mail, 30% of Democrats and 24% of Republicans who voted early cast their ballots by mail. That's actually down from 36% of all early voters who cast mail-in ballots in the 2018 runoffs. Democrats had a huge turnout -- nearly 956,000 voted in the primary runoffs, but comparable statewide numbers aren't available for Republican turnout because there wasn't a statewide GOP runoff like there was on the Democrats' ballot. Party turnout in primary elections is not always an accurate predictor of turnout in the general election. But based on the turnout for a runoff election in July, in the Texas heat, in the middle of a deadly pandemic, it's probably safe to assume that overall turnout for the November general election will be enormous. That makes researching candidates and making your voting plan for November more important than ever! See more election results in last week's recap by ATPE Lobbyist Mark Wiggins.
---
CONGRESSIONAL UPDATE: The U.S. House Education and Labor Subcommittee on Early Childhood, Elementary and Secondary Education met Thursday, July 23, for a hearing on the safe reopening of schools. The discussion bounced back and forth between the health risks for children and health risks for teachers and staff, with implications across the board for future funding to get schools on the path to a safe reopening. Get the full rundown on the meeting in this blog post by ATPE Lobbyist Mark Wiggins.
While a proposal for additional federal emergency aid (dubbed the Health and Economic Recovery Omnibus Emergency Solutions or "HEROES" Act) was approved by the U.S. House several weeks ago, the U.S. Senate has now agreed on its own $105 billion aid package for education, which includes $70 billion for K-12 schools. The proposal would tie the K-12 funding to in-person instruction by sending $35 billion to schools that open for in-person instruction and splitting the remaining $35 billion among all schools, regardless of their method of instruction. The $30 billion for colleges will not be tied to in-person instruction, and governors will receive the last $5 billion to spend on either K-12 or higher education. The details of the proposal are expected to be made public on Monday.
---
After a week-long delay, the U.S. Centers for Disease Control (CDC) released updated guidance for the reopening of public schools during the COVID-19 pandemic. The brunt of the new guidance issued last night, July 23, consists of justifying the push to reopen schools for in-person instruction. New items include recommending that schools group students and teachers into isolated cohorts or "pods" meant to limit in-person contact. There is also a checklist intended to assist parents in deciding  whether to send their children to school. A new mask guidance document suggests masks can be worn by anyone older than two years old, though some groups of students may need special adaptations and alternatives. Even as the guidance encourages reopening, it urges caution to those considering to do so in areas of substantial, uncontrolled transmission. Furthermore, the guidance recommends tying operational decisions to local epidemiological conditions. The guidance states as follows:
"Schools should be prepared for COVID-19 cases and exposure to occur in their facilities. Collaborating with local health officials will continue to be important once students are back to school, as they can provide regular updates about the status of COVID-19 in the community and help support and maintain the health and wellbeing of students, teachers, and staff."
All of the CDC guidance documents, including the latest guidance as well as recommendations dating back to May, can be found here.
---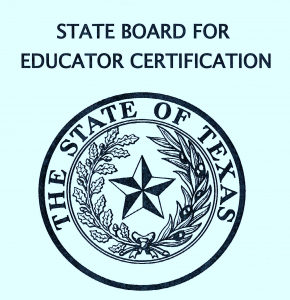 The State Board for Educator Certification (SBEC) met today, July 24, to take action on several items implementing the Science of Teaching Reading exam requirements from last year's House Bill (HB) 3 and to discuss COVID-19 considerations related to certification. Additionally, the board approved a proposal to transition Legacy Master Teacher certificate holders into lifetime certificates, as HB 3 barred the Master Teacher certificate from being issued or renewed. ATPE Lobbyist Andrea Chevalier testified before SBEC in support of this proposal, continuing our months-long advocacy for a fix for Master Teachers. Read more about today's SBEC meeting in this blog post from Chevalier and read the written testimony here.
---
SCHOOL FINANCE UPDATE: Texas Comptroller Glenn Hegar created buzz this week with the release of his certification revenue estimate, which shows that the state faces a $4.6 billion deficit due to both COVID-19 and the largest drop in oil prices in decades. While some revenue sources have helped to soften the blow, including federal coronavirus aid and new revenue from online commerce, the uncertainties ahead will make the state budget lawmakers' top concern in the upcoming 2021 legislative session. Read more about the revenue esimate and Hegar's interview with the Texas Tribune this week in this blog post by ATPE Lobbyist Mark Wiggins.  
In other school finance news, Just Fund It, a non-partisan group of parents, students, and community members across Texas advocating for increased public school funding, has begun a petition aimed at urging Gov. Abbott to ensure stable and predictable school funding. Specifically, the petition asks the governor to extend the 12-week "hold harmless" period for calculating funding based on attendance as recently announced by the Texas Education Agency (TEA) for the coming school year. The group presents a compelling argument for extending the hold harmless to cover the entire 2020-21 school year.
Texas Legislature, Congress | Federal, COVID-19, Curriculum | Instruction, TEA | Commissioner | SBOE, School Safety, Educator Compensation | Benefits, Testing | Accountability
08/26/2022
The ATPE Governmental Relations team recaps the past week's education news, legislative and election updates, and regulatory developments.
School Finance, Educator Preparation | Certification, Retirement | TRS | Social Security, Texas Legislature, Curriculum | Instruction, Privatization | Vouchers, School Safety, Educator Compensation | Benefits
03/24/2023
ATPE testifies against vouchers at marathon Senate Education Committee hearing, plus House committees hear bills on student restraint, curriculum issues, pre-k certification, and more.
03/23/2023
The Texas Senate Education Committee heard overwhelming opposition to school vouchers in a marathon hearing Wednesday, March 23.