Teach the Vote's Week in Review: Jan. 31, 2020

Teach the Vote
Elections
Date Posted: 1/31/2020 | Author: Andrea Chevalier
As January ends, we hope you are registered to vote ahead of Super Tuesday on March 3! In the meantime, here's this week's education news from ATPE Governmental Relations:
---
ELECTION UPDATE: Special elections in three Texas House districts concluded on Tuesday, Jan. 28, 2020. The victors were Gary Gates (R) with 58.05% of the vote in House District (HD) 28, Lorraine Birabil (D) with 66.28% of the vote in HD 100, and Anna Eastman (D) with 65.47% of the vote in HD 148. Read more on the results in this election night blog post by ATPE Governmental Relations Director Jennifer Mitchell.
Early voting for the primary starts in just under three weeks on February 18, 2020, which is also Educator Voting Day. Primary election day follows two weeks later on March 3, 2020. Remember that the deadline to register to vote in the Texas primaries is Monday, Feb. 3. Verify your voter registration status here.
As the primaries get closer, here are helpful resources for educators and the general public:
Learn more about candidates running in 2020 for the Texas Legislature or State Board of Education by checking out their profiles here on Teach the Vote, which include answers to the ATPE Candidate Survey (where available) and legislators' voting records.
Visit TexasEducatorsVote.com for election resources, advice, and voting reminders.
The Raise Your Hand Texas Foundation is hosting "For the Future" education-oriented candidate forums around the state. Click here for details.
---
This week ATPE submitted public comments on three proposed changes to administrative rules that would affect public schools, educators, and students.
First, ATPE formally commented on proposed changes to commissioner's rules that regulate school district-charter partnerships. Senate Bill 1882 of 2017 enabled school districts to partner with charter entities to operate some of their campuses, and newly proposed rules have raised some concerns for ATPE and other education stakeholders. Read our comments here.
Next, the State Board for Educator Certification (SBEC) is proposing changes to its certification rules that could benefit high school students interested in pursuing careers in the classroom. ATPE and the Texas Association of Future Educators (TAFE) submitted joint recommendations this week for the criteria associated with the educational aide certificate. Those interested in submitting input on this rule proposal can find more information here. The deadline for public comments is Feb. 3, 2020.
Finally, ATPE also shared ouir concerns with SBEC about rules relating to master teacher certificates that are slated to be eliminated as a result of last year's House Bill 3. Those wishing to submit public comments on this rule review can find more information here. The deadline is Feb. 3.
As you can see, our advocacy for public education doesn't stop when the legislative session ends. During the interim, it is important to stay engaged with the work of state boards and agencies implementing education laws and legislative committees as they study interim charges. Learn more about interim advocacy in this new blog post by ATPE Senior Lobbyist Monty Exter.
---
Image sourced from THGC.
This week, Texans observed Holocaust Remembrance Week as designated by Gov. Greg Abbott after the 86th Legislature passed Senate Bill (SB) 1828 by Sen. José Menéndez in 2019. The Texas Holocaust and Genocide Commission (THGC) recommended the observance this week so as to include International Holocaust Remembrance Day, January 27, which when Auschwitz was liberated. Also this week, in Washington, DC, the U.S. House passed H.R. 943, referred to as the "Never Again Education Act" to provide grants and resources for Holocaust education programs. Find more information and related links in this blog post by ATPE Lobbyist Andrea Chevalier.
---
The State Board of Education (SBOE) met today, Jan. 31, 2020, to conclude its week-long January meeting. ATPE Lobbyist Mark Wiggins attended the meeting and provided this update.
Member Tom Maynard (R-Florence), who chairs the Committee on School Finance/Permanent School Fund (PSF), updated members on the status of the fund. He reported that the PSF's investments total $46.5 billion, and the fund is being utilized as collateral to guarantee $87 billion in bonds out of a $117 billion bond guarantee capacity. Of the bonds backed by the PSF, $85 billion of those are bonds for independent school districts, and $2 billion are bonds for charter schools.
The SBOE manages a portion of the PSF, while the School Land Board (SLB) under the General Land Office (GLO) manages the other portion. Legislation passed during the 2019 legislative session to address a dispute over PSF management expanded the SLB from three members to five, two of whom would be recommended by the SBOE. Those two members have now been seated on the SLB, and the SBOE is working on setting up a joint meeting in April.
The board spent much of the morning Friday discussing board training requirements for local school district trustees, and ultimately decided to maintain the current rules unchanged. Members also voted to give preliminary approval to curriculum standards for a new course on African-American studies, which would make Texas the fifth state in the nation to offer such a course, according to TEA officials.
Earlier in the week, ATPE's Wiggins reported on one of the board committee's discussion about the application process for charter schools and on Education Commissioner Mike Morath's presentation to the full board on Tuesday with an annual update from the Texas Education Agency.
---
Today, the Texas Education Agency (TEA) released the 2019-20 accreditation statuses for Texas public school districts and open-enrollment charter schools. Accreditation statuses encapsulate a wide variety of factors, such as financial and academic accountability and compliance with reporting requirements. Districts and charters that are assigned anything other than an accredited status must notify parents and property owners in the district. Find your district's status here.
Texas Legislature, Elections, Curriculum | Instruction, Privatization | Vouchers, School Safety
05/05/2023
Don't forget to vote Saturday in the May 6 local election. Plus, the House will be tackling its first Saturday calendar, which means sine die is nigh.
06/02/2023
The HB 100 voucher scheme dies at the end of regular session, plus a special session and the TEA takeover of Houston ISD begin.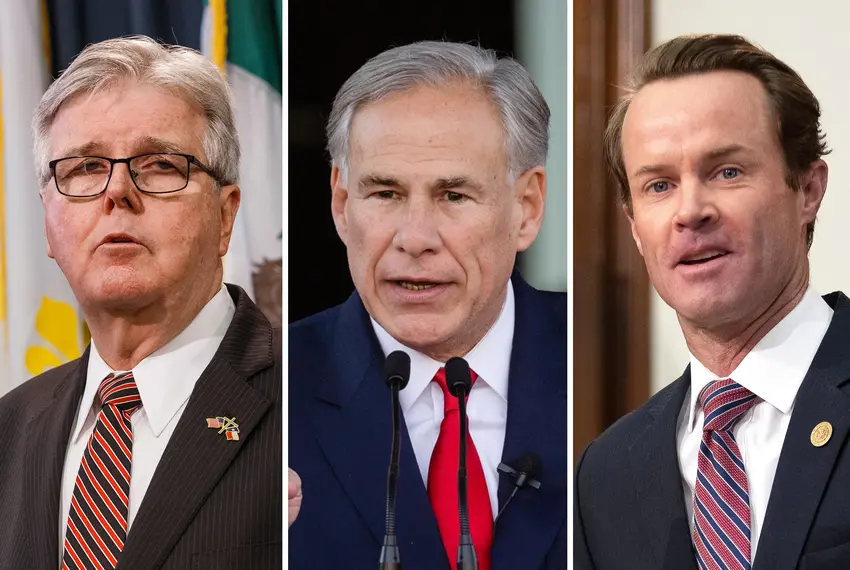 06/01/2023
Always happy to castigate the Texas House, Patrick breaks form to criticize the governor as misinformed and unsympathetic toward homeowners.