Teach the Vote's Week in Review: Feb. 28, 2020

Teach the Vote
Retirement | TRS | Social Security Elections Testing | Accountability
Date Posted: 2/28/2020
Today is the last day of early voting in Texas! Whether you've already had your close-up with the ballot box or plan to vote on March 3, catch up on the latest education news from the ATPE Governmental Relations team.
---
ELECTION UPDATE: Today, Feb. 28, is the last day of early voting. Voter turnout has been steady in the state's largest counties. Texas' primary elections on "Super Tuesday" will be March 3, 2020. For the latest news on races in Texas, check out ATPE Lobbyist Mark Wiggins' "election roundup" blog post.
If you haven't made it to the polls yet, we're bringing it back to basics to get you vote-ready.
Want even more? Read all the fantastic election features in our latest issue of ATPE News for Spring 2020 and find additional election reminders and tips on ATPE's main blog at atpe.org. As you're researching candidates and building your ballot, check out video of the recent candidate forums conducted around the state by Raise Your Hand Texas to learn more about the candidates' views on public education.
---
FEDERAL UPDATE: The U.S. Department of Education has released the federal teacher shortage areas for Texas in 2020-21, which are largely consistent with those listed in 2018-19 and 2019-20. These include Pre-K-12 bilingual education, special education, and computer science, plus 7-12 career and technical education and mathematics. Since 2019-20, computer science as a shortage area has been expanded from only at the secondary level to covering all grades, likely reflecting career and technical needs across the country in our changing economy. The nationwide teacher shortage areas have implications for federal loan forgiveness and deferment options.
On Thursday, Education Secretary Betsy DeVos sat before the U.S. House Appropriations education, health, and labor subcommittee to defend President Donald Trump's education budget proposal, which we wrote about here on Teach the Vote. ATPE Lobbyist Andrea Chevalier reports that members of Congress questioned the secretary on several issues, including spending and scandals associated with charter schools, discipline practices for vulnerable students, concerns about child vaping, and the mechanics of the proposed consolidation of 29 federal programs into one block grant. Secretary DeVos defended much of the proposal by stating that the department's intent is to give more spending freedom and flexibility to states.
Secretary of Education Betsy DeVos testifies before a subcommittee of the U.S. House Appropriations Committee, Feb. 27, 2020 (Source).
Much of the hearing was devoted to criticism and defense of the proposed "Education Freedom Scholarships" and the civil rights risk associated with the department's lack of commitment to ensuring non-discrimination. DeVos insisted that, because the scholarship program would be administered through the U.S. Department of Treasury, the voucher-like tax credit was not federal funding. This would free the program from being tied to federal protections for students such as the Individuals with Disabilities Education Act, and it seemed apparent that many committee members understood this impact. View video of the hearing here.
---
The Texas Association of School Boards (TASB) conducted a survey of Texas public school districts on salaries during the fall of the 2019-20 school year. Just under half (49%) of districts responded, representing 84% of the estimated teacher population in Texas. According to respondents, the median starting salary for a new teacher is $44,000. This increase of 7.3% from 2018-19 is largely due to the passage of House Bill (HB) 3 and represents a one-time bump in salaries unless the Texas legislature increases the public school basic allotment again. A similar superintendent survey conducted by TASB showed a 3.1% increase in the average superintendent's salary from 2018-19. See the full TASB teacher compensation survey for more information, including stipend trends and substitute pay. In both surveys, educators who work in larger districts were shown to receive higher pay.
---
In December 2019, ATPE Lobbyist Andrea Chevalier reviewed Part I of a recent readability study of the State of Texas Assessments of Academic Readiness (STAAR). Mandated by the Legislature as part of last year's House Bill (HB) 3, the findings in Part I left many questions unanswered. Chevalier reports that with the recent release of Part II, the study is now complete, but it still leaves us wondering if STAAR tests are written at the appropriate grade-level, as the results are mostly the same as in Part I.
Using 2020 STAAR assessments, researchers found that 99.5% of test items were aligned to the TEKS curriculum standards. As in Part I, researchers could not answer if items were at a grade-appropriate readability level due to a lack of confidence in methods and analysis. Lastly, the passage readability results were mixed, with researchers reporting multiple methods of analysis that lead to different conclusions.
Because this non-peer-reviewed study is entirely inconclusive on item readability and presents unclear results on passage readability, many questions remain as to the appropriateness of the use of STAAR in high-stakes decisions. As noted by Chevalier, if a student cannot understand a question because it uses vocabulary outside the scope of the student's common knowledge, the child cannot be expected to answer it correctly.
---
Texas Senate Finance committee meets Feb. 25, 2020
The Senate Finance Committee met in Austin this week. ATPE Senior Lobbyist Monty Exter reports that among other agenda items, the interim hearing included a review of the investment strategies and performance of funds invested through the Teacher Retirement System (TRS), the Permanent School Fund, and university funds. The committee has been charged during the interim with making recommendations to better coordinate and leverage Texas' purchasing power to maximize investment income for the state.
The committee also added to its agenda an examination of the long-term facility plans of TRS, including specifically examining the facility space costs of housing TRS's Investment Management Division. TRS Executive director Brian Guthrie delivered two presentations to the board: the first on TRS investment strategies and the second on long-term space planning for the agency.
Texas Legislature, Elections, Curriculum | Instruction, Privatization | Vouchers, School Safety
05/05/2023
Don't forget to vote Saturday in the May 6 local election. Plus, the House will be tackling its first Saturday calendar, which means sine die is nigh.
06/02/2023
The HB 100 voucher scheme dies at the end of regular session, plus a special session and the TEA takeover of Houston ISD begin.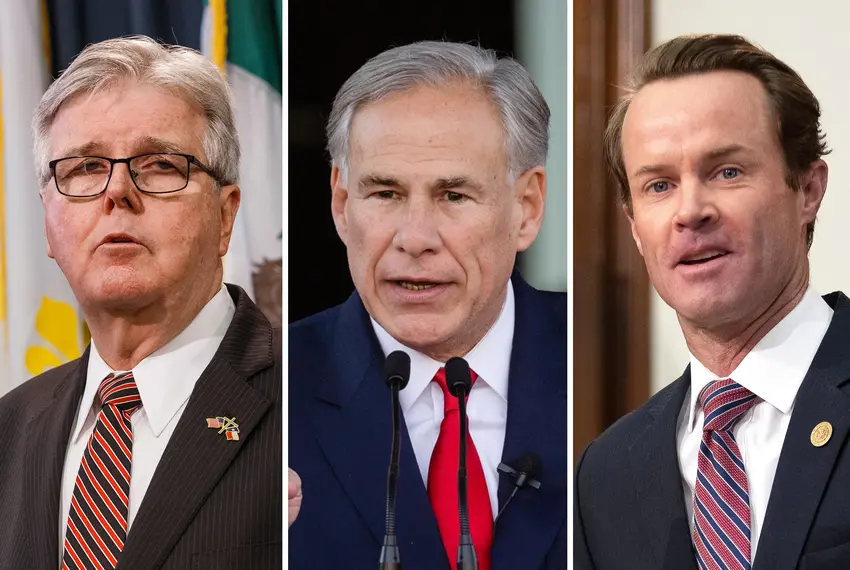 06/01/2023
Always happy to castigate the Texas House, Patrick breaks form to criticize the governor as misinformed and unsympathetic toward homeowners.