Teach the Vote's Week in Review: April 10, 2020

Teach the Vote
Retirement | TRS | Social Security COVID-19 TEA | Commissioner | SBOE
Date Posted: 4/10/2020
For many Texas educators, this week marked the beginning of an uncharted journey into distance learning. Our ATPE Governmental Relations team applauds all the educators who are rising to the unprecedented challenge. As always, we are here to provide the latest in education news. The ATPE state office is closed today, April 10, but our staff will be back in action next week and ready to help you find your way through these uncertain times. We hope you get to enjoy the weekend and this edition of Teach the Vote's Week in Review.
---
CORONAVIRUS UPDATE: The worlds of the novel coronavirus and education were a bit quieter this week, but many questions remain on the long-term impact of the pandemic. Texas educators are facilitating distance learning and conducting other essential work even though Gov. Greg Abbott ordered the closure of Texas school buildings until at least May 4th, and some localities and districts have extended their closures beyond that date or even for the rest of the school year. Abbott held two press conferences this week, but neither provided further updates regarding education.
The Texas Education Agency (TEA) has been issuing and updating its guidance for public schools on a daily basis, but numerous questions remain, especially for educators and those working to become educators who are concerned about job security. This week, ATPE Lobbyist Andrea Chevalier summarized what we know so far about changes to educator preparation and certification procedures in this blog post for Teach the Vote. We also await a response to ATPE's call for accommodations regarding educator evaluations, on which so many compensation and job-related decisions are based. As we reported last week, ATPE Executive Director Shannon Holmes sent a letter to Texas Education Commissioner Mike Morath to request statewide action regarding educator appraisals, which are unlikely to yield fair and valid results under current conditions. Read more in this ATPE press release.
For a quick recap of where we stand, here are other notable state-level developments pertaining to the pandemic: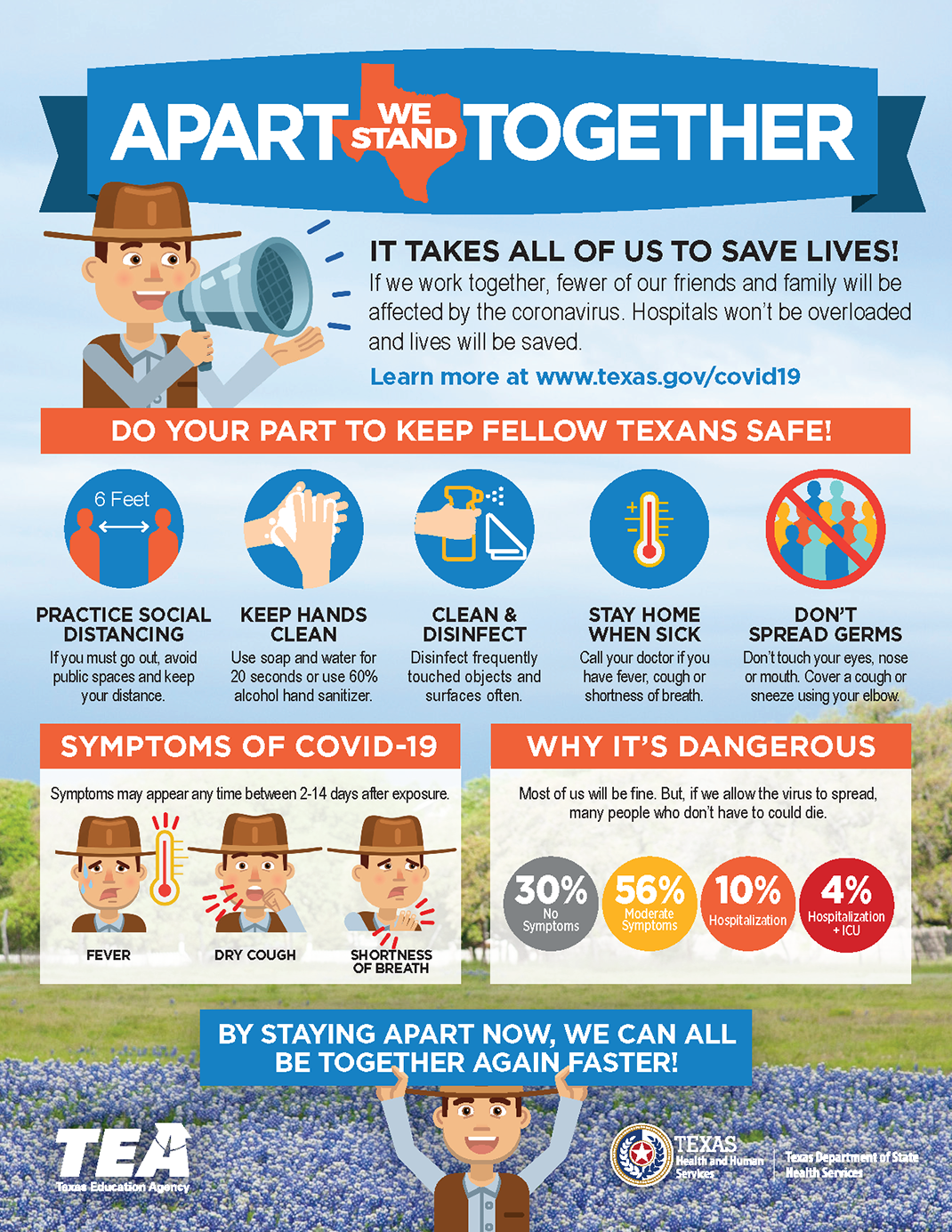 After Gov. Abbott cancelled this year's STAAR tests, Texas sought and was approved by the U.S. Department of Education (ED) to waive statewide testing and accountability. All districts will be "Not Rated: Declared State of Disaster" for 2019-20.
If you've seen a graphic circulating on social media with what looks like "Woody" from Toy Story, it is probably TEA's "Stay Well, Texas" public health campaign, which school districts are helping to roll-out.
Parents can use TEA's "meal finder" tool and pick up meals without their children being present, thanks to an waiver granted to Texas by the U.S. Department of Agriculture.
The TEA coronavirus resource page is chock-full of resources (mainly geared towards district leaders) relating to instructional continuity, special education, testing, graduation, and more. New guidance added to the TEA site this week includes FAQs on FERPA, the SAT, ACT, TSIA, and AP/IB tests, FEMA assistance, and Information Technology, plus child care support sample documents, a list of available waivers, and TELPAS and LPAC Guidance.
TEA has launched a partially-complete website that includes home learning resources for families, districts, and teachers.
At the federal level, Congress has approved substantial federal aid packages, including the Families First Coronavirus Response Act (FFCRA) and the Coronavirus Aid, Relief, and Economic Security Act or CARES Act, which provide billions in funding for individuals and businesses, along with waivers from various federal laws to facilitate relief. Attempts to advance another piece of coronavirus relief legislation stalled this week in Congress after partisan disagreements. Meanwhile, U.S. Secretary of Education Betsy DeVos announced this week new spending flexibility waivers under the CARES Act that would purportedly allow school officials to dedicate funds to distance learning and virtual classrooms. As we reported last week, DeVos has also floated the idea of "microgrants" for students and teachers, which are essentially vouchers and have not yet been approved by Congress.
ATPE has helpful information about the CARES Act here, including more on the direct cash payments to individuals that are expected to be distributed soon by the U.S. Treasurer.
Read ATPE's information about the FFCRA's expanded paid leave benefits here.
For guidance on dealing with COVID-19, we encourage educators to visit ATPE's frequently updated
Coronavirus FAQ and Resources
page. Also, follow the ATPE lobbyists here on Teach the Vote and on
Twitter
for related legislative and regulatory news.
---
ELECTION UPDATE: The Texas Democratic Party filed a second lawsuit against the state this week over mail-in ballots, this time in federal court. According to a report in the Texas Tribune, Texas Democrats were concerned by Monday's party-line decision of the U.S. Supreme Court that resulted in Wisconsin voters being forced to vote in person this week in contradiction to the U.S. Centers for Disease Control (CDC) recommendations for preventing the spread of COVID-19. Texas Democrats are asking the state to expand eligibility for mail-in ballots so that voters are not forced to expose themselves to COVID-19 in order to cast a ballot. Current Republican Party of Texas Chairman James Dickey has voiced opposition to expanding mail-in ballots, suggesting that mail handlers could also risk COVID-19 infection. Gov. Greg Abbott stated in March that "everything's on the table," but has been relatively quiet on the subject since then.
---
We reported last week that the Texas Sunset Advisory Commission has released its sunset staff recommendations for the Teacher Retirement System of Texas (TRS). While TRS can't be abolished through the sunset review process unlike other agencies, the commission staff have identified several issues that the legislature will likely address during the next legislative session in 2021. Check out this new blog post from ATPE Senior Lobbyist Monty Exter, which takes a deeper look at one of the major issues raised by the sunset report: a recommendation that TRS should "repair its relationship with its members by focusing on their needs."
---
ATPE joined 17 other organizations calling on Texas Education Commissioner Mike Morath to place a moratorium on charter expansion during the novel coronavirus pandemic. Because charters cannot levy taxes, the state picks up the tab in order to fully fund every charter school student. ATPE believes the expansion of charter enrollment during a pandemic with extremely uncertain financial outcomes would be fiscally irresponsible. In fact, the 94 charter expansion amendments currently on file with the Texas Education Agency (TEA) could cost the state an additional $90 million per year if approved, money that may be sorely needed to shore up budgets of existing public schools across the state. Read more in this blog post by ATPE Lobbyist Mark Wiggins.
---
This week, Texas Comptroller Glenn Hegar sat down for a virtual conversation with the Texas Tribune to discuss what the novel coronavirus means for our state's economy. Hegar said that Texas is in a recession but will be able to meet current budget obligations through August 31, 2021. In the summer, Hegar will release an updated revenue estimate that will likely be several billion dollars less. Since the state pumped billions into education during the last legislative session, educators worry that continued funding commitment might be hard to maintain. Read a full rundown in this blog post by ATPE Lobbyist Mark Wiggins.
---
Census 2020 self-response rates as of March 8, 2020. (Source)
The 2020 U.S. Census is still underway, and everyone's response is critical for many important streams of funding, including for public education. Texas' response rate has increased from 36% last week to over 41% this week, but we are still behind the current national rate of 46%. Due to the coronavirus pandemic, some census work has been delayed, making it more important to push online/phone/mail census completion options that can reduce the need for interpersonal interaction. Learn more about the 2020 Census in this blog post by ATPE Lobbyist Andrea Chevalier and find census FAQs here.
---
ATPE member Michelle Bish of Pasadena was featured this week in a news story by KHOU 11 news in Houston. While taking care of her own three children, Bish is also implementing distance learning for her third graders and staying in contact with her students' parents. Bish says it is overwhelming but that we will all get through this together. In the article, she says:
"I cannot wait for this to be over," she said. "This is not why I signed up to be a teacher. I wanted to be a teacher because I wanted to be present. Like, physically be in the presence of my students. You know, at school and being a part of them and teaching."
We can't wait for this to end either! In the meantime, we can help each other stay positive. ATPE wants to hear how you are adapting to a new educational environment during the coronavirus pandemic. Click here to email us your stories, best practices for distance learning, or strategies you're using to stay upbeat during the crisis.
Texas Legislature, Congress | Federal, COVID-19, Curriculum | Instruction, TEA | Commissioner | SBOE, School Safety, Educator Compensation | Benefits, Testing | Accountability
08/26/2022
The ATPE Governmental Relations team recaps the past week's education news, legislative and election updates, and regulatory developments.
06/02/2023
The HB 100 voucher scheme dies at the end of regular session, plus a special session and the TEA takeover of Houston ISD begin.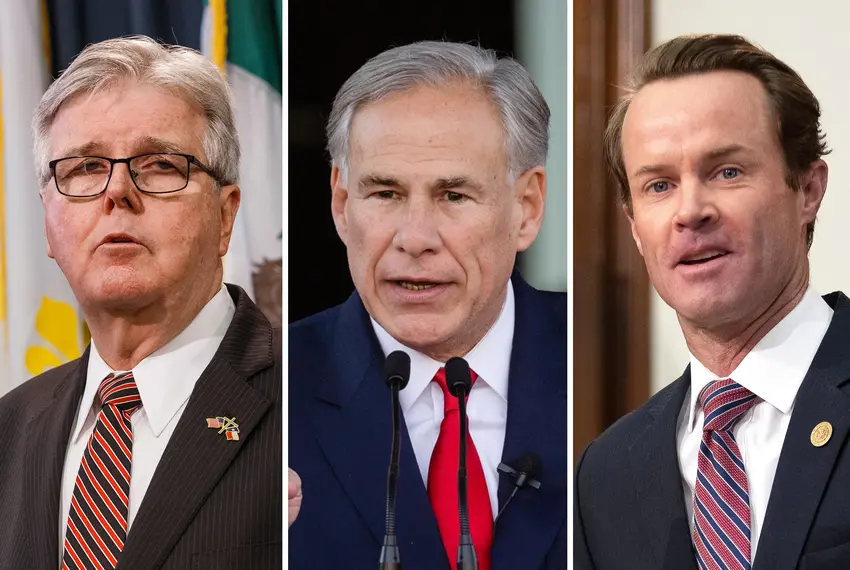 06/01/2023
Always happy to castigate the Texas House, Patrick breaks form to criticize the governor as misinformed and unsympathetic toward homeowners.