TRS Trustees discuss pension fund and more this week

Teach the Vote
Retirement | TRS | Social Security
Date Posted: 2/26/2021 | Author: Monty Exter
The Teacher Retirement System (TRS) Board of Trustees held a condensed version of their regularly scheduled board meeting this Friday, February 26. It capped off a long and active week for TRS staff, which included testifying before House and Senate budget committees on three separate days.
One major takeaway from the board meeting is that the TRS pension fund ended 2020 at an all-time high value of $177 billion, after a one-year return of 11.6%. This is even more impressive considering that in March 2020, the fund sat at $144 billion and was experiencing a negative 8% year-to-date interest rate.
Based on these strong returns, in addition to the continued implementation of Senate Bill 12 from the 2019 legislative session, TRS is on track to reach full funding in approximately 26 years. This is significantly less that the 31-year funding window required in order for the fund to be considered actuarially sound under state law. If these trends continue, it will also put the pension fund in a favorable position to be able to implement a true cost-of-living adjustment (COLA) in the next legislative session, if legislators choose to authorize a COLA.
In addition to the standard items considered by the board, they took a look at TRS-ActiveCare, which has been a growing area of focus for the agency. TRS staff and consultants have found that, while the total cost of TRS health insurance plans are 15–25% lower than the cost of active educator plans in benchmark states, Texas employers (the state and school districts combined) spend much less toward Texas
educators' health insurance than peer states. The state and districts have a combined statutory requirement to provide $225 per month ($75 state/$150 districts). On average, districts using TRS-ActiveCare spend an additional $75 per month over the statutory requirement. However, the approximately $300 per month Texas employers are spending on educator health insurance coverage is 35–45% less than what peer states pay. As a result, despite the low overall cost of TRS-ActiveCare coverage, educators face higher-than-average employee costs and a substantial affordability problem when it comes to their health insurance.
The next TRS board meeting is scheduled for April 14–16. You can find board material and archived video of this week's meeting here.
12/02/2022
It's December! As ATPE gears up to fight for public education in the Texas legislative session starting next month, we're also pushing Congress to pass an important bill before its session ends.
Retirement | TRS | Social Security, Congress | Federal
12/02/2022
ATPE and retiree groups are urging Congressional leaders to complete negotiations by the end of 2022 on a deal to fix the Windfall Elimination Provision.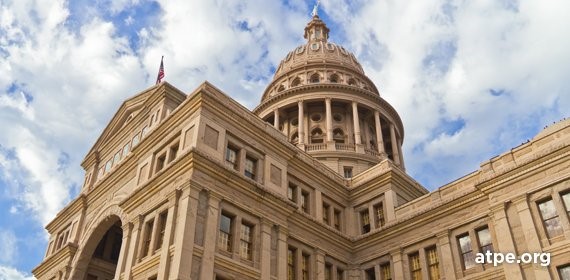 School Finance, Educator Preparation | Certification, Texas Legislature, Curriculum | Instruction, Privatization | Vouchers
12/01/2022
The Texas Commission on Virtual Education met Wednesday to discuss a draft of the commission's findings and recommendations for the 2023 legislative session.