Prepping for the Primaries

Teach the Vote
Date Posted: 1/07/2022
This year, ATPE's Teach the Vote celebrates its 10th anniversary! In that time, Texas voters have visited the site more than 1.1 million times to research candidates and read the latest public education news.
ATPE launched Teach the Vote in 2012, shortly after the Texas Legislature had adopted new district maps based on 2010 census results. Ten years later, it's time to update Teach the Vote again to reflect redistricting resulting from the 2020 census. In the next few days, you might notice a few changes around Teach the Vote as we update those maps and gear up for the March 1, 2022, primaries by switching the site into candidate mode.
Early voting begins Feb. 14. The deadline to register to vote is Jan. 31, so while we're getting Teach the Vote voter-ready, please visit votetexas.gov to confirm your voter registration.
08/10/2022
The Texas Education Commissioner addressed the committee during an interim hearing on Aug. 9, 2022.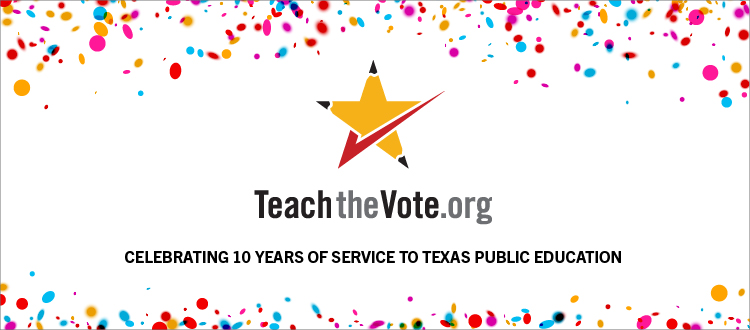 Texas Legislature, Curriculum | Instruction, TEA | Commissioner | SBOE, Privatization | Vouchers, School Safety, Testing | Accountability
08/05/2022
The ATPE Governmental Relations team recaps the past week's education news, legislative and election updates, and regulatory developments.
Texas Legislature, Curriculum | Instruction, TEA | Commissioner | SBOE
08/02/2022
As the SBOE considers new curriculum standards, Sen. Bryan Hughes said his intention was never to gloss over American history or have negative effects on teachers and administrators.