New Abbott executive order bans local mask, vaccine requirements

Teach the Vote
COVID-19
Date Posted: 7/29/2021 | Author: Mark Wiggins
In a new executive order issued Thursday, July 29, 2021, Texas Governor Greg Abbott seeks to ban local cities, counties, and school districts from requiring masks or COVID-19 immunizations.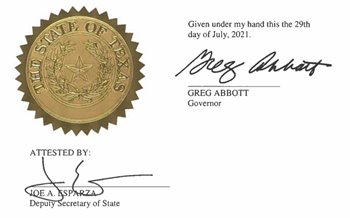 Executive order GA-38 supersedes all of the Governor's previous orders related to the COVID-19 pandemic, including an earlier executive order that allowed counties with a COVID-19 hospitalization rate above 15% to implement mitigation strategies.

As the highly contagious Delta variant has driven the hospitalization rate above 13% in several counties, the Governor's new directive prohibits previous mitigation strategies such as requiring masks and limiting business occupancy. In addition, businesses receiving public funds may not require masks or proof of immunization in order to enter a building or receive a service.

Health care providers warn the current surge has led to a "staggering and frightening" increase in the number of COVID-19 hospitalizations. As of Tuesday, hospitalizations had increased by 1,726 patients compared to the previous week. Wednesday alone saw 10,086 new confirmed cases and 2,811 new suspected cases.

In response to new recommendations from the U.S. Centers for Disease Control, ATPE released a statement Wednesday emphasizing the importance of local control and urging Gov. Abbott to trust local school districts to determine their own mitigation protocols based on individual community needs. 

"From the very beginning of the COVID-19 pandemic, ATPE has called for state leaders to empower school districts and local health officials to do what is best for their communities," said ATPE Executive Director Shannon Holmes. "In light of the CDC recommendations, ATPE is urging Gov. Abbott to give them the authority do what is right for them, whatever that may be."

Thursday's release of the new executive order signals that Gov. Abbott is once again doubling down on his refusal to allow local decision-making around COVID-19 protocols.
 
Texas Legislature, Congress | Federal, COVID-19, Curriculum | Instruction, TEA | Commissioner | SBOE, School Safety, Educator Compensation | Benefits, Testing | Accountability
08/26/2022
The ATPE Governmental Relations team recaps the past week's education news, legislative and election updates, and regulatory developments.
School Finance, Educator Preparation | Certification, Retirement | TRS | Social Security, Texas Legislature, Curriculum | Instruction, Privatization | Vouchers, School Safety, Educator Compensation | Benefits
03/24/2023
ATPE testifies against vouchers at marathon Senate Education Committee hearing, plus House committees hear bills on student restraint, curriculum issues, pre-k certification, and more.
03/23/2023
The Texas Senate Education Committee heard overwhelming opposition to school vouchers in a marathon hearing Wednesday, March 23.