Lieutenant governor shares his 2023 session priorities for the Texas Senate

Teach the Vote
School Finance Retirement | TRS | Social Security Texas Legislature School Safety Educator Compensation | Benefits
Date Posted: 11/30/2022 | Author: Jennifer Mitchell
Lt. Gov. Dan Patrick (R) held a press conference Wednesday afternoon, Nov. 30, 2022, at the Texas State Capitol. He briefed reporters on issues he wants the Legislature to prioritize in the regular session that begins Jan. 10, 2023. The list included property tax relief, school security, educator compensation, parental rights, and other concerns.

As lieutenant governor, Patrick presides over the Texas Senate, appoints Senate committee chairs, and plays a key role in determining which bills will make it in and out of the upper chamber. He also co-chairs, along with House Speaker Dade Phelan (R), the Legislative Budget Board (LBB), which guides the development of the state's two-year budget adopted by state legislators each regular session.
Revenue and Spending
At a meeting earlier in the day, the LBB met to determine the constitutional spending limit for lawmakers' upcoming budget deliberations. With few exceptions, the Texas Constitution generally prohibits tax spending growth from exceeding the rate at which the state's economy is growing.


Projections from the Texas Comptroller show our state having $149 billion in available general revenue, which Patrick attributed to "unprecedented growth" in the economy, available to spend in the upcoming budget cycle. Based on the LBB action, the state would have a spending limit of 12.33%. That is an increase of $12.5 billion over the current budget, but it limits lawmakers from spending more than $131 billion of the $149 billion that is actually going to be available. The legislature can vote to exceed the spending cap, but such a vote is politically risky.

The first priority Patrick discussed at Wednesday's press conference was property tax relief, which "should be at the top of the list, and then you work your way down," according to the lieutenant governor. He suggested raising the homestead exemption and expanding personal property tax exemptions for small business owners. Gov. Greg Abbott (R) has also prioritized property tax relief, recently saying he wants the legislature to spend half of the state's $27 billion surplus on lowering taxes. Property taxes, levied at the local level, are the main source of funding for public schools.

Because the spending cap limits how much the state's budget can grow over the previous year, there will likely be several billion dollars left over after legislators adopt the next two-year budget. There is also a cap on how much the state can put into its reserves, commonly referred to as the "rainy day fund." State Comptroller Glenn Hegar (R) has already indicated that the state's "rainy day fund" will contain about $13.6 billion by the time lawmakers convene in January; the cap will limit further growth of that savings fund to $19 billion. Lt. Gov. Patrick said Wednesday he will ask lawmakers to pass a bill, planned to be carried by Sen. Charles Schwertner (R-Georgetown), that will enable the rainy day fund to grow even higher.
Education Priorities
The lieutenant governor included several educator-related bullets in discussing his priorities for "education and school security." He supported student aid for aspiring teachers, law enforcement officials, and nurses. He expressed support for increasing teacher pay and giving retired teachers either a 13th check or cost-of-living adjustment (COLA). Continuing school safety funding was also listed. Patrick also said he would push for parental rights legislation to ensure parents have a voice in their children's education. He made no specific mention of private school vouchers, though lawmakers have already filed multiple voucher bills, which they are identifying as parental empowerment measures.
Patrick emphasized that his priorities were broad concepts and that it would be up to lawmakers to spell out the details in any legislation that is filed.
Responding to the press conference, ATPE Executive Director Shannon Holmes issued a press statement Wednesday afternoon. "At the 30,000-foot level, those sound good," said Holmes. "But the devil is always in the details, and we urge lawmakers to listen to the feedback of public educators as they craft these plans to ensure they are designed to ultimately provide maximum benefit for Texas students." Read the full ATPE press statement
here
.
Other priority issues Patrick identified at his press conference included building more natural gas plants to increase reliability of the electric grid, securing the border, funding law enforcement, adding mental health hospitals around the state, and election reform measures. "There will be many other priorities," Patrick stated toward the end of the press conference, underscoring that his list was not exhaustive. Asked by a reporter about the issue of tenure for higher education professors, the lieutenant governor said it was left off his list but that he fully intends to pursue legislation to eliminate tenure and prevent universities from teaching "critical race theory."
06/02/2023
The HB 100 voucher scheme dies at the end of regular session, plus a special session and the TEA takeover of Houston ISD begin.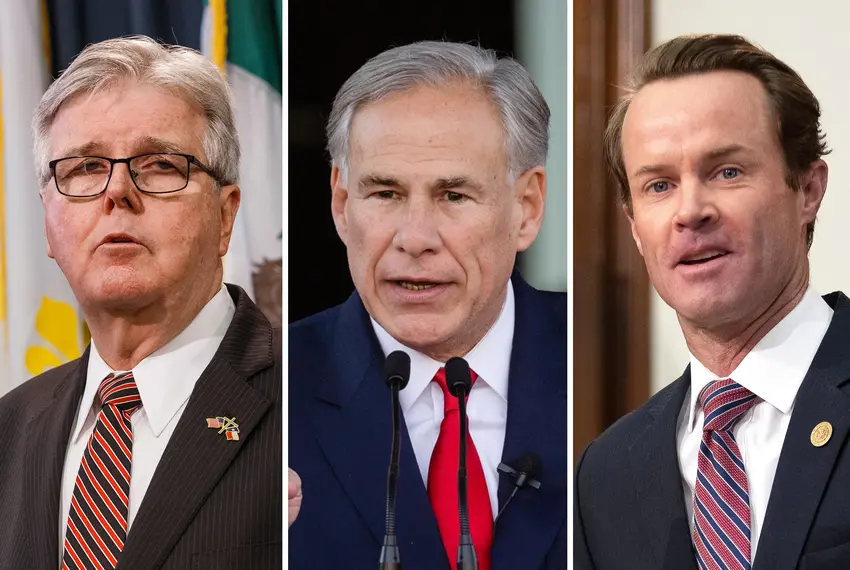 06/01/2023
Always happy to castigate the Texas House, Patrick breaks form to criticize the governor as misinformed and unsympathetic toward homeowners.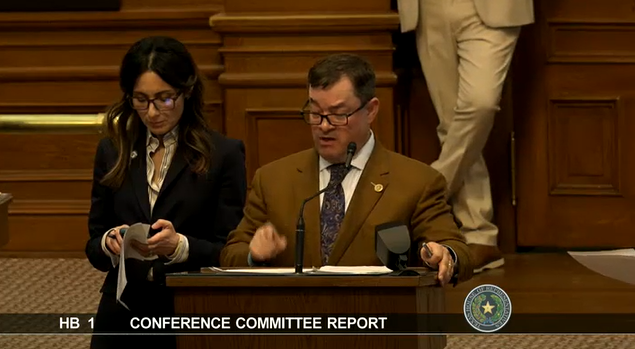 School Finance, Retirement | TRS | Social Security, Texas Legislature, Privatization | Vouchers, Educator Compensation | Benefits
05/30/2023
HB 100 was a casualty of a breakdown in communications between the House and Senate as the regular session drew to a close.