Highlights of the July 2021 SBEC meeting

Teach the Vote
Educator Preparation | Certification Texas Legislature TEA | Commissioner | SBOE
Date Posted: 7/23/2021 | Author: Andrea Chevalier
The State Board for Educator Certification (SBEC) met Friday, July 23, 2021, to take up its first post-legislative session agenda. This was the first meeting presided over by new Texas Education Agency (TEA) Associate Commissioner and former SBEC member Emily Garcia. Garcia was previously the executive director of the alternative certification program Urban Teachers in the Dallas-Fort Worth area.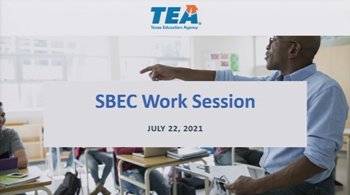 The meeting follows an SBEC work session meeting held Thursday, July 22, during which the board discussed the Texas Educator's Code of Ethics and issues with current SBEC rules regarding contract abandonment. ATPE Managing Attorney Paul Tapp served on a panel of invited experts who advised the board during the work session. Tapp stressed that the board should strive for discretion when dealing with contract abandonment cases. View archived video of the work session here.

Here are the highlights of the July 23 SBEC meeting:
The board elected Dr. John Kelly (Superintendent of Pearland ISD) as Chairperson, Jean Streepey (math teacher in Highland Park ISD) as Vice-Chairperson, and Tommy Coleman (attorney) as Secretary.
Three new SBEC members were welcomed.
The board continued a previous line of discussion regarding contract abandonment rules, this time with explicit directives due to House Bill (HB) 2519 passed by the 87th Legislature during the 2021 regular session.
First, the board welcomed its new members:
Veronica Galvan, Ed.D., director of the alternative certification program Excellence in Teaching (EiT), who replaced Emily Garcia.
Rex Gore, a citizen member from Austin, who replaced Houston citizen Sandie Mullins. Gore is a regional board member of the charter school chain IDEA Public Schools, a member of the Texas Business Leadership Council Education Task Force, and former chair of the Texas Charter Schools Association – Charter Schools Now political action committee.
Andrew Kim, superintendent of Comal ISD, who replaced Art Cavazos, Ed.D, superintendent of Harlingen CISD.
SBEC member Rohanna Brooks-Sykes stated that this would be her last meeting, as she will join TEA to work on mental health. She served as the counselor member of the board.
There were two rule reviews up for adoption at the July meeting. Rule reviews are standard procedure for all state agencies and are carried out based on a four-year cycle. The intent of the review is to establish that reasons for having the rules still exist. The board approved the review of the following SBEC rules:
19 TAC Chapter 227 relating to admission to educator preparation programs (EPPs) and evaluation of certification eligibility.
19 TAC Chapter 228 relating to requirements for EPPs, such as the steps they must take to prepare candidates for certification.
Next, the board discussed proposed updates to the Accountability System for Educator Preparation Programs (ASEP). These include extending the "Not-Rated: Declared State of Disaster" status to the 2020-21 school year while creating opportunities for EPPs to benefit from 2020-21 data if they improved during the pandemic. In this way, EPPs can move past poor performance ratings obtained before the pandemic and present their improvement to interested candidates. The proposed updates also include clarifying how pass rates are determined for certificate categories that require multiple exams (such as those that require the Science of Teaching Reading (STR) exam or the bilingual supplemental exam). Lastly, the changes would implement HB 159 to include students with disabilities in the ASEP system. This would result in no practical change as the system already includes those students.
SBEC members approved Odessa Pathway to Teaching as an alternative certification EPP. The program in Odessa, Texas, is associated with Ector County ISD and plans to offer certification in the STR and secondary-level English Language Arts and Reading, Mathematics, and Science areas.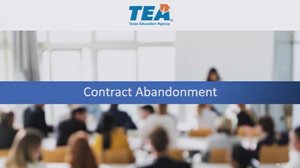 Following SBEC's work session this week on contract abandonment, TEA staff also presented proposed amendments to the educator disciplinary rules for discussion only. Based on the board's discussion, rule language will be formally proposed at the next SBEC meeting. Recent legislation, HB 2519 by Rep. Drew Darby (R-San Angelo), requires the board to change the minimum sanction for educators who abandon their contracts between the 45th and 30th day before the first day of instruction. Under the bill, SBEC must also consider any mitigating factors, and the use of mitigating factors can reduce an educator's sanction to the point that it is eliminated. Lastly, the bill states that SBEC may consider alternatives to sanctions.
Rule changes were discussed based on the outcome of the work session, as well, including adding a mitigating factor to allow for the consideration of working conditions that reasonably posed an immediate threat of physical harm to the educator, as well as these other reasons for "good cause" to abandon the contract:
A change in employment to a new class of certificate (e.g., teacher to counselor) or to a higher level of authority within the principal class of certificate.
A reduction in base pay.
A reasonable belief that the educator had written permission from an administrator.
A change in campus assignment that causes a significant adverse impact on the educator's family needs or health condition.
The board and TEA staff agreed to communicate with Rep. Darby's office to obtain clarity regarding legislative intent before formally proposing new rule language at the next SBEC meeting in October.
TEA staff also presented for discussion a proposal that would eliminate the requirement that foreign educators who wish to teach on a standard certificate in Texas obtain a letter of professional standing to certify that they are in good standing in their home country. The board seemed generally receptive to the idea but wanted to ensure criminal background checks and other safety measures will be adequate if the letter requirement is removed. Additionally, TEA presented additional countries that could be added to the list of those from which educators can exempt out of English language proficiency exam requirements. These are countries that have been identified as having English as their official language. Board members expressed appreciation for the suggestion.
The board then discussed the formation of a "quality framework" for EPPs. The framework would consist of key components and best practices of high-quality EPPs and serve as a guide for continuous improvement. Next steps include developing the framework with feedback from various stakeholders, including the Educator Preparation Advisory Committee (EPAC), of which ATPE is a member. Ultimately, TEA would present proposed language to SBEC for feedback and discussion.
TEA staff also presented board members with a list of eight bills that passed during the 2021 regular legislative session that require rulemaking by SBEC in order to be implemented. The bills span certification, educator discipline and contract abandonment, and continuing education.
Lastly, TEA staff provided updates on the EdTPA performance assessment pilot and certification exam development. Data from Year 2 of the pilot, involving approximately 820 candidates, will be discussed at the October SBEC meeting. Year 3 of the pilot includes approximately 2,000 participating candidates. An analysis of all three years of the pilot will be provided in the fall of 2022. TEA staff also highlighted that the new DeafBlind EC-12, Special Education EC-6, and Special Education 6-12 exams will be launched September 1, 2024.
The next SBEC meeting is set for October 1, 2021.
School Finance, Educator Preparation | Certification, Retirement | TRS | Social Security, Texas Legislature, Curriculum | Instruction, Privatization | Vouchers, School Safety, Educator Compensation | Benefits
03/24/2023
ATPE testifies against vouchers at marathon Senate Education Committee hearing, plus House committees hear bills on student restraint, curriculum issues, pre-k certification, and more.
03/23/2023
The Texas Senate Education Committee heard overwhelming opposition to school vouchers in a marathon hearing Wednesday, March 23.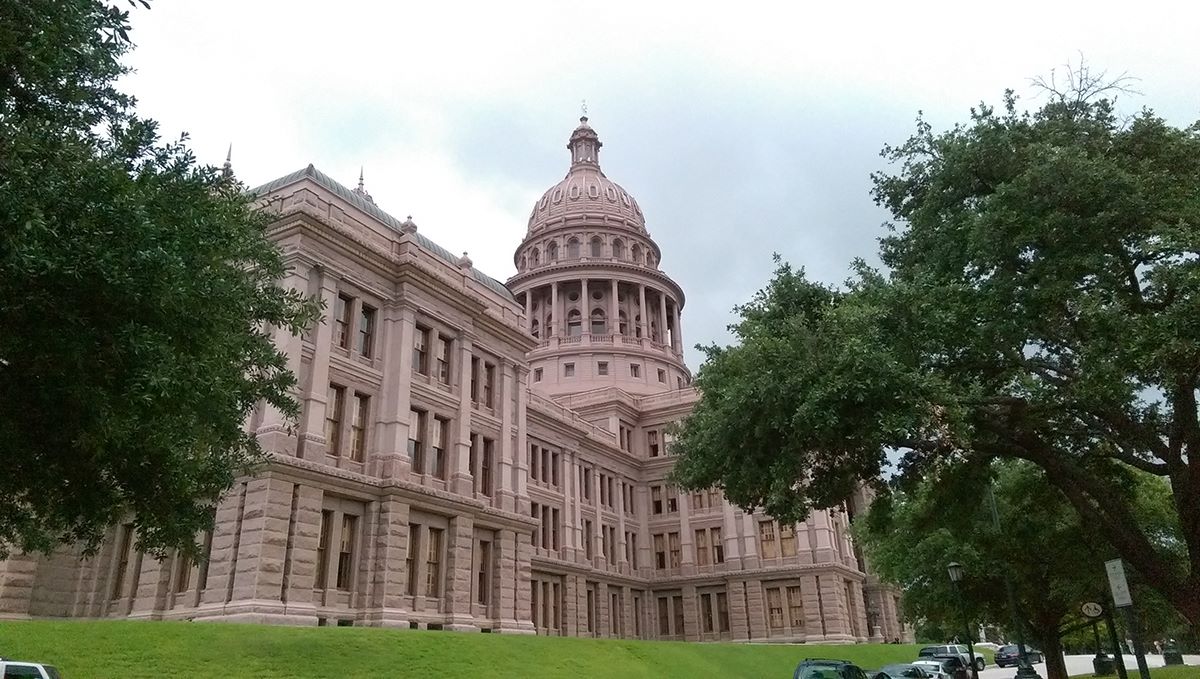 Educator Preparation | Certification, Texas Legislature, Curriculum | Instruction, Privatization | Vouchers, School Safety, Testing | Accountability
03/23/2023
The pace at the Capitol noticeably increased this week, including in the House Public Education Committee where ATPE testified on several bills.