Highlights of the February 2021 SBEC meeting

Teach the Vote
Educator Preparation | Certification
Date Posted: 2/12/2021 | Author: Andrea Chevalier
The State Board for Educator Certification (SBEC) held its first meeting of the year today, February 12, and took up an agenda including extension of the EdTPA performance assessment pilot, rule reviews, and approving new members (including ATPE) appointed to the Educator Preparation Advisory Committee.

Highlights:
Associate Commissioner Ryan Franklin, who normally serves SBEC as the chief Texas Education Agency (TEA) staff member on educator issues, left TEA to take a position at Educate Texas.
The Educator Preparation Advisory Committee (EPAC), which is a standing advisory committee to SBEC, was expanded to include greater educator representation. ATPE Lobbyist and former teacher Andrea Chevalier was appointed to EPAC as the ATPE representative.
The board issued EPP commendations for the 2019-20 year.
The EdTPA performance assessment pilot was extended for a third year.
The board set precedents for rule interpretation in several contract abandonment cases.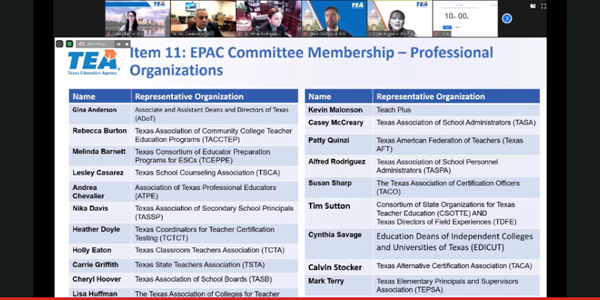 ATPE Added to EPAC:
SBEC approved the new composition and membership of the EPAC, a standing advisory committee to SBEC, to include greater representation from educators. Before the change, EPAC was primarily composed of educator preparation program (EPP) representatives. The committee will now have representatives from professional organizations, including ATPE, five at-large members from EPPs, and five at-large members who are not associated with an EPP, including three teachers, for a total of 31 members. ATPE Lobbyist and former teacher Andrea Chevalier will represent ATPE on the EPAC. While the board moved forward with the proposed membership, SBEC Chair Dr. Art Cavazos, superintendent of Harlingen-CISD, encouraged TEA staff to take a deep dive in future discussions to ensure the committee's membership reflects equity considerations and the diversity of Texas.
2019-20 EPP Commendations:
The EPP commendations issued by SBEC may make it a little easier for aspiring teachers to choose a preparation program. In 2019, SBEC approved a framework for awarding EPP commendations in four categories (see below). The board issued
2018-19 EPP commendations
in 2020, but only in categories 1-3, as the fourth category required a separate commendations committee composed of SBEC members. The commendations committee met February 11 to approve determinations in the fourth category for 2019-20.
Today, SBEC approved the 2019-20 commendations in all four categories. Find the commendations for categories 1-3
here
. The top performers in category four were Urban Teachers, University of Houston, and Texas Tech University, all of which have strong residency models for teacher candidates.  
Commendation Category
Commendation Subcategories
1. Rigorous and Robust Preparation
First test pass rate, all exams
First test pass rate in shortage areas*
2. Preparing the Educators Texas Needs
Percentage of prepared teachers in shortage areas*
Percentage of prepared teachers who identify as teachers of color
Percentage of prepared teachers who are employed in rural schools
3. Preparing Educators for Long-term Success
Teacher retention as a Texas public school teacher for five years
Teacher retention as a Texas public school professional for five years
Principal employment in Principal or Assistant Principal Role within three years
4. Innovative Educator Preparation
Focus on authentic, practice-based educator preparation such as residency models (scores determined by commendations committee)
*Shortage areas: Bilingual/English as a Second Language and Special Education at all levels and Career and Technical Education, Technology Applications and Computer Science, and Mathematics at secondary levels.
In addition, SBEC took action to:
Extend the EdTPA performance assessment pilot for an additional year, making it a three-year program ending September 1, 2022. The pilot was extended due to the impact of COVID-19.
Initiate reviews of the SBEC rules found in 19 TAC Chapter 231, relating to requirements for how certifications apply to teaching assignments, and Chapter 245, relating to the certification of educators from other countries. All SBEC rules are reviewed every four years. A public comment period for these chapters runs March 12 through April 12. Once open, find rules up for public comment in the Texas Register.
Approve the 2019-20 Accountability System for Educator Preparation (ASEP) ratings for EPPs, which were all "Not Rated: Declared State of Disaster" due to the COVID-19 pandemic.
Appoint a chair and members to the EPP Commendations committee for the 2020-21 year. Dr. John Kelly, superintendent of Pearland ISD, will chair the committee. Other members will include Shareefah Mason, Jean Streepey, Courtney MacDonald, Dr. Alma Rodriguez, and Emily Garcia.
Update SBEC's Board Operating Policies and Procedures to reflect current practice. This included eliminating the "legislative committee." TEA staff said, starting with the April 2021 board meeting, there will be regular discussion items on the agenda regarding bills from the current legislative session on which the entire committee can deliberate.
Educator discipline cases:
The board considered several contract abandonment cases during the meeting, setting precedent with their votes. Educators may be subject to contract abandonment sanctions from SBEC if they resign after the 45-day deadline before the first instructional day of the year, should their school board pursue a case against them. The minimum sanction for contract abandonment is a one-year suspension of the educator's certificate. However, final determinations on contract abandonment sanctions are subject to the board's interpretation of SBEC rules, including provisions for "good cause," which can eliminate abandonment sanctions altogether, and "mitigating factors," which can lessen a sanction.
In one case heard today, the board discussed how they should interpret a "significant change in the educator's family needs," and whether the change can happen before or after an educator signs their certificate to be considered good cause. In this case, Chair Cavazos broke a tie among the members to vote in favor of a one-year suspension of the educator's certificate, upholding the board's current interpretation that "a significant change" must be something that happens
after
a contract is signed. In effect, the significant change is interpreted as a "surprise" event, something the educator does not know about when they sign their contract, if the board is to consider it good cause for abandoning a contract.
In three other cases, the board considered how the mitigating factor of showing "good faith communications and negotiations" by the educator with their employing school district applies to the length of a suspension. Because the administrative law judge (ALJ) used this mitigating factor to reduce contract abandonment sanctions to a different degree in each of the three cases presented today, SBEC faced the question of how much weight "good faith communications" should hold and whether it could hold a different weight in different cases. Typically, TEA reduces a suspension by one month for each mitigating factor that applies, and therefore the agency staff recommended that all three cases be set to an 11-month suspension. In all three cases, however, the board considered each educator's situation and abandonment separately, rejecting TEA's recommendation to issue 11-month suspensions across the board and accepting the ALJ's recommendations of differing suspension lengths. The decision sets the precedent that one mitigating factor can hold a different weight for different educators based on their situation.
"Discussion only" agenda items:
TEA staff updated SBEC on the EdTPA performance pilot. Thirty-four EPPs are participating in year two of the pilot, including 19 institutions of higher education and 15 alternative certification programs. The pilot's extension into a third year, approved by SBEC today, will allow new EPPs to participate in third year of the pilot.
TEA staff also updated the board on certification test development, including the Science of Teaching Reading (STR) exam, which became operational January 1, 2021. TEA reiterated that SBEC does not have authority to change the STR exam requirement, as it is required under last session's House Bill 3. During the introductory phase, an initial cut score of 24/72 will determine whether an educator passes the STR. On or after September 6, 2021, educators will be subject to a new passing standard set by a standards setting committee for the STR.
06/02/2023
The HB 100 voucher scheme dies at the end of regular session, plus a special session and the TEA takeover of Houston ISD begin.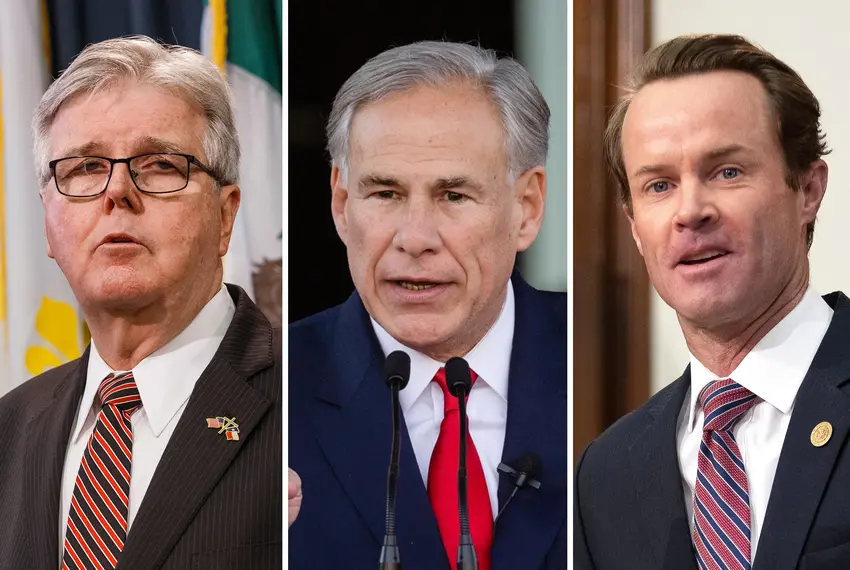 06/01/2023
Always happy to castigate the Texas House, Patrick breaks form to criticize the governor as misinformed and unsympathetic toward homeowners.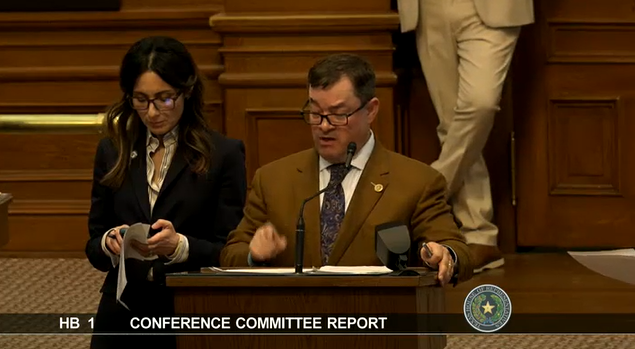 School Finance, Retirement | TRS | Social Security, Texas Legislature, Privatization | Vouchers, Educator Compensation | Benefits
05/30/2023
HB 100 was a casualty of a breakdown in communications between the House and Senate as the regular session drew to a close.