Governor Abbott discusses vaccine distribution in Texas

Teach the Vote
COVID-19
Date Posted: 12/17/2020 | Author: Mark Wiggins
Gov. Greg Abbott said teachers should be "near the front of the line" for access to COVID-19 vaccines. The remarks came in a Thursday press conference on the distribution of the first phase of vaccines. 

Gov. Abbott outlined the initial stages of distribution in November, listing health care workers, frontline workers, and vulnerable populations as those who should receive priority access.

The governor identified the specific health care workers who comprise the Phase 1A distribution at the beginning of December. That list included school nurses in the second tier of distribution. The first tier includes hospital staff in direct contact with COVID-19 patients, EMS workers, home health care workers, long-term care staff, and residents of long-term care facilities. The governor has yet to describe who comprises the "front-line workers" category, but indicated Thursday that teachers would be included.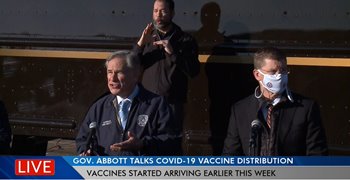 "I consider teachers to be front-line workers," Abbott said Thursday, adding that making vaccines available to teachers will help schools resume some semblance of normal function and pave the way for a broader economic restart.

While Abbott said teachers should be "near the front of the line," the governor and the state's top public health official deferred to the Expert Vaccine Allocation Panel (EVAP) on the timeline. Texas Department of State Health Services Commissioner Dr. John Hellerstedt said, "We are looking at the next allocations... and making some very nuanced... decisions."

ATPE issued a press statement following the governor's remarks today, expressing disappointment that the there was not a more definitive statement from Texas officials guaranteeing that educators will be included in the next round of vaccines set for distribution. Despite the lack of assurances offered by the governor today, ATPE remains confident that educators will have priority access to the vaccine.

Our association has been advocating for Texas public school employees to receive early access to the vaccine as a way to minimize disruptions to the learning environment for students. When teachers are forced to be absent from school due to COVID-19, as ATPE Senior Lobbyist Monty Exter explained to the Dallas Morning News this week, a limited supply of substitute teachers often gives a school district no choice but to remove students to a virtual setting. Similarly, ATPE Lobbyist Mark Wiggins said in an interview with KWTX News this week that having teachers vaccinated, if they choose to obtain the vaccine, will help schools provide more in-person instruction.

Gov. Abbott emphasized Thursday that all vaccinations will be voluntary, and it will be up to each individual whether to be immunized. According to the governor, roughly 95,000 doses of the Pfizer vaccine had been distributed, with another 129,000 scheduled for distribution on Thursday. Texas and other states hope to gain access to the Moderna vaccine as well next week, and the governor hoped to be able to immunize an ambitious total of "well over a million" people this month. 

Gov. Abbott urged those with ready stores of therapeutics developed by Regeneron and Eli Lilly to make them more widely available, saying they should not remain on shelves when they could be put to use to aid COVID-19 patients.

The governor also briefly addressed questions over public access to the Texas Capitol during the legislative session that convenes in January. The Capitol grounds reopened this week for the first time in months, but the building itself remains closed to the general public. 

"I do think the Capitol should be reopened, and the Capitol will be reopened," said Abbott.
Texas Legislature, Congress | Federal, COVID-19, Curriculum | Instruction, TEA | Commissioner | SBOE, School Safety, Educator Compensation | Benefits, Testing | Accountability
08/26/2022
The ATPE Governmental Relations team recaps the past week's education news, legislative and election updates, and regulatory developments.
Educator Preparation | Certification, Texas Legislature, Educator Rights, Curriculum | Instruction, TEA | Commissioner | SBOE, Deregulation | Charter Schools, School Safety
03/29/2023
The committee met Tuesday, March 28, 2023, and ATPE testified on several bills. Votes on pending bills were also taken.
School Finance, Texas Legislature, School Safety
03/28/2023
The House Select Committee on Youth Health and Safety heard several bills Monday, March 27, 2023, intended to address school shootings.