Election 2020: The runoff rundown

Teach the Vote
Elections
Date Posted: 3/11/2020 | Author: Mark Wiggins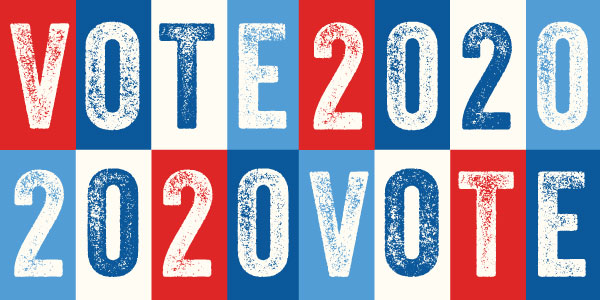 Super Tuesday has come and gone, but many Texans have a runoff election just around the corner! In any primary election where a single candidate failed to win more than 50% of the vote, the top two candidates will head to a runoff election on May 26, 2020, to determine who wins their party's nomination. This is your comprehensive guide to the runoffs from the ATPE Governmental Relations team.
The Candidates
The easiest way to know if you have a runoff election where you live is to visit the Candidate Search page here at Teach the Vote and enter your address. Here's a list of all the runoffs around the state:
Some of the more high-profile races include the Republican runoff for State Board of Education (SBOE) District 5, in which controversial figure Robert Morrow came out on top in the primary election polling. Other hot races include the Democratic primary in Senate District (SD) 27, in which Sen. Eddie Lucio, Jr. is headed to a runoff after serving three decades in the Senate. In House District (HD) 59, Rep. J.D. Sheffield, a longtime Texas Parent PAC-endorsed officeholder, is facing a runoff opponent. Another Texas Parent PAC-endorsed candidate, Glenn Rogers, is headed to a runoff for the open seat in HD 60. Our Texas Primary election results blog post has more information on what happened Super Tuesday.
The Timing
The runoff election date is May 26, preceded by a week of early voting May 18 through May 22, 2020. If you didn't vote in the primaries because you weren't registered to vote, April 27 is the last to day to register in order to vote in the runoffs. If you're newly eligible to vote and not yet registered, or recently moved to a different county and never updated your voter registration, now is the time to register!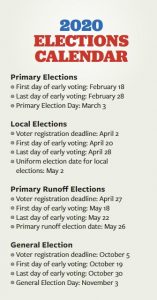 Keep in mind, also, that there are two sets of elections taking place during the month of May. First, May 2, 2020, is the uniform election date for local elections, which often include school bond propositions, school board races, and other local matters. This is separate from the primary election runoffs that are decided on May 26, 2020. Check out all of the upcoming 2020 election dates, including early voting periods, as we shared in our Spring 2020 issue of ATPE News. We urge educators to vote in every election!
The Rules
Who gets to vote in a runoff election? If you voted in the Democratic primary this year, then you can only vote in the Democratic runoff. If you voted in the Republican primary this year, then you can only vote in the Republican runoff. If you didn't vote in either primary this year, then you can vote in either party's runoff election. The voting procedures are the same as in the runoff election. You'll want to bring along one of the approved forms of identification or mark a form at the polling location indicating you have a "reasonable impediment" to obtaining that identification.
The Stakes
Why is my vote important? There were plenty of races decided on March 3 by just a handful of votes. Voter turnout in Texas is typically low, especially in primary elections and even more so in runoff elections. Just 23.8% of registered voters -- less than one in four -- participated in the March 3 primaries this year, despite the fact that this is a presidential election year. A little under 9.0% cast ballots in the 2018 primary runoffs, which included a statewide runoff for the Democratic gubernatorial candidate. That means your vote in a runoff election is more than twice as likely to influence the outcome of an election as it is in a primary. And it's absolutely critical that educators influence elections in 2020. Everything from funding for schools and teacher salaries to electoral maps that decide who gets elected in the future are up for grabs. You can read more in our Primary Colors blog series here on Teach the Vote.
Now let's start making a voting plan for the May 26 runoffs!
School Finance, Retirement | TRS | Social Security, Texas Legislature, Congress | Federal, Elections, Curriculum | Instruction, TEA | Commissioner | SBOE, Privatization | Vouchers, Deregulation | Charter Schools
11/11/2022
Today's post from the ATPE lobby team features election results, loan forgiveness news, TRS resources, voucher updates, thanks to our veterans, kudos, and more.
02/07/2023
Northside (20) ISD Superintendent Brian Woods, president of the Texas School Alliance, and Cypress-Fairbanks ISD Superintendent Mark Henry have a powerful op-ed in the Feb. 6 San Antonio Express-News.
School Finance, Texas Legislature, Curriculum | Instruction, TEA | Commissioner | SBOE, Privatization | Vouchers
02/03/2023
The SBOE squeezed a four-day meeting into two, and most legislative activity was canceled this week due to a winter storm. Read more from ATPE Governmental Relations.