Betsy DeVos tenure ends with abrupt resignation

Teach the Vote
Congress | Federal Privatization | Vouchers Testing | Accountability
Date Posted: 1/08/2021
U.S. Secretary of Education Betsy DeVos submitted her letter of resignation to President Donald Trump January 7, making today her last day in office as one of the longest-serving members of Trump's cabinet. The letter focused on her achievements, core beliefs, and future hopes for American education before transitioning to an admonishment of the protests, security breach, and destruction that took place at the U.S. Capitol January 6. DeVos notably underscored Trump's role in the events as a breaking point, saying, "There is no mistaking the impact your rhetoric had on the situation, and it is the inflection point for me." She continued by saying: "Impressionable children are watching all of this, and they are learning from us. I believe we each have a moral obligation to exercise good judgement and model the behavior we hope they would emulate."

In response to DeVos' resignation, ATPE Executive Director Shannon Holmes said: "Secretary DeVos' resignation 11 days before the end of the Trump administration is ultimately meaningless, but four years of blatant disrespect for public educators did come to a bizarre end last night. ATPE was founded on the belief that an 'us vs. them' mentality and partisan actions hurt students, no matter who brings them to the table. American democracy only succeeds with a strong public education system—something every future education secretary should believe first and foremost."

A look back at DeVos' tenure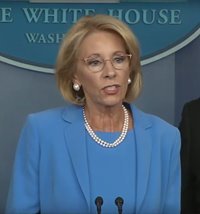 From her confirmation in early 2017, DeVos was heavily criticized for her lack of education experience and limited understanding of federal laws relating to schools. As ATPE wrote in a blog post shortly after her nomination, "DeVos has no professional experience in public schools, has never attended public schools, and has never enrolled her children in public schools." Her Senate confirmation hearings brought to light ethics concerns about DeVos' nomination—the Office of Government Ethics identified 102 potential conflicts of interest in a written report—and her ill-informed responses to senators' questions spawned four years' worth of satire. (Asked her opinion on guns in schools, DeVos cited a threat of Wyoming schools being attacked by bears. Principal Gerry Brooks, who spoke at the 2020 ATPE Summit, hilariously reacted to the comment with his now famous video about bear protection products for schools. More recently, Brooks recorded a July 2020 video featuring a mock phone call to DeVos to discuss COVID-19 concerns.) Two Republican senators ultimately broke ranks with their party to oppose the DeVos nomination, along with all Democratic senators, resulting in a 50-50 tie vote that had to be decided by Vice President Mike Pence.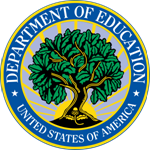 Throughout her tenure, DeVos focused on privatizing the public education system. From repeated, failed efforts to create a tax credit voucher program to her most recent CARES Act funding debacle that resulted in a federal court's overturning DeVos' questionable interpretation of equitable services, the former secretary was relentless in trying to dismantle the institution of public education from every angle possible. Under her leadership and with a reduced budget at the president's request, the Department of Education funneled its limited resources toward incentives for states to fund private schools and the expansion of charter schools. DeVos devoted a great deal of her effort toward promoting federal voucher legislation authored by U.S. Sen. Ted Cruz (R-Texas), making numerous personal appearances with Cruz around the country and appealing directly to parents, especially after the coronavirus forced many public schools to close temporarily. DeVos and her billionaire family also founded the "American Federation for Children," which, along with its subsidiaries and affiliated groups, has lobbied for voucher bills and funded pro-voucher candidates running for office in Texas and around the country.

In recent months, after ATPE and numerous other education groups began pleading for relief from the burdens of standardized testing amid the global pandemic, DeVos wrote to the education commissioners of every state advising that she would grant no such waivers. "If we fail to assess students, it will have a lasting effect for years to come," wrote DeVos. She went on to lambast teachers' unions and "opponents of reform" in her letter, saying transparency and accountability would surely be sacrificed if student assessments were eliminated.
With the DeVos era coming to an end, confirmation hearings will begin soon on President-Elect Joe Biden's cabinet picks. Read more about his nominee for Secretary of Education, Dr. Miguel Cardona, in t
his recent Teach the Vote blog post
.
11/23/2022
The ATPE state office is closed Nov. 23-25. We wish you a happy and safe holiday!
Texas Legislature, Curriculum | Instruction, TEA | Commissioner | SBOE, Privatization | Vouchers, School Safety
11/18/2022
From the State Board of Education to the Legislature, there was a lot of voucher talk in Texas this week. Read about newly filed bills, school safety regs, and more from the ATPE lobby team.
Texas Legislature, Curriculum | Instruction, TEA | Commissioner | SBOE, Privatization | Vouchers, School Safety, Testing | Accountability
11/18/2022
The State Board of Education (SBOE) voted 11-2 Friday, Nov. 18, to urge the Texas Legislature to reject private school vouchers in all forms.