ATPE suggests improvements to Teacher Incentive Allotment rules

Teach the Vote
TEA | Commissioner | SBOE Educator Compensation | Benefits
Date Posted: 1/19/2022 | Author: Andrea Chevalier
To implement recently passed legislation, Texas Commissioner of Education Mike Morath has proposed new rules for the Teacher Incentive Allotment (TIA). ATPE weighed in on the proposed rules to suggest improvements that would increase clarity and ensure educators do not experience any delays in compensation as a result of the changes. Read ATPE's comments submitted to the Texas Education Agency (TEA) here.

Highlights of ATPE's recommendations:
The proposed rules would allow TEA to request that districts submit video in the event that they are provisionally approved to operate a local optional teacher designation system (which is required to participate in TIA). Due to concerns with teachers' rights to confidentiality, ATPE recommended eliminating the video submission language from the proposed rules.
TEA describes one of the proposed rule changes as adding a requirement "that a teacher must provide a year of service for each district" to "ensure that teachers generate funding for districts in which they have served a year of service." This description implies TIA teachers are locked into service with their district, but the corresponding rule language does not make such a change. To avoid confusion, ATPE recommended clarifying the explanatory language to align with the rule proposal.
To avoid teacher compensation delays, ATPE recommended tightening TEA's dispute resolution timeline to ensure disputes are resolved by the start of the next school year in which TIA funds would be distributed.
The proposed amendments also outline which changes to a district's local optional teacher designation system would trigger the need to apply for TEA approval. ATPE recommended defining a deadline for districts to submit their applications for approval rather than relying on "the year prior to implementation" so that TEA has ample time to review applications, approve funding, and avoid teacher compensation delays.
The proposed rules would require school districts receiving funding for charter partnerships authorized under Senate Bill 1882 (2017) to "pass along at least 90% of the teacher incentive allotment funding to the charter partner." These changes imply that a school district must pass along TIA funds to the charter partner, regardless of whether any fund-generating teachers work on the charter campus. ATPE recommended simplifying the proposed rule so that the school district would pass along 90% of the TIA funds for eligible teachers employed at a charter partner campus to the charter partner.
Stay tuned to Teach the Vote for updates on this rule proposal, which is scheduled to take effect April 17, 2022.
Related
: ATPE also submitted public comments on TIA rules in
2020
and
2021
.
12/02/2022
It's December! As ATPE gears up to fight for public education in the Texas legislative session starting next month, we're also pushing Congress to pass an important bill before its session ends.
Retirement | TRS | Social Security, Congress | Federal
12/02/2022
ATPE and retiree groups are urging Congressional leaders to complete negotiations by the end of 2022 on a deal to fix the Windfall Elimination Provision.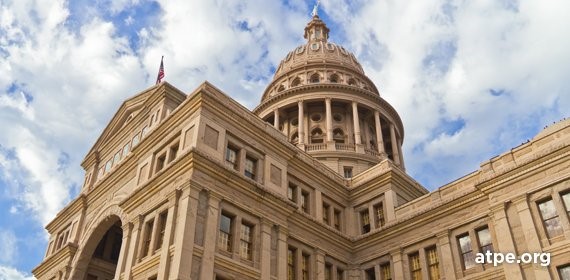 School Finance, Educator Preparation | Certification, Texas Legislature, Curriculum | Instruction, Privatization | Vouchers
12/01/2022
The Texas Commission on Virtual Education met Wednesday to discuss a draft of the commission's findings and recommendations for the 2023 legislative session.