ATPE continues advocacy for Master Teacher fix

Teach the Vote
Educator Preparation | Certification Curriculum | Instruction
Date Posted: 4/22/2020 | Author: Andrea Chevalier
While it is not uncommon for Texas teaching certificates to come and go as they keep up with the needs of an evolving education system, the legislature's abrupt decision in 2019 to eliminate prestigious Master Teacher certificates caught many by surprise. To address this issue, ATPE's lobbyists have been working diligently with state leaders and officials to ensure that the expertise and value of Master Teacher certificate holders is upheld.

Under House Bill (HB) 3 passed by the 86th Texas legislature in 2019, Master Teacher certificates can no longer be issued or renewed, effective September 1, 2019. The bill also repealed the authorizing statutes for those Master Teacher certificates, which were offered in Reading, Mathematics, Science, and Technology, essentially wiping them from existence. Master Teacher certificate holders will now find their certificates marked with a "legacy" notation, as designated by the State Board for Educator Certification (SBEC).
This change has left many of our state's nearly 5,000 Master Teachers perplexed as to the status of their certificates and their teaching assignment prospects. Once their Master Teacher certificate expires, will they be able to continue teaching in their current position? Take the popular Master Reading Teacher certificate as an example (82% of Master Teachers hold this certificate). First issued in 2001, this certificate was designed for those who wanted to go above and beyond - only obtainable by educators who had already been teaching on a standard certificate. Because the certificate is EC-12, in some cases it allows an educator to obtain a teaching assignment for which they wouldn't otherwise be eligible if they held only their underlying standard certificate. Teachers in this situation who want to maintain their current assignments must either pay to take a test for earning an appropriate credential, request permission to remain in their assignment on an expired certificate, or find another job.
ATPE has been working with SBEC, the Texas Education Agency (TEA), members of the legislature, and state leaders to remedy this issue for several months. ATPE Lobbyist Andrea Chevalier submitted written testimony at an SBEC meeting on October 4, 2019, written and oral testimony at the December 6, 2019 SBEC meeting, and written and oral testimony at the February 21, 2020 SBEC meeting. ATPE also submitted public comments on the rule review of Chapter 239, Student Services Certificates, which is where the original Master Teacher certificates were housed in the Texas Administrative Code.
These efforts have led to important developments, including a letter of intent being shared by House Public Education Committee chairman and HB 3 author Dan Huberty (R-Kingwood) and a decision to add a discussion item to the agenda for an upcoming SBEC meeting on May 1, 2020, aimed at finding solutions to the Master Teacher issue. (The May 1 SBEC meeting starts at 8:30 a.m. and will be broadcast here. ATPE will also provide updates on the meeting here on our Teach the Vote blog.)
In unexpectedly dramatic fashion, Chairman Huberty's letter in response to ATPE's advocacy was delivered into SBEC members' hands as ATPE Lobbyist Andrea Chevalier was delivering her testimony on the Master Teachers issue during the February SBEC meeting. The letter stated that the intent of the elimination of the Master Teacher certificates was to avoid naming confusion with the newly created "master teacher" designations under the state's new Teacher Incentive Allotment, also included in HB 3.
"Our intent was never to abandon the expertise of these highly trained educators," Huberty wrote in the letter. "Holders of legacy master teacher certificates should be entitled to maintain their existing assignments without interruption, additional cost, or the need to seek additional certifications."
Responding to the requests from ATPE and the letter from Chairman Huberty, SBEC members voted to create a separate agenda item for the May SBEC meeting to discuss options for Master Teacher certificate holders. ATPE has also sent a letter letter to Gov. Greg Abbott expressing our appreciation for his interest in the issue.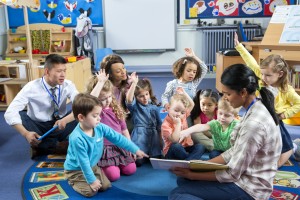 Master Teacher certificate holders underwent time-intensive, rigorous, and often costly educator preparation programs in order to receive this extra credential. Their roles are content-specific and include teacher mentoring duties as they support the other professionals on their campus. Master Teachers are also highly educated, with 67% having either a master's or doctorate degree. In many cases, the Master Teacher certificates (especially the Master Reading Teacher certificate) are highly prized, and at least in the early days of the certificate, were accompanied by stipends. Furthermore, Master Reading Teachers' focus on literacy is crucial to the reading success of the state and is directly related to many of the aims of HB 3.
As this issue progresses, ATPE will continue to work carefully to preserve the hard work and expertise of Master Teacher certificate holders and share updates here on our advocacy blog.
02/07/2023
Northside (20) ISD Superintendent Brian Woods, president of the Texas School Alliance, and Cypress-Fairbanks ISD Superintendent Mark Henry have a powerful op-ed in the Feb. 6 San Antonio Express-News.
School Finance, Texas Legislature, Curriculum | Instruction, TEA | Commissioner | SBOE, Privatization | Vouchers
02/03/2023
The SBOE squeezed a four-day meeting into two, and most legislative activity was canceled this week due to a winter storm. Read more from ATPE Governmental Relations.
Texas Legislature, TEA | Commissioner | SBOE, Privatization | Vouchers, Deregulation | Charter Schools
02/03/2023
Texas Gov. Greg Abbott swore in six new members at the State Board of Education's February 2023 meeting.