A status report on House Bill 3: Educator Compensation

Teach the Vote
School Finance Texas Legislature Educator Compensation | Benefits
Date Posted: 12/29/2020 | Author: Andrea Chevalier
It's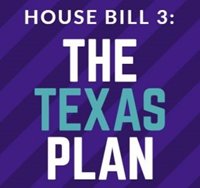 been a year and a half since the 2019 passage of House Bill (HB) 3 by Rep. Dan Huberty (R-Kingwood), plenty of time for its myriad changes to enter the implementation process and begin having an impact on our schools. For starters, districts have seen increased funding, and some have applied for new funding through programs such as the Teacher Incentive Allotment (TIA) and the Teacher Mentor Program Allotment (TMPA). It's unclear how HB 3's many changes may fare during the upcoming 2021 legislative session, but as we approach the end of the year, ATPE is taking a look at how the bill has been implemented during the interim.
In this post, we will break down where Texas stands with elements of HB 3 relating to educator compensation, as well as how ATPE has advocated for teachers throughout the implementation process.
---
Educator Compensation
HB 3 brought additional funding for school districts with a requirement that certain funds be used to improve educator compensation. Specifically, the bill mandated that at least 30% of a district's funding increase go toward improving compensation, with 75% of that amount dedicated to raising the salaries of teachers, counselors, librarians, and nurses, prioritizing those with more than five years of experience.
The Texas Education Agency (TEA) recently released self-reported school district data on the educator compensation increases required under HB 3. Rural areas and districts with smaller enrollment seemed to offer the greatest absolute pay increases. However, without data showing where educators' salaries sat before the HB 3-associated increases, it is hard to compare the significance of various pay raises across the state. Read this blog post by ATPE Lobbyist Andrea Chevalier for more detail on how the pay raises were structured in HB 3 and the results of the educator compensation report.
The Teacher Mentor Program Allotment (TMPA) included in HB 3 is also well underway, with 63 charter and traditional school districts participating in the 2020-21 cycle of the allotment. The Commissioner's rules for the TMPA took effect June 28, 2020. Eligible beginning teachers in participating school districts will generate $1,800 each, which districts can use for mentor stipends, scheduled release time for mentors and mentees, and paying for mentor program supports and training. For more information on the TMPA, see our previous reporting on the program after HB 3 passed.
The Teacher Incentive Allotment (TIA) is the merit pay program created under HB 3. It provides additional funding to districts that opt in to the program by developing and receiving approval for a "local optional designation system" that includes policies and practices for designating teachers as recognized, exemplary, or master (the highest level). Each designated teacher generates a base level of funding for the school district that can then be increased by factors such as whether the campus is rural or serves a high proportion of economically disadvantaged students. Although TIA funds do not flow directly to designated teachers and are available to be spent at a district's discretion, there are a few strings. Specifically, HB 3 requires that 90% of the funding generated by the teacher designations through the allotment be spent on educators at the campus where the designated teacher is assigned to teach. See this post for more detail on the TIA language in the bill.
ATPE expressed concerns with the TIA proposal back when lawmakers were considering including it in HB 3. We argued for providing meaningful, permanent pay raises more broadly before installing a new program that risks tying teacher pay to unreliable standardized test scores. ATPE was successful in lobbying for the final version of HB 3 to include a provision that the commissioner may not require a district to use a state assessment instrument such as the STAAR test to evaluate teacher performance.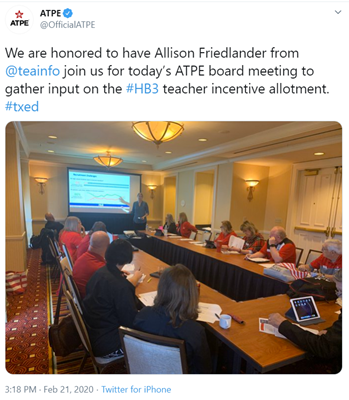 Post-session, TEA staff briefed the ATPE Board of Directors on the development of the TIA program and plans for its phased implementation, providing our board with an opportunity to ask questions and give educator input. The adopted Commissioner's rules for the Local Optional Teacher Designation System outline key aspects of the TIA's local elements, such as data sharing requirements, teacher eligibility criteria, and the approval process for district plans. TEA incorporated some improvements suggested by ATPE during the public comment phase of the rulemaking process in May 2020. These included clarifying the rules' definition of "educator" and the role codes eligible for the designation, requiring that school districts applying for the funds be allowed to resubmit their application, and requiring an implementation plan for improving the local system after collecting educator feedback. Read more about our suggested changes to the rules in this May 2020 blog post by ATPE Senior Lobbyist Monty Exter.
The TIA is now in practice, with 26 charter and traditional school districts set to receive $40 million in funds for the 2020-21 school year.
ATPE submitted written testimony to key committees in the Texas House and Senate this year urging that lawmakers ensure funding is in place to maintain educator salary increases under HB 3 and encourage districts to distribute any additional funding in the form of permanent raises. Fortunately, as the 2021 legislative session quickly approaches, many lawmakers have expressed a desire to maintain the funding increases that HB 3 facilitated two years ago, despite the budget deficit the 87th Legislature will face. Because of the economic effects of the pandemic and ongoing costs our schools are facing this year, ATPE has suggested that the Legislature consider pausing the implementation of the TIA program, which could cost the state approximately $150 million in its first biennium, at least until school district budgets have stabilized. Read more about ATPE's input to key House committees in this blog post by ATPE Governmental Relations Director Jennifer Mitchell. For more on our input to the Senate Education Committee, see this blog post by ATPE Lobbyist Mark Wiggins.
---
Tomorrow on our Teach the Vote blog, ATPE reports on the implementation of other aspects of HB 3 affecting the education profession.
Educator Preparation | Certification, Texas Legislature, Educator Rights, Curriculum | Instruction, TEA | Commissioner | SBOE, Deregulation | Charter Schools, School Safety
03/29/2023
The committee met Tuesday, March 28, 2023, and ATPE testified on several bills. Votes on pending bills were also taken.
School Finance, Texas Legislature, School Safety
03/28/2023
The House Select Committee on Youth Health and Safety heard several bills Monday, March 27, 2023, intended to address school shootings.
School Finance, Educator Preparation | Certification, Retirement | TRS | Social Security, Texas Legislature, Curriculum | Instruction, Privatization | Vouchers, School Safety, Educator Compensation | Benefits
03/24/2023
ATPE testifies against vouchers at marathon Senate Education Committee hearing, plus House committees hear bills on student restraint, curriculum, pre-k certification, and more.