Texas election roundup: Last day to vote early

Teach the Vote
Elections
Date Posted: 11/01/2019 | Author: Mark Wiggins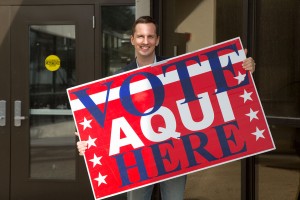 Early voting ends today in the statewide Texas constitutional election, as well as three special elections: one in Dallas and two in the Houston area.
According to the Texas Secretary of State, 542,000 out of nearly 16 million registered voters had voted by mail or in person by the time polls closed on Wednesday. This puts total statewide turnout around 3.4 percent. In Fort Bend County, the site of the House District (HD) 28 special election that could prove a bellwether race between Democrats and Republicans, turnout through Wednesday was 4.4 percent.
Candidates in the special elections were required to turn in their 8-day out campaign finance reports this week. Lone Democrat Eliz Markowitz, who has been endorsed by pro-public education group Texas Parent PAC, out-raised the rest of the field combined during the 30-day period between September 27 and October 26. Markowitz raised $294,000, compared to $122,000 raised by the six Republicans in the race. The top Republican fundraisers were Anna Allred with $66,000 and Tricia Krenek with $55,000. Republican Gary Gates, who has run several unsuccessful races including a shot at the Texas Railroad Commission, spent $555,000 in the same period. This is more than the rest of the field combined. He was followed by Krenek spending $205,000, Markowitz spending $190,000, and Allred spending $104,000.
You can learn more about the HD 28 race in our earlier post on TeachTheVote.org. Read more about what's on the constitutional election ballot here. Election Day is Tuesday, November 5. Sign up to get election reminders and help making your voting plan at TexasEducatorsVote.com.
School Finance, Retirement | TRS | Social Security, Texas Legislature, Congress | Federal, Elections, Curriculum | Instruction, TEA | Commissioner | SBOE, Privatization | Vouchers, Deregulation | Charter Schools
11/11/2022
Today's post from the ATPE lobby team features election results, loan forgiveness news, TRS resources, voucher updates, thanks to our veterans, kudos, and more.
Retirement | TRS | Social Security
12/09/2022
At its December 2022 meeting, the board got an in-depth look at a snapshot of the fund's health as of Aug. 31, 2022.
12/08/2022
Leadership change, retirement of ranking member Brady mean the clock is ticking on potential for bipartisan change.