TEA rolls out resource website for HB 3, school finance changes

Teach the Vote
School Finance Texas Legislature TEA | Commissioner | SBOE
Date Posted: 6/25/2019 | Author: Mark Wiggins
The Texas Education Agency (TEA) is rolling out a new website and video series to try and explain the various components of House Bill (HB) 3, the major school finance bill passed by the 86th Texas Legislature this year.
At more than 300 pages in length, HB 3 sets in motion a significant number of policy changes that will have marked effects on schools and classrooms. Among these changes is language in the bill that directs school districts that see a substantial increase in school funding as a result of HB 3 to dedicate some of that new funding to increasing compensation for school employees, with priority given to classroom teachers with more than five years of experience.
In the month that passed since HB 3 became law, some districts have awarded raises for school employees, although it's unclear whether HB 3 was the catalyst. Many districts will await further guidance from TEA before implementing the compensation sections of HB 3 in order to know exactly how they are expected to distribute any new funding and what form the additional compensation may take -- i.e. salary, healthcare and retirement contributions, or other benefits that carry a dollar value.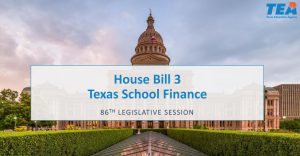 To answer questions like these for the general public, TEA has set up an HB 3 information website that can be found here. The website currently hosts an introductory video by Texas Commissioner of Education Mike Morath. The agency plans to release a series of 30-minute videos entitled "HB3 in 30," each of which is intended to explain specific components of HB 3. According to a press release from the agency:
"Videos will be released every Thursday and will be accompanied by supporting documents available for download. A full schedule of weekly release dates, a summary of HB3, frequently asked questions, and implementation guidance for school districts can be found on the TEA House Bill 3 information site.
The first video in the series, an overview of Budget Planning for Teacher Compensation, is scheduled for release on Thursday, June 26."
Districts will continue to receive formal guidance documents from TEA, the first round of which was released earlier this month. Links to these documents are also provided at the bottom of the HB 3 information site.
For more on the anticipated impact of HB 3, be sure to check out the ATPE Governmental Relations team's comprehensive analysis of the bill here on Teach the Vote.
12/08/2022
Leadership change, retirement of ranking member Brady mean the clock is ticking on potential for bipartisan change.
12/02/2022
It's December! As ATPE gears up to fight for public education in the Texas legislative session starting next month, we're also pushing Congress to pass an important bill before its session ends.
Retirement | TRS | Social Security, Congress | Federal
12/02/2022
ATPE and retiree groups are urging Congressional leaders to complete negotiations by the end of 2022 on a deal to fix the Windfall Elimination Provision.