Texas House approves landmark school finance bill

Teach the Vote
School Finance Texas Legislature
Date Posted: 4/04/2019 | Author: Jennifer Mitchell, CAE
Chairman Huberty addresses the Texas House before its final vote approving House Bill 3, April 3, 2019.
A major effort to improve the state's school finance system took a giant step forward today after the Texas House of Representatives passed House Bill (HB) 3 this afternoon.
The bill, authored by House Public Education Committee Chairman Dan Huberty (R-Kingwood), adds billions in new funding for Texas public schools, as well as tax relief for local property owners who have dealt with the increasing burden of funding public education while the state's share of funding responsibility has decreased over the years. Efforts to reform the school funding system last session, also spearheaded by Chairman Huberty, failed after the House and Senate could not reach an agreement in 2017, despite debating the issue extensively in both a regular and special session. Instead, the legislature convened a commission to study the issue over the last two years. HB 3 approved by the lower chamber today reflects a massive amount of work and compromise.
In a press release issued today, ATPE expressed thanks to House members and, in particular, Chairman Huberty and House Speaker Dennis Bonnen (R-Angleton) for their leadership in moving the bill forward. "ATPE provided input on HB 3, and we are grateful that the concerns of Texas educators were given meaningful consideration," said ATPE Executive Director Shannon Holmes. "HB 3 as adopted by the full House today represents a major step forward in replacing our outdated school funding system with one that will prioritize funding for students who need it the most, place greater emphasis on early learning, alleviate some of the burden on local taxpayers, and help Texas recruit and retain the best teachers," added Dr. Holmes.
During today's floor debate, the House added language to ensure that as school districts receive additional funding, their employees will be guaranteed pay raises. The floor amendment was authored by Rep. Chris Turner (D-Grand Prairie) and received bipartisan support plus the approval of the bill's author. As amended, HB 3 now requires districts to spend at least 25 percent of any increase in the basic allotment on salary increases for their full-time employees, except for administrators. One-quarter of those salary increases may be doled out at the district's discretion, while 75 percent of the increases must be funded in an across-the-board manner giving an equal amount to each eligible employee. Other pay raise amendments that had been pre-filed were withdrawn once it became clear that the House leadership would accept the Turner amendment.
ATPE also appreciates that the House kept other language out of HB 3 that might have derailed its chances for passing today. For example, there was no appetite for an amendment filed by Rep. Matt Schaefer attempting to add merit pay back into the bill. Citing the work of the Texas Commission on Public School Finance, Rep. Schaefer argued that the state's current compensation system for teachers "values tenure" rather than quality. A merit pay proposal was originally included in HB 3 as filed but was removed after ATPE and other educator groups expressed concerns about it and the emphasis it would inevitably place on standardized test scores. Rep. Schaefer withdrew the amendment today in the face of obvious opposition to it.
The House's final vote on HB 3 today was 148-1. Rep. Jonathan Stickland (R-Bedford) was the lone "no" vote on the bill. Speaker Bonnen exercised his right to cast a supporting vote from the chair, which typically occurs only for bills that are a very high priority of the House leadership or when there is a need for a tie-breaking vote.
Today's vote helped fulfill Speaker Bonnen's pledge to make passing a school finance reform bill a top priority; Bonnen announced right after becoming speaker on opening day of this legislative session that he was stocking the House members' lounge with disposable cups reading, "School Finance Reform - The Time is Now."
HB 3 heads next to the Texas Senate, where Senate Education Committee Chairman Larry Taylor (R-Friendswood) has filed his own school finance bill, Senate Bill 4, but has largely waited for the House to act on its more comprehensive bill.
06/02/2023
The HB 100 voucher scheme dies at the end of regular session, plus a special session and the TEA takeover of Houston ISD begin.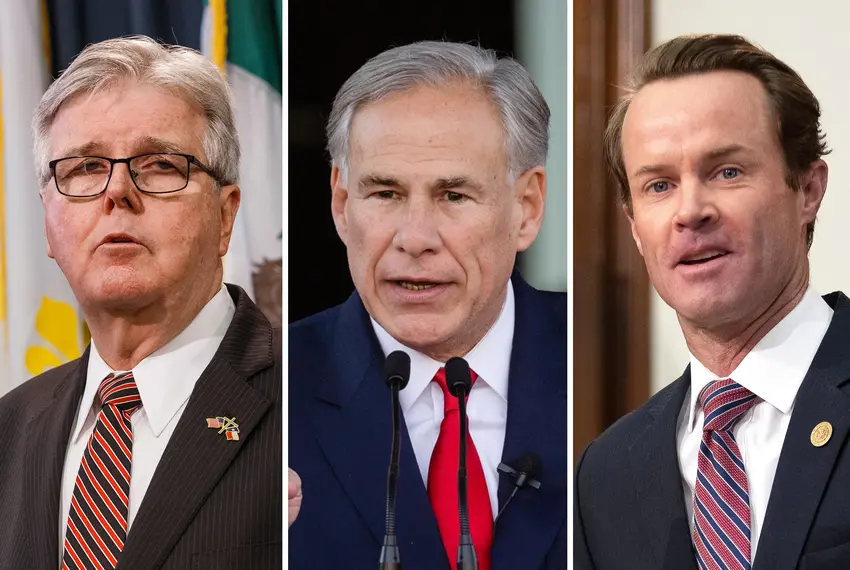 06/01/2023
Always happy to castigate the Texas House, Patrick breaks form to criticize the governor as misinformed and unsympathetic toward homeowners.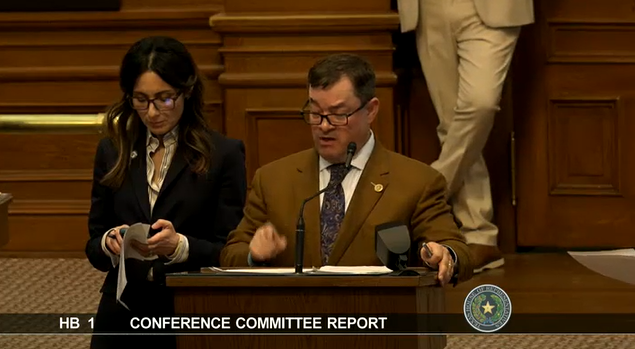 School Finance, Retirement | TRS | Social Security, Texas Legislature, Privatization | Vouchers, Educator Compensation | Benefits
05/30/2023
HB 100 was a casualty of a breakdown in communications between the House and Senate as the regular session drew to a close.