SBEC considers EdTPA pilot, special education certification, and more

Teach the Vote
Educator Preparation | Certification TEA | Commissioner | SBOE
Date Posted: 4/29/2019 | Author: Andrea Chevalier
SBEC meeting, April 26, 2019
On Friday, April 26, 2019, the State Board for Educator Certification (SBEC) met in Austin to take up an agenda including several important items. Items considered by the board included final approval of the EdTPA pilot, discussion of a new framework for special education certification exams, and approval of final details for the new "Principal as Instructional Leader" certificate.
Some action items on the board's agenda last week will result in a public comment period that will run from May 31, 2019, through July 1, 2019. These include proposals to prompt a routine four-year review of rules regarding the certification of appraisers and rules establishing the certificate categories within the certificate class for classroom teachers (e.g. Science 4-8, Social Studies 7-12, Music EC-12). The board is also proposing changes to rules regarding how districts are required to make personnel assignment decisions. For instance, if you have a certificate in Ethnic Studies: Mexican American Studies 9-12, you are allowed to teach a variety of social studies and history courses. Due to public testimony, three changes were made to the proposed rules following the February meeting: allowing with agriculture certificates to teach Principles of Architecture: Principals of Construction, Grades 9-12;  allowing those with Physics/Math certificates to teach Robotics 1, Grades 9-12; and allowing those with technology education certificates to teach Transportation, Distribution, and Logistics, Grades 9-12.
Another major rule-making item on the SBEC agenda that will require a public comment period was the approval of proposed changes to rules on Teacher Certification Redesign, including certification requirements, testing requirements, and types of certificate classes and permits issued (probationary, intern, etc.). The proposed changes include the following:
A maximum 45-day waiting period between test attempts, which supports test reliability.
The option of a four-week, intensive pre-service pathway towards an intern certificate, which is meant to incentivize alternative certification and post-baccalaureate programs to have pre-service teaching.
The use of EdTPA, a portfolio-based performance assessment, as a testing option that educator preparation programs (EPPs) can opt into using during a two-year implementation pilot.
Updates to fees, including a shift to subject-matter-only assessments for EPPs that require pre-admission content tests (PACT), which would cost $106 (proposed effective January 1, 2020). EdTPA would cost $281 and only affect candidates who choose to use EdTPA and participate in an EPP that is in the pilot, with a cost of $111/task for retakes (three tasks total).
Testimony on the EdTPA proposal was voluminous during Friday's meeting. An overwhelming majority of EPPs (university, alternative, and post-baccalaureate) testified in opposition to the proposed new assessment, citing concerns with test integrity, cost to candidates, and pilot design. Those in favor of the change, including Teach Plus Texas and four Teach Plus Texas policy fellows, stated that authentic assessment will be effective at inciting change in EPPs that will lead to better prepared teachers. While the board voted in favor of beginning the pilot, certain board members such as Dr. Art Cavazos, Dr. Rex Peebles, Dr. John Kelly, Carlos Villagrana, and Tommy Coleman expressed concerns with the structure and viability of data obtained from the pilot. Dr. Cavazos strongly advocated for a simultaneous alternative to EdTPA to be developed, so that additional data and options are available after the two-year pilot concludes, should the EdTPA data turn out to be inconclusive or negative. Again,a  public comment period on these proposed changes to the certification exam rules will run from May 31, 2019, through July 1, 2019, and will be published in the Texas Register.
Here are additional agenda items on which SBEC took action last Friday:
Final approval of the review of rules regarding educator disciplinary proceedings, sanctions, and contested cases. This is a standard four-year review that all state agency rules are subject to on an ongoing, cyclical basis.
Final approval of a new rule specifying certification standards for the English as a Second Language (ESL) Supplemental Certificate (proposed effective July 21, 2019). One of the changes to the standards is a section on culturally responsive teaching in order to construct mutually adaptive learning environments for English language learners.
Final approval of the deadline for candidates to qualify and apply for the current Principal Certificate (August 31, 2019) so that all certificates under this category can be issued by October 30, 2019. SBEC also heard an update on the 59 EPPs that have been approved to offer the new Principal as Instructional Leader Certificate. See more about Principal Certification Redesign here.
Approval of the membership of the Bilingual Education certificate advisory committee, which will work with TEA staff to draft educator standards that define the content of EPPs and certification exams. The committee will convene in June 2019.
Approval of the rest of the EPP accountability ratings (56), as most others (77) had been approved during the February SBEC meeting.
Approval/action on disciplinary cases involving educator misconduct.
The following additional items were on the board's agenda last week for discussion only:
Discussion of changes to rules regarding accountability standards and procedures for EPPs, including new commendations for high-performing EPPs, adoption of the accountability manual, and how accreditation statuses are determined.
Discussion of proposed changes to admission requirements into EPPs to reflect changes to the PACT, which is a part of the Teacher Certification Redesign mentioned above. The purpose of the PACT is to allow candidates admittance to EPP programs by demonstrating subject-matter-only knowledge (if they don't have the commensurate coursework and minimum 2.5 GPA). Currently, candidates can gain admission through a content pedagogy test, which tests for teaching strategies that the candidate hasn't been exposed to yet. The proposed revisions would also implement SB 1839, HB 2039, HB 3349 of the 85th Legislature, which created an Early Childhood through Grade 3 (EC-3) certificate and a Trade and Industrial Workforce Training: Grades 6-12 certificate.
Discussion of recommendations made by the Special Education policy forums and an update on the upcoming certification test development process. This includes four new special education certifications and a Deaf/Blind supplemental certification. The four new certification tests would be a "Mild/Moderate Support, Grades EC-8", "Mild/Moderate Support, Grades 6-12", "High Support, Grades EC-8", and "High Support, Grades 6-12".
Discussion of the 5-year EPP continuing approval review process and the current results for the 2017-2018 and 2018-2019 reviews. This item will come up again at the October 2019 meeting as an action item.
SBEC will hold a work session on July 25, 2019 and will hold its next formal meeting on July 26, 2019. There will be an opportunity for public testimony at the July 26 meeting for items that will result in a public comment period (see above) and for the discussion items above. Stay tuned to Teach the Vote for updates.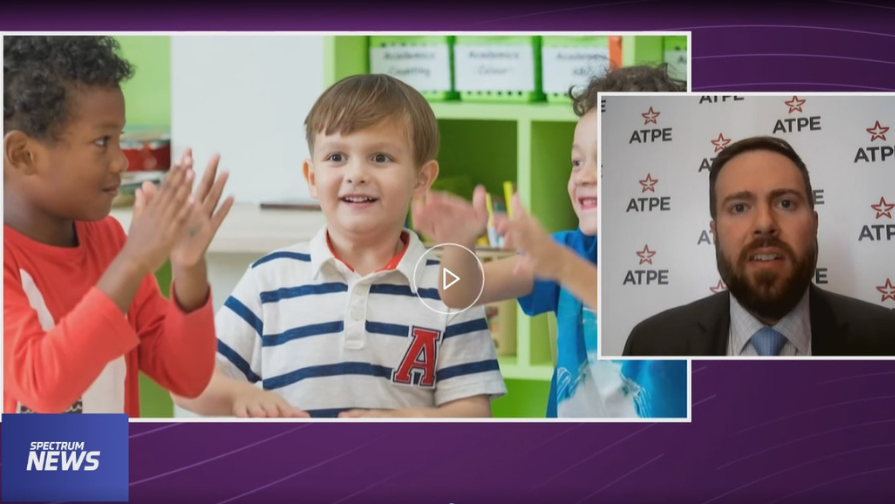 Texas Legislature, TEA | Commissioner | SBOE, Privatization | Vouchers, Deregulation | Charter Schools, Educator Compensation | Benefits
01/27/2023
Teacher pay and voucher bills are generating media attention, and Texas senators received their committee assignments this week.
Texas Legislature
01/23/2023
Texas Lt. Gov. Dan Patrick (R) announced Senate committee assignments Monday for the 2023 legislative session.
01/20/2023
Texas state leaders were inaugurated this week and previewed their priorities for the legislative session now underway. Read more from the ATPE lobby team.