House Public Education Committee hears bills on pre-K, tech apps, educator prep, data transparency, and more

Teach the Vote
Texas Legislature
Date Posted: 4/02/2019 | Author: Andrea Chevalier
On Tuesday, April 2, 2019, the House Public Education Committee heard several bills related to a variety of topics.
ATPE registered positions in support of three of the bills heard in committee:
House Bill (HB) 1517 (Coleman, D-Houston): Would require schools, including charters, to notify parents if they do not have a full-time nurse for 30 or more consecutive instructional days. The bill excludes schools that enroll fewer than 10,000 students.
HB 2030 (Turner, John, D-Dallas): Would allow eligible three-year-olds enrolled in pre-K to continue their eligibility the next school year, which helps parents avoid intensive paperwork of re-registration and reduces the administrative burden on districts.
HB 2184 (Allen, D-Houston): Would create collaborative policies for improving a student's transition from an alternative education setting back to the regular classroom. A committee substitute for the bill clarifies that teachers who implement the transition plan are included on the planning committee.
The following bills were also heard by the committee:
The House Public Education Committee will meet again on Thursday, April 4, to hear bills on UIL and student health, and again on Tuesday, April 9, to hear bills related to charter schools. In news from the full House, Chairman Huberty's school finance and tax reform bill, House Bill 3, will be up for debate in the House chamber on Wednesday, April 3. Follow @TeachtheVote and your ATPE lobbyists (@ATPE_AndreaC, @ATPE_MontyE, @ATPE_JenniferM, and @markwigginstx) on Twitter for updates on the action!
12/02/2022
It's December! As ATPE gears up to fight for public education in the Texas legislative session that starts next month, we're also pushing the U.S. Congress to pass an important bill before their session ends.
Retirement | TRS | Social Security, Congress | Federal
12/02/2022
ATPE and retiree groups are urging Congressional leaders to complete negotiations by the end of 2022 on a deal to fix the Windfall Elimination Provision.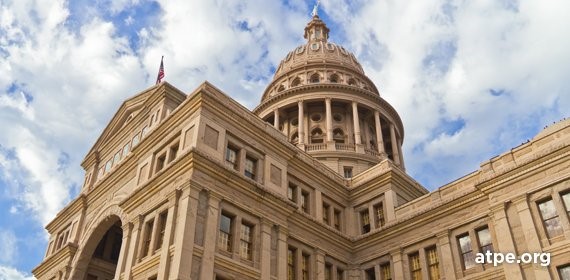 School Finance, Educator Preparation | Certification, Texas Legislature, Curriculum | Instruction, Privatization | Vouchers
12/01/2022
The Texas Commission on Virtual Education met Wednesday to discuss a draft of the commission's findings and recommendations for the 2023 legislative session.