School finance commission subcommittee approves expenditures plan

Teach the Vote
School Finance Texas Legislature
Date Posted: 9/14/2018 | Author: Monty Exter
The Expenditures Subcommittee of the Texas Commission on Public School Finance met this week to lay out and vote on their recommendations back to the full commission. Based on both the recommendation and what the committee members had to say, it became clear that their primary goal is to drive dollars into increasing the basic allotment. They also have secondary goals of shifting funds out of programs not tied to educational programming and into programs designed to increase educational attainment for harder-to-teach students, particularly economically disadvantaged populations and English language learners.
The committee has not publicly released its report yet, but a summary breakdown of the recommendations can be found below. A video archive of the full subcommittee meeting, which lasted a little under an hour, is also available.
Group 1 – Reallocations of existing programs. This group represents approximately $5.3 billion to be spent on increasing existing initiatives and creating new initiatives.
Reallocate the Cost of Education Index (CEI) – $2.9 billion
Reallocate the 92-93 Hold Harmless – $30 million. This program only impacts 12 -20 school districts.
Reallocate the Ch. 41 Early Agreement Credit – $50 million. Eliminates a program that currently pays property wealthy districts to sign an annual contract by Sept. 1 agreeing to pay the state what they owe in recapture. The discount did not require districts to prepay or early pay.
Reallocate the Gifted and Talented (GT) allotment – $165 million. This recommendation eliminates the stand-alone allotment but does not eliminate other requirements to provide GT education from the Texas Education Code (TEC). Currently 99.9% of districts are at the 5% GT cap, meaning the same dollars can be more efficiently flowed out to schools through the basic allotment.
Reallocate the High School Allotment – $400 million.
Move from prior year to current year property values – $1.8 billion.
Group 2 - Increased spending on existing programs
Increase state compensatory education allotment from 0.2 to a spectrum that ranges from 0.225 and 0.275 as part of a tiered system that pays out higher amounts to campuses with more severely challenging populations. Currently, the recommendation is still based on free and reduced lunch but could use a more sensitive metric.
Change the transportation allotment to a millage-based approach at 0.83 cents per mile, to be set by appropriations.
Allow Ch. 41 districts to get compensated by the transportation allotment at a $60 million cost.
Fund the stand-alone small-size and mid-size district adjustment between $0 and $400 million outside the basic allotment, depending on where the basic allotment is set.
Increase the New Instructional Facilities Allotment (NIFA) to $100 million. This represents a $76 million increase over last session.
Expand Career and Technical Education (CTE) funding to include sixth through eighth grades - $20 million.
Group 3 – New programs
Create a dual language allotment of 0.15 at a cost of between $15 and $50 million. This new allotment would be in lieu of (not in addition to) the bilingual allotment; you can either get the bilingual allotment or the dual language allotment, but not both.
Create a dyslexia allotment of 0.1 - $100 million.
Create a Kindergarten through third grade ELL/economically disadvantaged allotment of 0.1 - $786 million. This money is not tied to outcomes and can be used to fund any program that seeks to improve reading and math on grade level by grade three, including paying for full day Pre-Kindergarten programs.
Create a grade three reading bonus of 0.4 - $400 million. This provides incentive money for students meeting grade level in reading on the 3rd grade standardized test.
Create a College, Career, and Military Readiness Bonus – no specific weight – $400 million. This is envisioned as a reallocation of the High School Allotment and is aimed to drive the state's "60/30" goals.
Create a teacher compensation program – $100 million. This is the governor's performance pay program. It is formula-based, not grant-based, and is not subject to appropriation. There will likely be no fiscal note for the program until year three, and it is envisioned to grow over time.
Fund an extended year summer pilot program – $50 million. This program is intended to reduce summer learning losses for disadvantaged students.
Additional changes recommended:
Change the guaranteed yield on the copper pennies from a set dollar amount to a percentage of the Basic Allotment. When the yield was set, the dollar amount used represented approximately 88% of the basic allotment. Now it is much less. Increasing the guaranteed yield increases state entitlement, which helps property poor districts and recapture districts.
Decouple the golden pennies from Austin ISD.
Stay tuned to Teach the Vote for reporting on future actions of the commission.
06/02/2023
The HB 100 voucher scheme dies at the end of regular session, plus a special session and the TEA takeover of Houston ISD begin.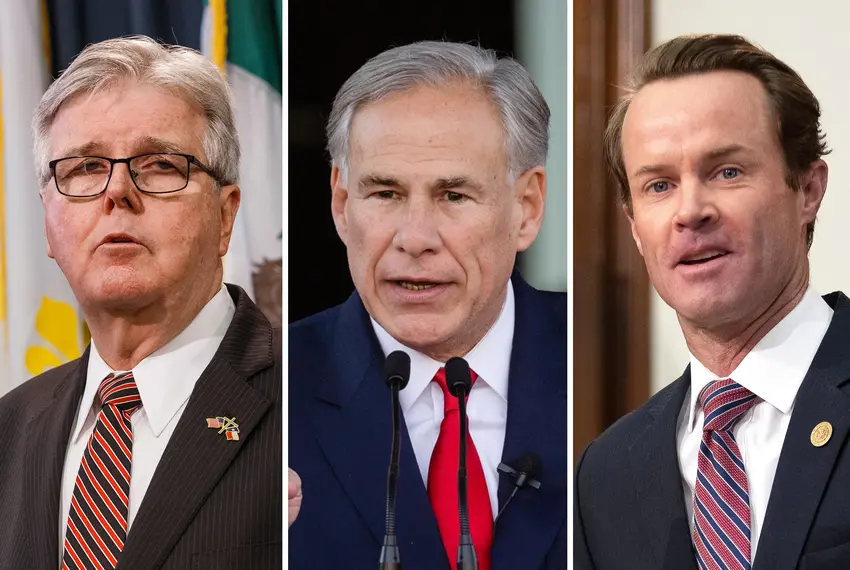 06/01/2023
Always happy to castigate the Texas House, Patrick breaks form to criticize the governor as misinformed and unsympathetic toward homeowners.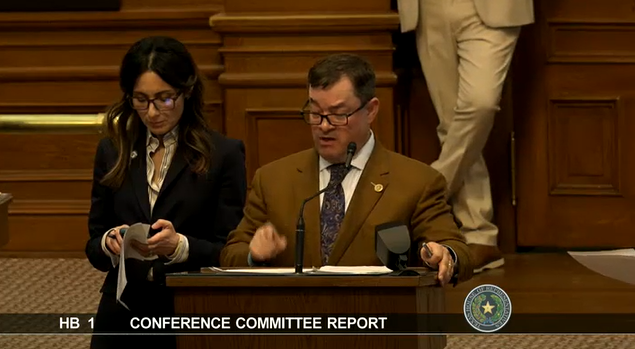 School Finance, Retirement | TRS | Social Security, Texas Legislature, Privatization | Vouchers, Educator Compensation | Benefits
05/30/2023
HB 100 was a casualty of a breakdown in communications between the House and Senate as the regular session drew to a close.