Finance commissioners get earful from public

Teach the Vote
Miscellaneous
Date Posted: 3/19/2018 | Author: Mark Wiggins
The Texas Commission on Public School Finance met Monday for the fifth time, kicking off what is expected to be the only meeting during which members of the general public will be given the opportunity to speak to the 13-member body.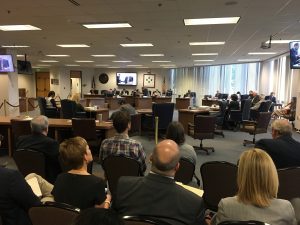 Roughly 50 invited witnesses were scheduled to speak before the commission opened up for public testimony Monday. Invited witnesses were allocated five minutes each, while members of the public were given three minutes each.
Former House Public Education Committee Chairman Jimmie Don Aycock was the first invited witness to testify, and called for eliminating the outdated cost of education index (CEI). Aycock also suggested funding charter schools based on the allotment given to their constituent feeder campuses as opposed to the current practice of allocating funding based upon the state average. Former House Public Education subcommittee chair Paul Colbert emphasized that money does indeed matter when it comes to funding public schools.
Chandra Villanueva, Senior Policy Analyst with the Center for Public Policy Priorities, urged the commission to study the actual cost of funding public education. Villanueva noted that the Perot Commission, which studied Texas school finance in the 1980s, considered how much it would cost to fund the ideal Texas school.
The majority of invited witnesses were comprised of traditional public education stakeholders, including representatives from educator organizations, administrators, school board members and business interests. By and large, these stakeholders pointed out that money is important in public education, and argued for the state to resume its fair share of the burden of funding local schools after years of gradually dumping the lion's share of funding responsibility into the laps of local taxpayers. This view saw vigorous pushback from state Sen. Larry Taylor (R-Friendswood), who chairs the Senate Education Committee.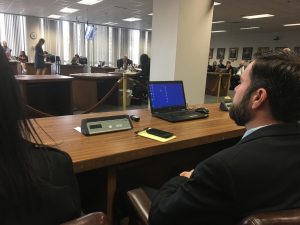 ATPE Lobbyist Monty Exter testifies before the Texas Commission on Public School Finance on March 19, 2018.
When public testimony opened up Monday afternoon, ATPE Lobbyist Monty Exter pointed out new polling data that show Texans agree money is important in public education and that the state should pay its fair share. Exter testified there are multiple realistic pathways to get the state's share up to 50 percent from the current 38 percent. It could do so through increases to the sales tax, expanding the tax base, eliminating some of the roughly $30 billion of "corporate welfare" built into the state tax system, or some combination thereof. To wit, Exter suggested lawmakers could get to fifty percent by adding one penny of sales tax, combined with a small expansion of the tax base and eliminating some corporate welfare.
During public testimony, parents and teachers expressed nearly uniform dissatisfaction with the current level of school funding – often delivering heated lectures to members of the commission. Many echoed the opinion that the state should spend more on public education in order to take pressure off of local taxpayers who are currently saddled with the majority of the burden of funding public schools. Public testimony is expected to last well into the night. The commission working group on expenditures, which is chaired by House Public Education Committee Chairman Dan Huberty (R-Houston), is scheduled to meet Tuesday morning at the Texas Capitol.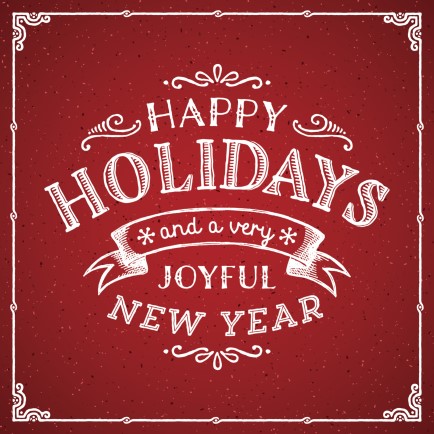 Miscellaneous
12/24/2021
ATPE Governmental Relations sends you holiday greetings and our best wishes for a happy 2022!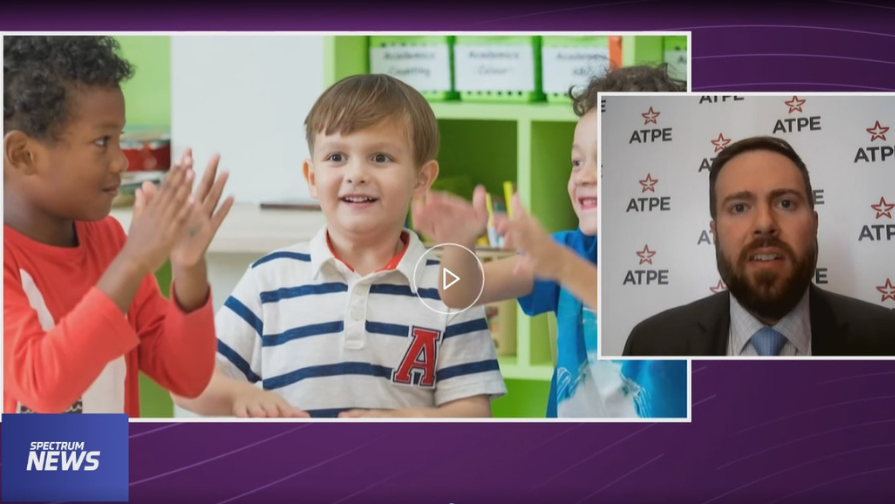 Texas Legislature, TEA | Commissioner | SBOE, Privatization | Vouchers, Deregulation | Charter Schools, Educator Compensation | Benefits
01/27/2023
Teacher pay and voucher bills are generating media attention, and Texas senators received their committee assignments this week.
Texas Legislature
01/23/2023
Texas Lt. Gov. Dan Patrick (R) announced Senate committee assignments Monday for the 2023 legislative session.