Morath suggests developing school safety building standards in SBOE update

Teach the Vote
TEA | Commissioner | SBOE School Safety Testing | Accountability
Date Posted: 6/13/2018 | Author: Mark Wiggins
The State Board of Education (SBOE) began its Wednesday meeting with a regularly scheduled update from Texas Education Agency (TEA) Commissioner Mike Morath. The commissioner touched on a lengthy list of issues, including the agency's response to recent disasters.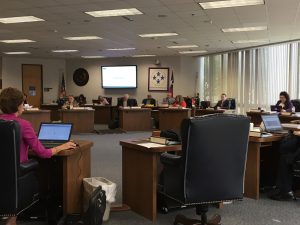 SBOE hears update from TEA Commissioner Mike Morath on June 13, 2018.
The first item Morath discussed was the agency's follow-up on the tragic school shooting in Santa Fe, Texas. The agency issued letter to administrators Friday apprising them of steps that could be immediately taken to improve school safety in the near term.
"There's no such thing as perfect safety," said Morath, adding, "But there are reasonable steps that can be taken."
The commissioner acknowledged the difficulty and expense of securing more than 8,600 campuses across the state, but offered a list of specific steps the agency believes may be useful. These steps include increasing law enforcement support, and using more school marshals in rural schools where hiring more officers may not be an option. Training for marshals is now freely available all summer long, and likely will be for some time. Morath noted that teachers are not the only staff members who may be marshals. The commissioner acknowledged that marshals won't be a useful option everywhere.
In addition, the agency recommended administrators review the threat assessment report compiled by the Federal Bureau of Investigation (FBI) in response to the Columbine shootings. Furthermore, districts are advised to coordinate with local law enforcement organizations to encourage officers to use schools for their restroom and break stops in order to increase the visible presence of law enforcement on campus.
The agency's most recent action in response to Hurricane Harvey was the release of state accountability rating adjustments for districts impacted by the historic storm. In prior storms, schools at which classes were canceled for ten or more days were subject to a "not rated" provision. Due to scope of Hurricane Harvey, the criteria were expanded to include campuses that were relocated, campuses to which relocated students were transferred, and campuses where ten percent of students or staff were forced from their homes. These campuses will be labeled as "met standard" unless they were due to receive an "improvement required" rating. In those cases, campuses will be labeled "not rated." Similar criteria were applied for district-level ratings.
The commissioner approved four new charter school applicants, which will be subject to the board's approval this week. The four were the only applicants to advance from a pool of 21 interested parties. Morath compared the vetting process to that commonly employed by venture capital or angel investors. Member Ruben Cortez (D-Brownsville) expressed concern that one of the schools up for consideration plans to subject prospective students to criminal background checks. Cortez also criticized what he characterized as misleading marketing on the part of one applicant regarding teacher-student ratios.
Regarding assessments, Morath updated the board on what has been a frustrating year after what he called a "high-water mark" for successful test administration in 2017. Nearly 42,000 students who were testing online experienced a 20-minute connectivity slowdown in April, followed by a slowdown in May that affected roughly 59,000 students. This group of students will be taken into account in this year's campus and district ratings. Morath waived 5th and 8th Grade student success initiative (SSI) requirements for affected students, but noted the commissioner does not have waiver authority over end-of-course (EOC) exams. Morath added it's conceivable that some students may have been attempting to pass a third EOC after multiple retakes, but probably numbered fewer than a dozen. In response to the glitches, the agency has assessed liquidated damages in the amount of $100,000 to test administrator ETS.
The agency also released accountability rules for the "A through F" ratings framework under House Bill (HB) 22 and has made some changes based upon feedback from stakeholders. The agency doubled the weighting of high school graduation rates under Domain I: Student Achievement to 20 percent of the score. Under the career, college and military readiness (CCM-R) indicators, TEA added credit for the completion of dual credit courses and added partial credit for students who complete a coherent sequence of courses aligned with industry certification. The agency also adjusted the relative performance curve under Domain II: School Progress. Districts will be rated under the A-F system this year, and campus A-F ratings will be released in 2019.
Member Pat Hardy (R-Fort Worth) praised TEA for its response to both Hurricane Harvey and the Santa Fe shooting. Member Keven Ellis (R-Lufkin) asked about adapting mental health first aid training to students and adding it to the Texas Essential Knowledge and Skills (TEKS) for health. Morath said educators are asking for more mental health training after the Santa Fe incident.
Member Ken Mercer (R-San Antonio) asked about schools using a single point of entry like airports, though acknowledging that strategy may not be effective in high schools, where students are often spread across multiple buildings. Morath told the board there is no one approach that can fix everything and solutions will depend heavily on local context. The commissioner expressed interest in convening architects and school administrators to develop recommended practices for the construction of safe school buildings, much like architects have developed for designating the environmental friendliness of buildings.
The board's Wednesday agenda includes a review of the long-term strategic asset allocation plan for the permanent school fund (PSF).
06/02/2023
The HB 100 voucher scheme dies at the end of regular session, plus a special session and the TEA takeover of Houston ISD begin.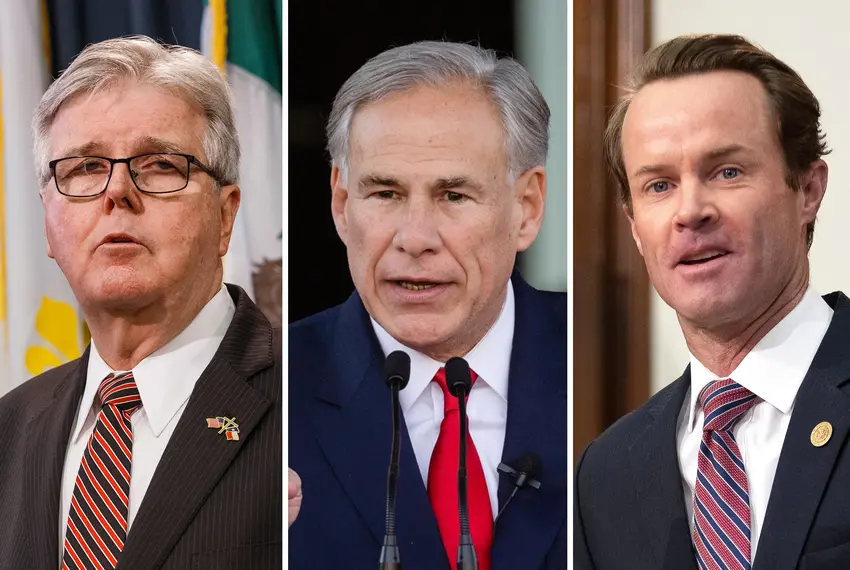 06/01/2023
Always happy to castigate the Texas House, Patrick breaks form to criticize the governor as misinformed and unsympathetic toward homeowners.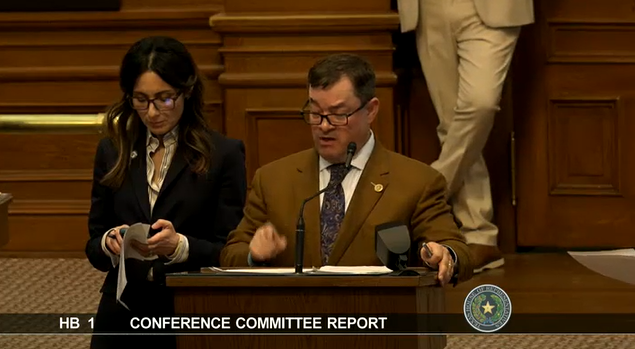 School Finance, Retirement | TRS | Social Security, Texas Legislature, Privatization | Vouchers, Educator Compensation | Benefits
05/30/2023
HB 100 was a casualty of a breakdown in communications between the House and Senate as the regular session drew to a close.