House committee discusses school security issues

Teach the Vote
Texas Legislature TEA | Commissioner | SBOE School Safety
Date Posted: 6/28/2018 | Author: Mark Wiggins
The House Public Education Committee met Wednesday to discuss two interim charges related to school safety. Committee Chairman Dan Huberty (R-Houston) explained the significance of these charges in the wake of the tragic school shooting in Santa Fe, Texas, and a list of school safety recommendations released by Gov. Greg Abbott. Rep. Huberty opened the meeting by reading the interim charges aloud:
Review the effectiveness of schools' current multi-hazard emergency operation plans. Determine any areas of deficiency and make recommendations to ensure student safety. Research violence prevention strategies, such as threat assessment, that are available for school personnel to identify students who might pose a threat to themselves or others. Identify resources and training available to schools to help them develop intervention plans that address the underlying problems that caused the threatening behavior.
Examine current school facilities and grounds. Consider any research-based 'best practices' when designing a school to provide a more secure environment. Review the effectiveness of installing metal detectors, cameras, safety locks, streaming video of school security cameras, and other measures designed to improve school safety.
Texas Education Agency (TEA) Commissioner Mike Morath was the first to testify, and addressed the school marshals program that allows districts to arm teachers and staff who voluntarily undergo special training. Morath noted that this is an option for districts that choose to use it. He also encouraged districts to partner with local law enforcement organizations to find innovative ways to increase police presence on campus, such as by inviting officers to take their breaks on school campuses.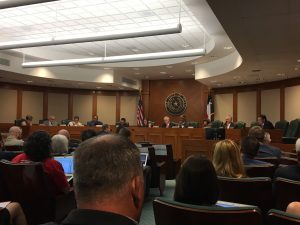 House Public Education Committee meeting June 27, 2018.
State Rep. Joe Deshotel (D-Beaumont) asked whether school marshal candidates must undergo a psychological evaluation in order to ensure individuals who volunteer for the position do so for the right reasons. Morath indicated that individuals must be nominated by others, and stressed the training requirements for the program.
Much of Commissioner Morath's testimony mirrored what he told a Senate committee earlier this month. State Rep. Alma Allen (D-Houston) indicated funding is a challenge for making additional training and supports available for character education. Morath suggested that teacher certification redesign may help, but the redesign isn't schedule until 2022.
Committee Vice-Chair Diego Bernal (D-San Antonio) recommended more mental health personnel, such as trauma counselors, on school campuses. State Rep. Morgan Meyer (R-Dallas) asked the commissioner directly whether the legislature should require and fund trauma counselors. Morath punted on the question, saying needs and resources vary from district to district. On further questioning from state Rep. Gary VanDeaver (R-New Boston), Morath acknowledged that mental health services could be part of a special appropriations request independent of TEA's regular budget submission. Chair Huberty pressed the commissioner on the question – clearly indicating the committee is focused on getting more counselors into school with a potential state funding assist.
Humble ISD Superintendent Elizabeth Fagen testified regarding a number of physical security issues, such as fire alarms and building design. Fagen indicated that making the changes proposed by the governor's office could cost between $100,000 and $250,000 per campus. Members heard from a total of nine panels, covering everything from student mental health services to how schools are designed. Representatives from groups representing school social workers and licensed specialists in school psychology emphasized the difference between their jobs and those of standard school counselors, who are primarily focused on preparing students to graduate. Public testimony consisted of a mix of school safety product vendors and advocates for students with mental health issues -- the latter of whom warned against unfair discrimination.  
06/02/2023
The HB 100 voucher scheme dies at the end of regular session, plus a special session and the TEA takeover of Houston ISD begin.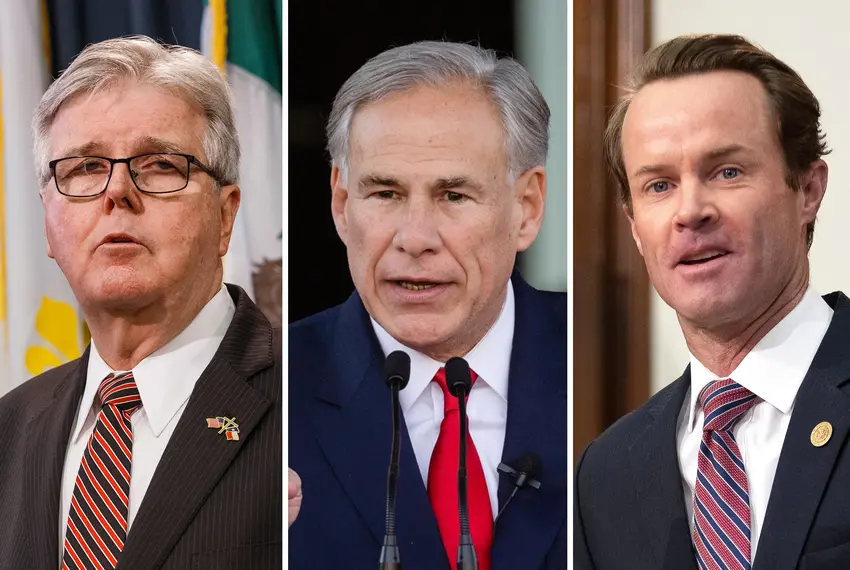 06/01/2023
Always happy to castigate the Texas House, Patrick breaks form to criticize the governor as misinformed and unsympathetic toward homeowners.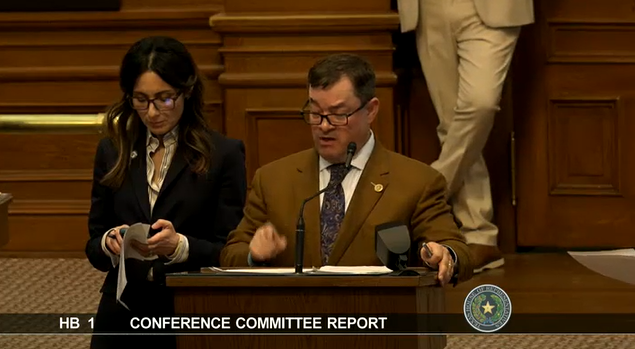 School Finance, Retirement | TRS | Social Security, Texas Legislature, Privatization | Vouchers, Educator Compensation | Benefits
05/30/2023
HB 100 was a casualty of a breakdown in communications between the House and Senate as the regular session drew to a close.