From The Texas Tribune: Lt. Gov. Dan Patrick has "no plans" to debate Democratic opponent Mike Collier

Teach the Vote
Elections
Date Posted: 7/26/2018
By
Patrick Svitek
, The Texas Tribune
July 23, 2018
Photos of Mike Collier and Dan Patrick from the Texas Tribune.
"Lt. Gov. Dan Patrick has "no plans" to debate Democratic opponent Mike Collier" was first published by The Texas Tribune, a nonprofit, nonpartisan media organization that informs Texans — and engages with them — about public policy, politics, government and statewide issues.
Lt. Gov. Dan Patrick does not intend to debate his Democratic challenger, Mike Collier, before Election Day, according to Patrick's campaign.
"It's no secret Lt. Governor Patrick relishes debates, but since his opponent shows no sign of grasping even the most basic rudiments of state government, our campaign has no plans to debate him," Patrick strategist Allen Blakemore said in a statement to the Tribune. "There isn't anyone in the Lone Star State who isn't absolutely clear about where Dan Patrick stands on the issues. He told us what he was going to do, then he did it. That's why Dan Patrick has the overwhelming support of the conservative majority in Texas."
Collier has not formally challenged Patrick to any debates but has needled him on Twitter over the topic, suggesting the incumbent will not spar with him because he does not want to discuss his record.
"The Lt. Governor is rejecting debates before invitations are even sent out by media," Collier said in a statement. "As I assumed he would, he's dodging and refusing to answer for his record."
"If the Lt. Governor 'relishes debates' then I see no reason why we shouldn't hold several all across the great state of Texas," Collier added.
Patrick's snub of Collier comes as debate drama heats up in two other statewide races. In recent weeks, Gov. Greg Abbott and his Democratic opponent, Lupe Valdez, have both accepted debate invitations — though not to the same event. At the same time, U.S. Sen. Ted Cruz, R-Texas, and Democratic rival Beto O'Rourke have gone back and forth over when to start coordinating debates, with O'Rourke pushing for six meetings and Cruz expressing openness to debating but not committing to any specifics yet.
Patrick's campaign was similarly dismissive about debating his primary challenger, Scott Milder, who the lieutenant governor easily defeated. After Milder issued a debate challenge to Patrick in January, Blakemore called it the "unmistakable gasps of an attention starved candidate" and similarly insisted Patrick's issue positions are widely known. Milder is now backing Collier.
Disclosure: Allen Blakemore has been a financial supporter of The Texas Tribune, a nonprofit, nonpartisan news organization that is funded in part by donations from members, foundations and corporate sponsors. Financial supporters play no role in the Tribune's journalism. Find a complete list of them here.
Read related Tribune coverage
This article originally appeared in The Texas Tribune at https://www.texastribune.org/2018/07/23/lt-gov-dan-patrick-no-plans-debate-democratic-opponent-mike-collier/.
Texas Tribune mission statement
The Texas Tribune is a nonprofit, nonpartisan media organization that informs Texans — and engages with them — about public policy, politics, government and statewide issues.
Texas Legislature, Elections, Curriculum | Instruction, Privatization | Vouchers, School Safety
05/05/2023
Don't forget to vote Saturday in the May 6 local election. Plus, the House will be tackling its first Saturday calendar, which means sine die is nigh.
06/02/2023
The HB 100 voucher scheme dies at the end of regular session, plus a special session and the TEA takeover of Houston ISD begin.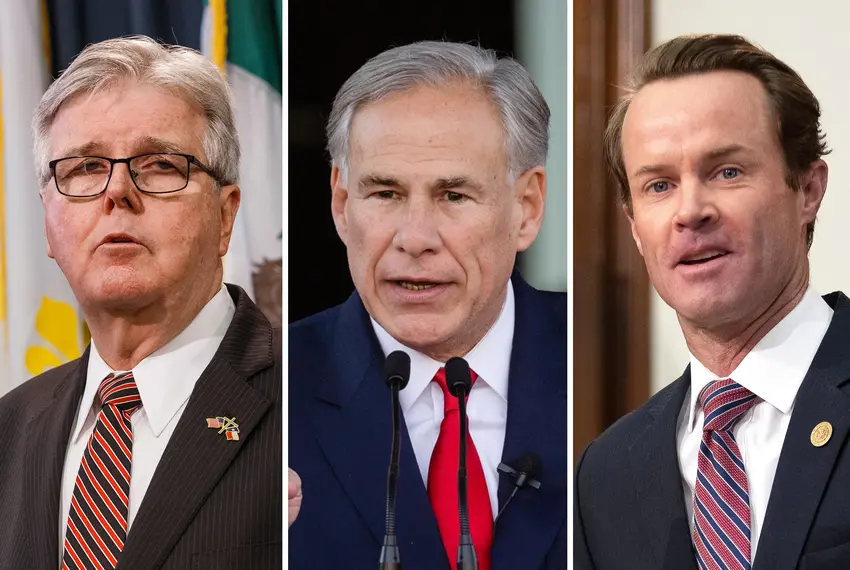 06/01/2023
Always happy to castigate the Texas House, Patrick breaks form to criticize the governor as misinformed and unsympathetic toward homeowners.