School finance commission holds first meeting

Teach the Vote
School Finance Texas Legislature
Date Posted: 1/23/2018 | Author: Mark Wiggins
The Texas Commission on Public School Finance held its first meeting Tuesday in Austin following its creation as part of House Bill (HB) 21, which was passed during the 85th Texas Legislature's first special session. Justice Scott Brister, who was appointed chair of the commission by Gov. Greg Abbott, opened the meeting by reading a letter from the governor.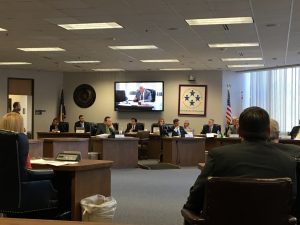 Texas Commission on Public School Finance meeting January 23, 2018.
In the letter, Gov. Abbott stated three goals for the commission: To change the "defective" structure of school finance, foster innovation in public education, and explore alternatives to the property tax.
In his own opening remarks, Brister suggested the new federal tax law passed in December will increase the pressure to cut property taxes as a result of the elimination of federal income tax deductions for state and local property taxes, which have generally been useful to the owners of more expensive homes who itemize their taxes. The opening remarks quickly illustrated a divide between those seeking a holistic reform and improved outcomes versus those solely focused on cutting property taxes.
House Public Education Committee Chair Dan Huberty (R-Houston) expressed disappointment that the House and Senate were unable to move the ball forward on school finance reform last session and emphasized the fact that school finance reform and property tax relief go hand in hand. Noting that fixing the system is lawmakers' responsibility, Chairman Huberty expressed hope that the commission will result in meaningful progress.
Brister announced the commission will subdivide into working groups on specific topics. Future meetings will largely be restricted to invited testimony only, although at least one future meeting will be open to testimony from members of the public.
Tuesday's first witness was Justice Craig T. Enoch, invited to testify on the subject of a school finance legal framework. In his dissenting opinion from the school finance lawsuit known as Neely v. West Orange Cove CISD in 2005, Justice Enoch expressly advocated for school privatization. On Tuesday, Enoch immediately raised questions over whether the amount of spending on public schools correlates with outcomes – a viewpoint at odds with the vast majority of research. Justice Enoch concluded that lawmakers should move away from using property taxes as the baseline funding mechanism.
Next, state demographer Dr. Lloyd Potter addressed the student population in Texas. According to new population estimates, Texas is home to more than 28 million people. The state has added more than three million people over the past seven years, representing a 12 percent growth in population. Within the state, residents are migrating away from rural counties and urban cores and into the suburban rings. The school-age population continues to grow, as does the number of children living in poverty. Significant percentages of students in the Rio Grande Valley, El Paso, and the large urban cores do not speak English at home. Hispanic children represent the largest and fastest-growing ethnicity of children under the age of 18.
The final subject heading involved educational outcomes and featured testimony from Texas Education Agency (TEA) Commissioner Mike Morath, Texas Higher Education Coordinating Board (THECB) Commissioner Raymund Paredes, and Texas Workforce Commission (TWC) Chair Andres Alcantar. Morath said the TEA maintains a "split focus on inputs versus outcomes," highlighting the emphasis on "access" to a quality education and the ability of students to "achieve" their potentials. The commissioner explained the state wants graduates who are prepared to be engaged citizens and who are prepared to be productive. These outcomes are evaluated based upon high school graduation rates; college, career or military readiness (CCM-R); college completion; and employment. The main measurement tool is the STAAR test. Student poverty continues to rise, and currently 59 percent of Texas students are economically disadvantaged. Morath indicated poverty is the primary driver behind most poor performance issues, and he noted that prekindergarten has shown to significantly boost outcomes for economically disadvantaged students and English language learners (ELLs).
After a brief lunch break, Morath's presentation suggested that across-the-board pay raises and improving class-size ratios by hiring additional teachers would have limited effects on improving student outcomes, while concluding that tying increased teacher pay to performance would yield the most significant improvements. Todd Williams, education advisor to Dallas Mayor Mike Rawlings, suggested schools with higher numbers of economically disadvantaged students may need to offer better pay to attract the caliber of educators necessary to achieve positive change. Morath also defended the state's "A through F" accountability system as a way to identify and replicate high performing schools.
Commissioner Paredes joined Morath in listing poverty and a lack of early childhood education as primary obstacles to student success. Paredes also seemed to make the case for teacher performance pay, citing a study that concluded paying the state's top teachers $130,000 per year would cost less than remedial programs for students who arrive at college unprepared.
The commission will meet next on Thursday, February 8.
06/02/2023
The HB 100 voucher scheme dies at the end of regular session, plus a special session and the TEA takeover of Houston ISD begin.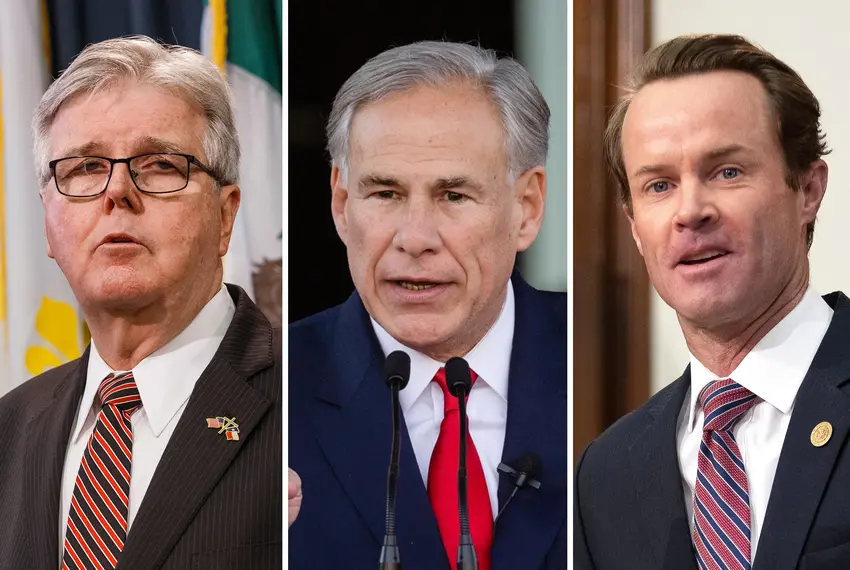 06/01/2023
Always happy to castigate the Texas House, Patrick breaks form to criticize the governor as misinformed and unsympathetic toward homeowners.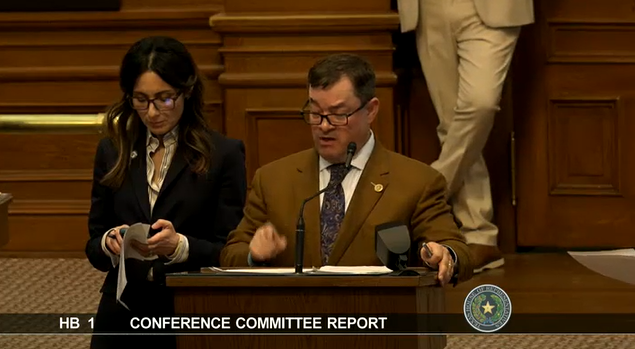 School Finance, Retirement | TRS | Social Security, Texas Legislature, Privatization | Vouchers, Educator Compensation | Benefits
05/30/2023
HB 100 was a casualty of a breakdown in communications between the House and Senate as the regular session drew to a close.