Education: Where Texas political parties stand

Teach the Vote
Texas Legislature Elections
Date Posted: 8/16/2018 | Author: Mark Wiggins
Dear TeachTheVote: Where does my party stand on public education?
It's a great question to ask as we turn our focus to the November elections, and the answer can be found in each party's political platform.
At the most basic level, party platforms are just a long list of beliefs and policy positions that delegates put together at each party's state convention. This summer, Democrats met in Fort Worth and Republicans met in San Antonio to decide which issues to focus on. In each case, a handful of delegates cobbled together the platform, which was then submitted to the full convention for amendments and a formal vote for adoption.
Now before we get into the details of this year's party platforms, there are a few important caveats. First of all, the platform committee responsible for writing the first draft is often composed of that particular party's most ideological partisans. Sometimes the full delegation decides to water down the language and trim some of the fringe positions before voting to approve the platform, but that's not always the case. Because of this, the end result can sometimes be a set of values that are not fully aligned to those of the party's central majority and may be skewed toward the extreme edges of the ideological spectrum.
This ties into the next important point: Platforms have traditionally served as guideposts that indicate the party's default position on a given issue, not marching orders for the legislative session. Each elected official is first responsible to their local district and the constituents who elected them, which is why platforms aren't meant to be enforceable documents.
That being said, aggressively enforcing the party platform was the key theme for delegates voting on a party chairman at the 2018 Texas Republican Convention. This means that when the 86th Texas Legislature convenes, many legislators will be under great pressure from their party leaders to obey the platform committee's positions over those of the voters they serve. That's why it's always important for educators to communicate directly with our elected representatives when it comes to public education issues.
Now that we've gotten all of that out of the way, let's take a look at what this election season's platforms have to say about education issues. For reference, you can find the full 2018 Republican Party of Texas Platform here and the 2018 Texas Democratic Party Platform here.
School Finance
The 2018 Republican Party of Texas Platform calls for ending "Robin Hood," limiting increases in public education funding, and replacing school district property taxes with a consumption tax.
Each plank in the Republican platform is numbered. Plank 164 calls for "a simple, fair, and efficient method for financing our public school system" and opposes the Robin Hood system of recapture in which some money from property wealthy districts flows to property poor districts. The Republican platform explicitly opposes the Edgewood I and Edgewood II court opinions, in which the Texas Supreme Court ruled that the school finance system at the time was unconstitutional because it relied too heavily on local property taxes without any adjustment for rich and poor areas, which resulted in vastly unequal funding for children living in different communities.
When it comes to additional funding, the platform states, "Before receiving additional dollars through the school finance formulas, school districts must spend at least 65 percent of their current funding in the classroom." According to the Texas Education Agency's (TEA) 2016-2017 Pocket Edition statistics, districts spent an average of 56.7 percent of all funds directly on instruction and another 15.6 percent on support. Administration accounted for 3.1 percent of district spending.
Plank 166 states, "We call upon the Texas Legislature to use surplus revenue to buy down the school maintenance and operation property tax rate as a prelude to replacing it with a broader based consumption tax." The most common consumption tax is the sales tax.
The 2018 Texas Democratic Party Platform calls for reducing the reliance on Robin Hood, funding schools in a way that reflects differences in costs between students and districts, and restoring funding that was cut in 2011 and 2017.
Individual planks are not numbered in the Democratic platform, but follow a narrative structure utilizing bullet points. The Democratic platform lays current funding deficiencies at the feet of Republican leadership, and declares restoring the $5.4 billion cut from public education funding in 2011 and $1.7 billion cut in 2017 "a legislative budget priority." With regard to design, the platform advocates for "a 100% equitable school finance system with sufficient state revenue to provide every child the opportunity to learn in an exemplary program" and that "state funding formulas should fully reflect all student and district cost differences and the impact of inflation and state mandates."
Private School Subsidies
The Republican platform states, "Texas families should be empowered to choose from public, private, charter, or homeschool options for their children's education, using tax credits or exemptions without government restraints or intrusion."
The Democratic platform states Democrats "oppose the misnamed 'school choice' schemes of using public tax money for the support of private and sectarian schools; believe 'school choice' is a deceptive marketing frame that purports to advocate something that already exists – school choice – but whose true purpose is to divert public school funds to vouchers or tax credit systems supporting private and sectarian schools; [and believe] that adoption of any vouchers or tax credit schemes would unavoidably financially and academically damage public schools."
Teachers
The Republican platform calls for an end to payroll deduction and converting certain government pensions from defined benefit to defined contribution plans.
Plank 49 states, "Texas should prohibit governmental entities from collecting dues for labor unions through deductions from public employee paychecks." Although the language mischaracterizes how payroll deduction works and refers specifically to unions, the 2017 legislative session showed that this plank is in fact aimed at non-union educators, including ATPE members, in an attempt to weaken teachers' voices at the Capitol.
Plank 151 states, "The Texas Legislature shall enact new rules to begin to transition government pensions for ERS and TDCRS members from a defined benefit pension to a defined contribution retirement plan similar to a 403(b)." While the Teacher Retirement System (TRS) of Texas is not mentioned here, the language echoes similar attempts during the 2017 legislative session to deny educators a lifetime retirement benefit by converting TRS pensions to 401(k)-style defined contribution plans.
The Democratic platform opposes prohibitions on payroll deduction and supports "protecting the TRS defined benefit pension system against attempts to turn it into a risky 401-k plan that could put most retirees' pensions at risk; providing a regular COLA for every retired teacher; repealing the federal government pension offset and windfall elimination provisions that unfairly reduce Social Security benefits for Texas educational employees; and improving the TRS-Care health insurance program for retired educators."
The Democratic platform includes a plank specifically aimed at teacher recruitment and retention. It advocates that Texas bring teacher pay in line with the rest of the nation, increase the state contribution for teacher health care, restore financial incentives for those interested in pursuing the teaching profession, oppose test-based performance, and guarantee mentors and properly certified teachers in each classroom.
Classrooms
The Republican platform calls for the right to prayer in schools, local control of public education, objective teaching of scientific theories, opposing national core curriculum, teaching American identity, transitioning non-English speaking students to English, and adopting an official position against transgenderism.
Plank 123 addresses prayer in schools, and further states, "We urge the Legislature to end censorship of discussion of religion in our founding documents and encourage discussing those documents, including the Bible as their basis. Students and district personnel have the right to display religious items on school property."
Regarding local control, Plank 131 states, "We believe that all children should have access to quality education. Under the US Constitution, the power to regulate education is reserved exclusively to the States and to the people. Parents have the primary right and responsibility to educate their children. The classroom should be a place where all viewpoints are welcomed, free speech is celebrated, and 'person before politics' beliefs are preached. We support the right of parents to freely choose public, charter, private, parochial, or homeschooling for their children. We support the right of parents to choose the specific public school that their children attend. No child should be forced to attend a failing school. We reject the imposition of federal education standards and the tying of any government funding to the adoption of federal education standards. We reject the intrusion of government in private, parochial, or homeschools. We affirm that the policies, procedures, activities, and finances of public education in Texas at all levels should be fully transparent. To ensure transparency, the check register of all traditional school districts and charter schools should be posted online with the link on the home page. We respect parental authority regarding sex education. We believe that abortion providers and affiliates should be prohibited from providing any curriculum or instruction in schools."
Plank 135 lists basic standards such as reading and writing, and Plank 136 addresses scientific theories, "such as life origins and environmental change. These should be taught as challengeable scientific theories subject to change as new data is produced. Teachers and students should be able to discuss the strengths and weaknesses of these theories openly and without fear of retribution or discrimination of any kind."
Plank 137 opposes national core curriculum such as Common Core and C-SCOPE, Plank 139 addresses American identity and assimilation, Plank 140 encourages non-English speaking students to transition to English within one year, and Plank 141 states, "The official position of the Texas schools with respect to transgenderism is that there are only two genders: male and female."
The Democratic platform supports enforcing class size limits, replacing high-stakes tests with more appropriate diagnostic measurements, rejecting efforts to tie teacher performance to test scores, opposing "A through F" school ratings, promoting multi-language instruction, supporting Title IX protections for gender equity, supporting school meal programs, supporting school-community collaboration, and placing the most highly qualified teachers in areas facing the greatest challenges.
The Democratic platform includes a plank addressing early childhood education, which advocates for universal access to full-day pre-K and kindergarten, as well as classroom resources and quality measures to ensure children are performing at grade level by the third grade.
Democrats include a plank regarding the school-to-prison pipeline in their platform. This includes increasing the budget for school counseling, adding training for staff and law enforcement, and "repealing traditional, exclusionary approaches to discipline, such as expulsion and suspension, which disproportionately affect racial and ethnic minority students, as well as special education students."
School Security
The Republican platform calls for arming teachers and mandating school security plans.
Plank 72 opposes the federal Gun-Free School Zones Act of 1990, and Plank 143 urges the legislature to "pass a statute that allows Texas school teachers, or other school employees, who are certified and insured to be authorized to carry a concealed gun on the premises of their assigned school for security and protection purposes."
Regarding school security plans, Plank 144 states, "The Legislature is urged to adopt as a legislative priority to mandate by state law that all publicly funded school districts be required to submit a viable school security plan as part of an accountability program. The school security plan must explicitly provide for the personal security of students and staff by responding with an equal and opposite force to an aggressor that uses deadly weapons or devices. In an effort to customize plans for each district, a parent oversight commission will be consulted and advised as to the threat assessment status of schools at all times and must be allowed to partake in strategy sessions for the creation of the school security plan."
The Democratic platform calls for "weapon-free and drug-free" campuses, the right of teachers to remove disruptive students, and efforts to prevent bullying and acts of violence.
Specifically, the Democratic school security plank states, "Implementation of systematic programs should be utilized to identify instances of bullying and implement school-wide positive behavior interventions and supports, to prevent violence, disruption, bullying, and harassment: Eliminate disparities in discipline based on race, ethnicity, national origin, disability, gender, sexual orientation, gender identity/expression or any other improper grounds."
Furthermore, the Democratic platform calls for an end to "indiscriminate use of misdemeanor ticketing for minor infractions on campus and indiscriminate expulsion or placement of students in disciplinary alternative education programs for trivial misconduct," and urges continued strong academic instruction for students placed in disciplinary alternative education programs.
The list of issues related to public education is lengthy and both platforms address many more such topics, including sex education and the role of the State Board of Education (SBOE). You can read more about the 2018 Republican Party of Texas Platform here and the 2018 Texas Democratic Party Platform here.
Texas Legislature, Elections, Curriculum | Instruction, Privatization | Vouchers, School Safety
05/05/2023
Don't forget to vote Saturday in the May 6 local election. Plus, the House will be tackling its first Saturday calendar, which means sine die is nigh.
06/02/2023
The HB 100 voucher scheme dies at the end of regular session, plus a special session and the TEA takeover of Houston ISD begin.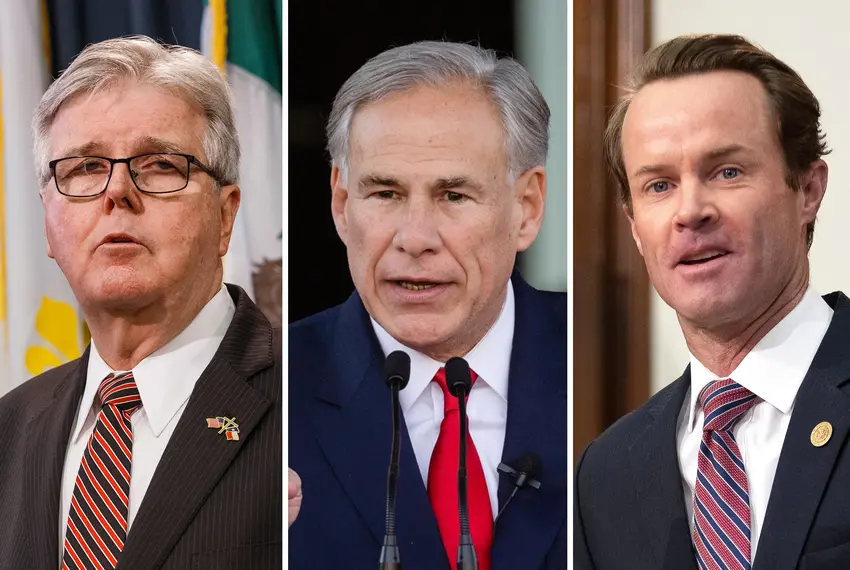 06/01/2023
Always happy to castigate the Texas House, Patrick breaks form to criticize the governor as misinformed and unsympathetic toward homeowners.