House weighs Harvey's cost to government, schools

Teach the Vote
Texas Legislature
Date Posted: 10/02/2017 | Author: Mark Wiggins
The House Appropriations Committee met Monday at the University of Houston to discuss the state's response to Hurricane Harvey, which ravaged Southeast Texas and the Coastal Bend in August. The hearing was held in response to interim charges relating to the storm announced by Texas Speaker Joe Straus (R-San Antonio).
Committee Chairman John Zerwas (R-Richmond) opened the meeting with a moment of silence for victims of the deadly mass shooting Sunday night in Las Vegas. Houston was the site of Hurricane Harvey's second landfall, and saw billions of dollars of damage to homes and infrastructure. The storm first came ashore near Corpus Christi, and Chairman Zerwas announced that the committee would hold future hearings in the Coastal Bend as well.
Chairman Zerwas said legislature may need to act to ensure that infrastructure is strong and is rebuilt quickly in the wake of the storm.  When it comes to using the state's rainy day fund, Zerwas said, "I can't think of any other type of event" that would be as well qualified for tapping the $11 billion account. The chairman qualified his remarks by adding that before taking action, lawmakers must know what expenses the state will be responsible for and how to leverage federal funds.
Houston Mayor Sylvester Turner was the first local official to testify before the committee. Turner noted that 27 trillion gallons of water fell on the region, and congratulated first responders for doing an "exemplary job" during and immediately following the hurricane. Turner called the storm "indiscriminate," and announced he has tapped retired Shell president Marvin E. Odum as the city's chief recovery officer.
Houston's top two priorities are debris removal and housing. On housing, Turner said his administration is particularly sensitive to seniors, people will special needs and low-income communities. The mayor testified thousands of people are still living in damaged homes that are in need of assistance.
Turner, who served as vice-chair of the House Appropriations Committee before running for Houston mayor, walked the committee through a detailed breakdown of the city's costs. The city has received a 90/10 federal match for the cost of debris removal. With the total for debris removal estimated at around $260 million, the city's share will total roughly $26 million. Working at an "aggressive" pace, the first of three debris removal passes is estimated to be completed within the next couple of weeks. The federal government will cover 100 percent of the cost of emergency and first responder services for the 60 days following the storm, after which the split will also be 90/10. The same match will apply to costs associated with parks and public spaces.
Houston carries a $100 million insurance policy for damage to buildings. In 2008, Hurricane Ike caused the city to file a record $33 million claim. The claim for Hurricane Harvey is anticipated to be north of $175 million.
"The insurance is gone," said Turner. The city is responsible for a $15 million deductible under its current policy, and will need $10 million to reinsure buildings against another hurricane. Turner explained that these costs, added to the city's $26 million share for debris removal, were covered by $50 million in state funds unlocked by Governor Greg Abbott on Friday.
"I appreciate what the governor did, and I want to thank him," said Turner, who added that the funds will prevent the need to ask for a local tax rate hike. Turner warned that other federal matches will still incur local costs, and the city must earnestly pursue costly flood mitigation projects to prevent further catastrophe.
mong those are three bayou projects that are shovel ready and awaiting federal money, which Turner testified could have saved thousands of homes. Other projects include $311 million to expand bayou capacity, $400 million for a reservoir in West Houston and a number of detention basins, including a $25-$30 million project to convert an unused golf course into a reservoir capable of holding more water than the Astrodome. Experts have long warned that a hurricane hitting Galveston Bay could wipe out the Port of Houston, and Turner suggested spending $12 billion for the "Ike Dike" or coastal spine would be a frugal investment compared to Hurricane Harvey's $180 billion estimated cost.
The city has already exhausted its own $20 million economic stabilization fund. Turner emphasized that until money from the state rainy day fund is made available, state agencies should waive administrative fees for federal funds. In addition, Turner suggested lawmakers could tap state Fund 5000. A portion of the dedicated fund's revenue comes from solid waste disposal and tipping fees, and the mayor argued $133 million from the fund could be made available for recovery efforts in Houston.
Concluding his remarks, Turner emphasized the role of Houston as the state's economic heart. Urging lawmakers to consider ways to assist, Turner cautioned, "If you stop the engine of this city, you will stop the movement of this state."
Up next, Harris County Judge Ed Emmitt called attention to the 2.5 million county residents outside of Houston proper. The county costs include $110 million for debris removal. The hurricane damaged 55 county buildings, 19 of which cannot be reopened. The county's criminal justice center is among the buildings unable to be reopened, which altogether present the county with a $220 million loss. County workers must inspect 190 roads and bridges, as well as 900 traffic signals, at an additional cost of $220 million.
Buyouts for destroyed homes are expected to top $6 billion dollars, and public health costs, such as mosquito spraying, will tally around $7 million. Judge Emmett said that the completion of critical flood control projects already on the books will also be in the billions, and local taxpayers will likely be asked to approve a billion dollar bond package as a result of the disaster. Emmitt concluded that the strain on local governments responsible for storm recovery illustrates the folly of recent legislation that would have made it more difficult for counties to raise property taxes.
Texas A&M University System Chancellor John Sharp, appointed by Gov. Abbott to chair the Governor's Commission to Rebuild Texas, opened his remarks by reading a letter from the governor commending local, state and national leaders for their response efforts. Four weeks into the job, Sharp described the commission's role as finding ways to cut red tape and acting as the main point of contact for coordinating the state's response. That said, Sharp reminded the committee that individual mayors and county judges hold sole executive authority during a disaster, and the commission is limited to offering advice and facilitating their requests.
Sharp emphasized the importance of counties filing federal paperwork before spending local dollars in order to ensure that federal funds are delivered. Following its recovery work, the commission will produce a report with future recommendations. Responding to Turner's testimony, Sharp argued that the state does not take an administrative fee from federal disaster funds. Instead, Sharp characterized the money state agencies receive as a separate disbursement from the federal government.
After Sharp, Texas Comptroller Glenn Hegar testified that the full cost to the state won't be known for several more months, or possibly years. The state will be able to meet its cash flow needs, but will see a short-term loss in economic output as a result of factories and businesses being knocked out by the storm. Despite this, the state expects a subsequent bump in GDP as a result of the recovery. Regarding state procurement efforts, Hegar raised a concern with the inability of Federal Emergency Management Agency (FEMA) staff to provide assurances that specific contract terms and conditions meet FEMA requirements for reimbursement. The comptroller also chided the legislature for failing to pass legislation Hegar suggested that would have invested a portion of the rainy day fund, which Hegar argued could have yielded several hundred million additional dollars for recovery efforts. Importantly, Hegar warned that public education costs could be the most significant area of exposure facing the state.
The committee also heard from top staff at the Health and Human Services Commission (HHSC). Commissioner Charles Smith fielded a number of pointed questions regarding staff losses, budget cuts and the rollout of the Disaster Supplemental Nutrition Assistance Program (D-SNAP). Commissioner Smith pushed back against criticism of the agency's response to Harvey levied by former staff in a report by the Texas Tribune. Smith estimated a total cost to the agency of $1.3 billion.
Staff from HHSC testified that the commission is working with Texas Education Agency (TEA) to ensure additional counselors are available to go into schools to serve children displaced or affected by the storm, but could not say how many counselors are currently involved or how schools were informed of the additional resources.
Legislative Budget Board (LBB) staff briefed the committee on the state's spending flexibility through budget execution, which Gov. Abbott had earlier suggested could be utilized to cover recovery costs without immediately tapping the rainy day fund. Funding can be transferred between executive agencies, as well as from fiscal year 2019 to fiscal year 2018. Agencies are required to notify LBB of transfers, but do not need the board's permission. Currently, most of the HHSC resources transferred for recovery efforts have been redirected from funds set aside for Medicaid.
With regard to the debate over administrative fees, LBB staff indicated that not all agencies receive fees in the same way. Staff volunteered to look into whether administrative fees waived by state agencies would be able to pass through to city governments or be forfeited back to the federal government. Board staff also confirmed Fund 5000 could be utilized for disaster response, and could be accessed without a legislative appropriation through a budget rider that allows the governor to utilize certain dedicated funds for disaster relief with the approval of the comptroller and LBB.
Texas Division of Emergency Management (TDEM) Chief Nim Kidd told the committee Hurricane Harvey is expected to be an $18.5 billion FEMA event. Some 845,000 individuals have registered for FEMA assistance, of which 305,000 have been processed for a current total of $857 million in FEMA funds. Like Mayor Turner, Chief Kidd listed debris removal and housing as the state's most immediate concerns. In contrast, Chief Kidd testified that administrative fees are drawn down separately and on top of approved federal disaster funds and are used by state agencies to pay for compliance monitoring. Kidd contended that if the state were to waive administrative fees, no additional money would go to local governments and agencies would ask the legislature to pay for compliance monitoring.
The committee also heard from representatives of the Texas Military Forces and Texas Department of Transportation (TxDOT). Executive Director James Bass from TxDOT testified the state incurred about $125 million in damage to roadways alone. Bass said Texas is not in danger of having to compete with Florida, which suffered significant damage from Hurricane Irma, for federal highway dollars.
TEA Commissioner Mike Morath reiterated the comptroller's warning that the public education system could face significant costs related to the hurricane. The commissioner again commended educators for "unbridled and remarkable acts of heroism" during the chaos, pointing out that many chose to go to work saving lives while their own homes were underwater. As of now, all school systems have reopened except for Port Aransas, Aransas Pass and Aransas County ISDs. Progress notwithstanding, Morath said there are still students who are unaccounted for in a formal educational setting following the storm. Truancy laws remain in place, and Morath said it's "too soon to tell" how the storm will affect dropout rates. Many districts have extended the school day or begun offering Saturday school in order to make up missed instructional time.
Morath presented the committee with an itemized list of nine major cost centers. Initially, districts receiving students displaced by the storm would normally not see the additional funding accompanying those students until the following year. Fortunately, Morath said the agency is able to shift funding sooner in order to accommodate those districts. Second, Morath said the agency could hold harmless districts losing substantial numbers of students by adjusting the average daily attendance (ADA) for those districts at a cost of roughly $400 million.
The commissioner also highlighted the worrying fiscal impact on districts in which the local property tax base is negatively impacted by the storm. Because the school finance system is based on lagging property tax collections, Morath suggested districts may not see the full impact until 2020. Morath noted the bifurcated maintenance and operations (M&O) and interest and sinking (I&S) funding streams create additional complications, and argued action should be taken to mitigate districts' losses.
The storm has also had a large impact on facilities. Schools will need to be repaired or replaced, and the legislature will likely be faced with a decision regarding how much to appropriate to districts that have exhausted insurance and federal funds. The storm has also caused many students to become homeless or qualify for free and reduced-price lunches. The additional weighted funding carried by these categories is expected to cost the state $266 million. Newly homeless students will also qualify for pre-Kindergarten programs. Other costs associated with absorbing displaced students include additional transportation and mental health services, and districts will face costs for monitoring compliance with regard to federal emergency funds.
Responding to a question from state Rep. Gary VanDeaver (R-New Boston) regarding whether it is correct that the STAAR test will proceed without changes to the administration schedule, Morath answered, "Not entirely." Morath explained a survey has been sent to affected districts, and indicated a decision whether to delay testing for displaced students has not yet been reached. The commissioner also suggested affected schools labeled "improvement required" may receive a "bye" year for accountability purposes.
The House Appropriations Committee is expected to hold additional meetings to discuss the ongoing recovery. The House Public Education Committee is scheduled to meet October 12 in Austin to focus in-depth on Hurricane Harvey's effects on the public school system.
06/02/2023
The HB 100 voucher scheme dies at the end of regular session, plus a special session and the TEA takeover of Houston ISD begin.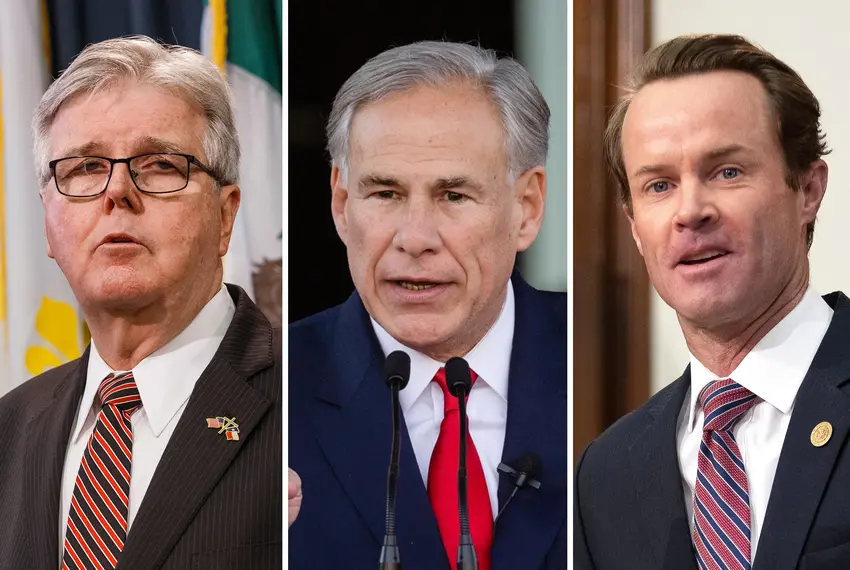 06/01/2023
Always happy to castigate the Texas House, Patrick breaks form to criticize the governor as misinformed and unsympathetic toward homeowners.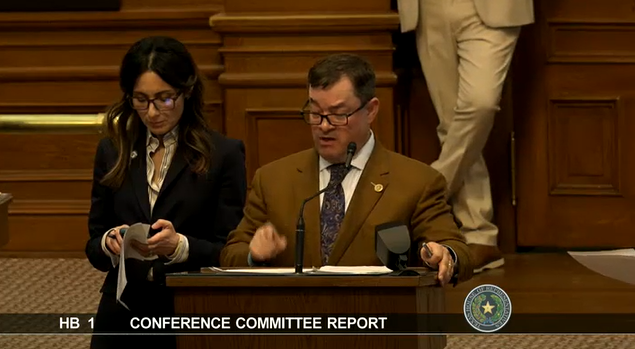 School Finance, Retirement | TRS | Social Security, Texas Legislature, Privatization | Vouchers, Educator Compensation | Benefits
05/30/2023
HB 100 was a casualty of a breakdown in communications between the House and Senate as the regular session drew to a close.