House committee wraps up hearings with educator prep bill

Teach the Vote
Date Posted: 5/18/2017 | Author: Mark Wiggins
The House Public Education Committee met Thursday morning for the last public meeting of the legislative session. Saturday is the deadline for House committees to report Senate bills (SBs), which means any SBs that are not considered and voted out of the committee by then are procedurally dead.
ATPE member Stephanie Stoebe testifies before the House Public Education Committee, May 18, 2017.

The committee also voted out the following bills:
SB 1786
, which would prohibit charter school employees from unionizing, failed on a vote of five to four. Reps. Bernal, Allen, Deshotel, and Lance Gooden (R-Terrell) voted against the bill. T
he first bill heard Thursday was
SB 2095
 by state Sen. Bob Hall (R-Edgewood), which would change the regulation of UIL students who may have been prescribed medical steroids because of a medical condition. The bill would allow the league to ban a student who is undergoing steroid treatment if the league believes there is a safety or fairness issue. Critics of this bill argue it targets LGBTQ students.
SB 1981
 by state Sen. Charles Schwertner (R-Georgetown) would set in statute rules regarding how the University Interscholastic League (UIL) selects locations for statewide competitions. The bill would order UIL to periodically issue a statewide request for proposals from institutions of higher education and other appropriate entities seeking to host statewide competitions.
SB 801
by state Sen. Kel Seliger (R-Amarillo) would add a requirement that textbooks approved by the State Board of Education (SBOE) are "suitable for the subject and grade level" and "reviewed by academic experts in the subject and grade level."
SB 1177
by state Sen. Bryan Hughes (R-Mineola) would expand the statute providing the ability of juvenile correctional or residential facilities to be granted a charter to include entities that contract with a juvenile correctional or residential facility.  
SB 1659
 by Senate Education Committee Chairman Larry Taylor (R-Friendswood) would allow the TEA commissioner to accept gifts, grants, or donation on behalf of the public school system and use them the way the commissioner sees fit. SB 1659 would allow the commissioner to transfer funds from the Charter School Liquidation Fund to a competitive grant program to promote "high-quality educational programs" and authorize the commissioner to establish rules to ensure that schools are in compliance with state funded grants. According to the
fiscal note
, SB 1659 could cost $12.3 million per biennium, but may be paid for through donations.
CSSB 1278
 also by Chairman Larry Taylor would significantly reduce the standards for new teacher certification, and ATPE opposes the bill. First, SB 1278 would limit the number of in-person support visits to teacher candidates during their clinical training. This would reduce the opportunities to coach candidates in the best instructional methods and to provide feedback and support that is immediate, which ATPE members share is the most meaningful to their preparation and development. While virtual observations can be valuable as supplemental training tools, they should not be viewed as a substitute for in-person training and mentorship. The bill would also differentiate among candidates training to teach in shortage areas by lowering the accountability standard for educator preparation programs that teach these students. Exhaustive research has been done on addressing teacher shortages around the nation, and multiple studies have identified high-quality preparation and induction as key factors in retaining educators.
ATPE member and 2012 Secondary Teacher of the Year Stephanie Stoebe testified against SB 1278 this morning, noting that rigorous teacher preparation programs are critical to ensuring high quality educators are in the classroom. We must ensure that all Texas educators receive strong preparation, meet quality certification standards, and are prepared by programs held to high accountability standards. This is especially true in the fields identified as areas of teacher shortage, which include special education, bilingual education, math, science, and computer science.
According to the
fiscal note
, SB 1278 would cost roughly $631,000 through the biennium ending August 31, 2019.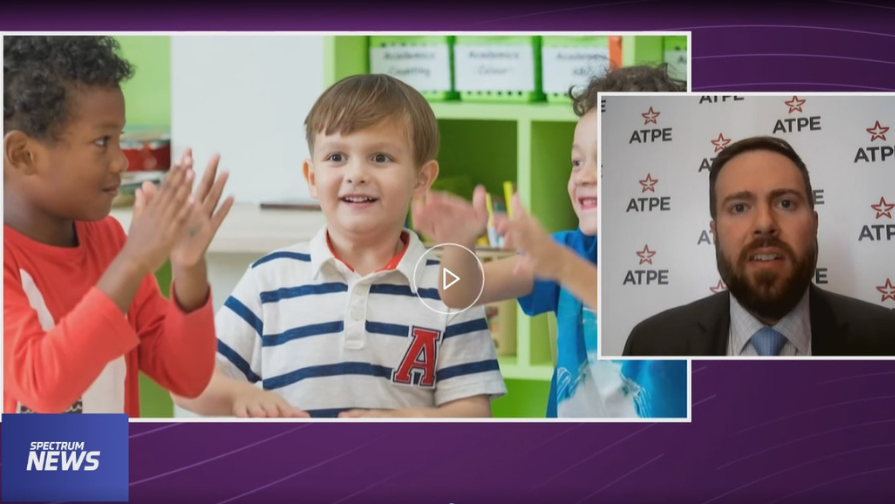 Texas Legislature, TEA | Commissioner | SBOE, Privatization | Vouchers, Deregulation | Charter Schools, Educator Compensation | Benefits
01/27/2023
Teacher pay and voucher bills are generating media attention, and Texas senators received their committee assignments this week.
Texas Legislature
01/23/2023
Texas Lt. Gov. Dan Patrick (R) announced Senate committee assignments Monday for the 2023 legislative session.
01/20/2023
Texas state leaders were inaugurated this week and previewed their priorities for the legislative session now underway. Read more from the ATPE lobby team.