SBOE begins June meeting with A-F update

Teach the Vote
Date Posted: 6/20/2017 | Author: Mark Wiggins
The State Board of Education (SBOE) met Tuesday for its June session, during which the 15 members will continue work on the Texas Essential Knowledge and Skills (TEKS) for English Language Arts and Reading (ELAR) and Spanish Language Arts and Reading (SLAR) and English as a Second Language (ESL). The board is also scheduled to discuss changes to the TEKS review schedule and appoint members to a Long-Range Plan Steering Committee. 
The State Board of Education hears from education commissioner Mike Morath at the board's June 2017 meeting.
Tuesday began with an update from Texas Education Agency (TEA) commissioner Mike Morath, who reported the spring testing cycle was completed with satisfactory results. After encountering issues with scoring and test delivery in 2016, Morath stated, "All the problems with last year were resolved."
A result of testing this year and a one-year effort to redesign the Confidential Student Report (CSR) is the new STAAR report card. The new report card goes beyond numerical results to include more information, context and terms that are easier to understand. More information on the new STAAR report card can be found on the TEA website.
The commissioner also provided a brief summary of changes to the "A through F" accountability system passed during the regular session of the 85th Texas Legislature as part of House Bill (HB) 22. The legislature compressed the system to three domains: Student achievement, school progress and closing the gaps. The student achievement domain will primarily rely on test data to calculate student performance. Under the school progress domain, the same test data will be used to determine how much students gain year over year and how schools compare to other schools with similar levels of poverty. The closing the gaps domain will focus on identifying whether certain student groups are struggling, relative to the campus. The student achievement and school progress domains will be combined for a single "best of" score, which will be weighted against the closing the gaps domain to calculate the overall or "summative" score. The agency will focus on outreach to stakeholders through December, and the first district-level ratings under the new system will be issued in August 2018. At that time, campus-level ratings will still be either "met standard" or "improvement required." All campuses are scheduled to receive a "what if" report using the A through F system on January 1, 2019. Official campus-level A through F ratings will be issued in August 2019, at which time a local accountability plan framework will also be rolled out. Districts using a local accountability plan must continue to use the three state domains, but may add as many additional domains as they like and come up with an independent formula for calculating a summative score. Only schools that have not scored a "D" or an "F" will be able to participate, and local accountability plans will be vetted through a "peer-review" process.
Under HB 22, attendance rates have been removed from the accountability system, fixing problem identifying by many elementary and middle schools. A task force has been commissioned to look at incorporating extracurricular activities, which is expected to be a five-year process.
Member Keven Ellis (R-Lufkin) asked about the effects of Senate Bill (SB) 1784, which promotes the use of "open-source instructional materials." These materials are currently licensed through the state procurement process, which already includes accessibility requirements. Morath said the agency plans to make the process more similar to the proclamation process used by the SBOE for textbook vendors. The board received an update from TEA staff on other bills passed during the legislative session.
The agency is currently tasked with implementing 145 pieces of legislation passed by lawmakers of the 85th Texas Legislature. The board proposed eight legislative recommendations, of which five were successfully carried out. Lawmakers expanded SBOE authority over approving instructional materials to consider suitability for subject and grade level, with an additional requirement that it be reviewed by academic experts. Member David Bradley (R-Beaumont) noted that the legislature provided no guidance regarding the definition of "suitability" and "expert," though staff pointed out that a definition of expert already exists in agency rule. The legislature did not allocate any funds for the long-range plan, nor did it appropriate money to increase TEA staffing in the curriculum division, which oversees and supports TEKS review and implementation. The legislature did approve a $5 million rider for data privacy and other items, as well as a $25 million rider to allow districts to access federal matching funds for the E-Rate Infrastructure Program. Lawmakers passed SB 160, which prohibits the agency from adopting or implementing a performance indicator in any agency monitoring system that solely measure the number or percentage of students who receive special education services. This legislation was passed as a result of an investigative series by the Houston Chronicle that uncovered a de facto cap on special education enrollment.
Finally, the board recommended lawmakers conserve public free schools and prohibit public dollars from going to private schools or parents/guardians. Despite attempts by the Texas Senate to pass a voucher bill, the Texas House stood strong and prevented the passage of any private school voucher legislation. However, Gov. Greg Abbott has announced he will include vouchers on the call for a July special session. Noting that voucher proponents had focused on special needs vouchers during the regular session, Member Marty Rowley (R-Amarillo) asked what a special needs voucher would look like. Staff indicated the governor specifically mentioned HB 1335 by state Rep. Ron Simmons (R-Carrollton).
The board spent the latter half of Tuesday resuming their work on ELAR/SLAR and ELL high school TEKS. On Wednesday, the board is scheduled to discuss the broader TEKS review schedule.
School Finance, Texas Legislature, Curriculum | Instruction, TEA | Commissioner | SBOE, Privatization | Vouchers
02/03/2023
The SBOE squeezed a four-day meeting into two, and most legislative activity was canceled this week due to a winter storm. Read more from ATPE Governmental Relations.
Texas Legislature, TEA | Commissioner | SBOE, Privatization | Vouchers, Deregulation | Charter Schools
02/03/2023
Texas Gov. Greg Abbott swore in six new members at the State Board of Education's February 2023 meeting.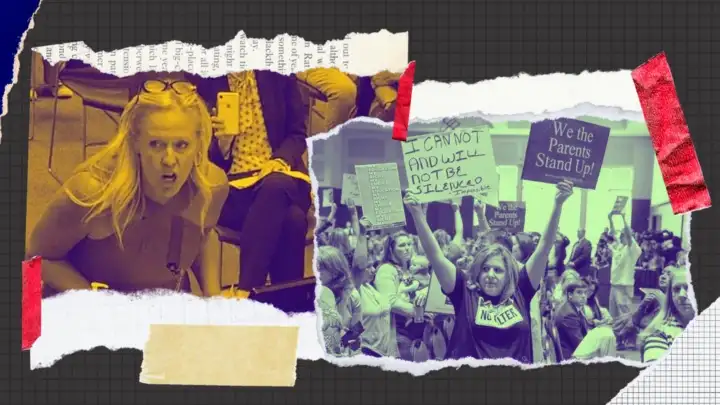 Privatization | Vouchers
02/01/2023
"The public good? Sounds like Marxism." Read more from guest writer Joel Nihlean.