ESAs: A bad deal for students in need

Teach the Vote
Date Posted: 12/19/2016 | Author: Monty Exter
Earlier this month, I participated in a debate on the political TV show Capital Tonight about school vouchers. Hosted by Karina Kling and featuring opposing guest Randan Steinhauser, who heads the pro-voucher group Texans for Education Opportunity, the show focused specifically on the topic of education savings accounts (ESAs). During the show I touched on the problem ESAs pose to students with special education needs. Unfortunately there is no way to fully respond to such a complex issue in a 30-second response, so let's take a closer look here on our blog. How exactly do ESAs work? An education savings account is literally a bank account set up for an individual student into which the state puts money for a parent to purchase private education services. The amount of money that goes into the account is a percentage of the state's average per-pupil expenditure based on state and local funds. The base number does not account for federal dollars or charitable dollars. Additionally, the base number does not account for student weights, meaning it does not reflect what the student accepting the voucher would have actually been entitled to under the public school formulas. While there is no bill language yet filed, the numbers that have been most talked about by proponents of the voucher suggest that a Texas ESA would entitle a student who is neither a special education student nor on free or reduced lunch 70% of the statewide average per student expenditure. A student who is on free or reduced lunch but not receiving special education services would receive 90% of the statewide average per student expenditure, while students identified as needing special education services would receive 100% of the statewide average per student expenditure under ideas being floated. On the surface, it sounds like special education students come out pretty well under this scenario,. But the truth is that students in every category of students would get far less funding than they would if they attended a public school. At only 70 percent, it's easy to see that the student who isn't entitled to either a free or reduced lunch or special education services is getting a significant reduction in what they would receive under the public school formulas (an amount that is already in the bottom 10% of per pupil expenditures nationwide). However, students who are entitled to the free or reduced lunch program or special education services would also be getting significantly less under this proposal, perhaps even to a greater degree than their peers entitled to 70% - here's how. The combined effect of student weights, federal funding, charitable funding, and federal special education law creates a scenario where students on free and reduced lunch and students identified as needing special education services draw down far more individual funding through the public system than the statewide average per pupil expenditure that would be used to calculate an ESA. For students receiving a free or reduced lunch, in addition to only receiving 90% of what is an already underfunded average, they would also lose the benefit of the compensatory education weight. Additionally and perhaps more importantly, they likewise lose the effect of federal Title I funding. Federal funding, which is not included in calculating the statewide average per pupil expenditure, makes up about 10% of the total education funding in Texas, which may not sound like much on a per pupil basis. However, federal dollars are not distributed evenly to all students; rather, they are highly concentrated on children of poverty. Additional, there are federal provisions that preclude the state from using federal dollars to supplant state dollars. The result is that schools serving kids on the free and reduced lunch program, children of poverty, are getting significant federal dollars in addition to state and local dollars to spend educating those children. We have made these expenditure choices as a society because research very clearly shows that these kids need additional programs, which cost additional dollars, in order to successfully receive a quality education. ESAs, and vouchers in general, do not account for this funding, and children on an ESA voucher would simply lose this funding. The loss for children receiving special education services is potentially even more dramatic. Kids who have been identified as needing special education services can have some of the highest student weights – as much as 500 percent of what the average student in a Texas school district receives. But it is the effect of federal law with regard to special education students and the loss of those rights under an ESA voucher program that is potentially the most troubling issue. Both the courts and federal statute require public schools to provide students identified as needing special education services a free and appropriate public education. Essentially what that mandate boils down to is a requirement that districts spend whatever is necessary to provide the services these children need to be able to learn. This spending requirement is really separate from the amount of funding districts receive for these students. In fact, most districts currently spend substantially more on special education services than the amount of money they receive from the state funding formulas to provide those services, despite the current special education weights. All of that is to say that special education students frequently have far more than 100% of the statewide average per pupil funding through the public school system under current law, which is clearly more than they would receive under an ESA voucher. A bad choice can be worse than no choice. The ESA voucher proponent I was debating on the show pointed out that an ESA is a school choice option and that parents who don't believe it's the better choice for their student don't have to take it. While that is strictly speaking true, it's a choice with some harsh consequences that many parents may not fully realize until it's too late. Two universal features of ESA legislation have been the requirement to waive your rights under the federal Individuals with Disabilities Education Act (IDEA) and your right to attend a public school during the year in which you receive ESA funds. What this means for all voucher recipients is that if they take a voucher and then find that what they can buy with it doesn't in fact meet their needs they will have to sit out of the public school system for an entire year, potentially a real and permanent setback in a child's education. This is of particular concern in the context of special education. The ESA program allows parents to purchase piecemeal services, which are often very expensive, much more than the average per pupil expenditure. Unlike the public education system that is required to provide a comprehensive program of general education and special education/therapeutic services for an entire school year regardless of overall individual cost, if a parent spends all their ESA funding on ad hoc therapeutic expenses, they will not receive additional state dollars or logistical/administrative assistance to provide for the academic component of their child's education or even continued therapeutic services should they run out of funding before the next school year. There are some genuine areas of needed improvement in the delivery of special education services and identification of students with special needs, but dramatically underfunding these or any, students through an ESA voucher program and encouraging parents to relieve their sometimes justified frustrations by giving up their child's legal right to a free and appropriate education and simply going it alone is not the answer. Related: If you live in the Austin viewing area and subscribe to TWC-Spectrum cable, you can watch a rebroadcast of this episode of Capital Tonight on Dec. 19, 2016. Also, check out ATPE Executive Director Gary Godsey's recent op-ed article about private school vouchers here.
06/02/2023
The HB 100 voucher scheme dies at the end of regular session, plus a special session and the TEA takeover of Houston ISD begin.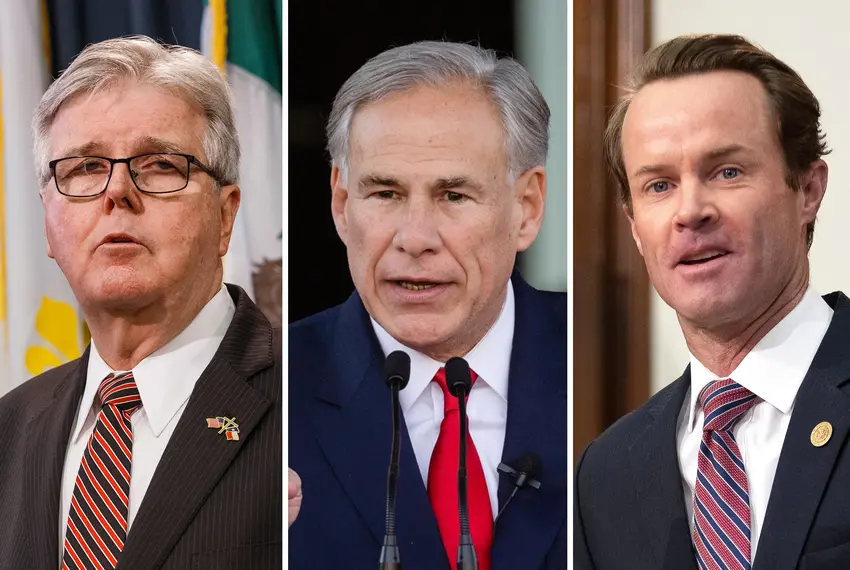 06/01/2023
Always happy to castigate the Texas House, Patrick breaks form to criticize the governor as misinformed and unsympathetic toward homeowners.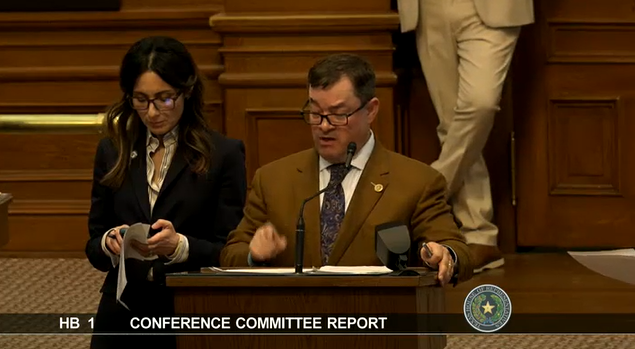 School Finance, Retirement | TRS | Social Security, Texas Legislature, Privatization | Vouchers, Educator Compensation | Benefits
05/30/2023
HB 100 was a casualty of a breakdown in communications between the House and Senate as the regular session drew to a close.