Cameras in the classroom: FAQs on Senate Bill 507

Teach the Vote
Date Posted: 7/15/2015 | Author: Monty Exter
In 2015, the 84th Texas Legislature passed Senate Bill (SB) 507 by Sen. Eddie Lucio (D), sponsored in the House by Rep. Senfronia Thompson (D), a bill that requires school districts to equip self-contained classrooms serving students in special education programs with video surveillance cameras. After the two chambers passed different versions of the bill, a conference committee was appointed to iron out the differences. Eventually, agreed-upon language in the conference committee report was adopted by the Senate by a vote of 21 to 10 and by the House by a vote of 140 to 3. Gov. Greg Abbott (R) signed the bill into law on June 19. Since SB 507 was finally passed, ATPE members have asked us a number of questions about the implementation of this new law. Below is additional information compiled by ATPE's Governmental Relations and Member Legal Services departments to try to address the questions we've fielded and to help you understand more about the bill that was adopted and will take effect in 2016. What prompted SB 507 to be filed? A small number of high-profile cases involving allegations of intentional abuse of students with special needs, including some who are non-communicative, galvanized a small group of committed parent activists to seek new statutory protections at the state level. A similar bill was filed in 2013 that did not pass. What does SB 507 do? SB 507 requires districts to install audio/video monitoring equipment in any self-contained classroom in which special education services are being provided to at least 50 percent of the students for at least 50 percent of the school day. The requirement is triggered in the event that a parent, school board member, or staff member on the campus requests that audio/video monitoring equipment be installed. The bill also requires school districts to store the audio and video recordings for not less than six months and to release the footage to persons specified by the bill. Additionally, the bill specifies that districts may accept donations and grant money to fund the purchase of equipment and that the commissioner of education shall provide a grant program in the event that excess Foundation School Program funds are available from the state. Must the school give notice that video monitoring is occurring in the classroom? Yes, while the statute specifically exempts districts from having to obtain consent from parents before monitoring occurs, it does require that notification be given in writing to both parents and campus staff. Will there be audio or just video on the recordings? There will be audio captured on the recordings. Under SB 507, Texas Education Code Section 29.022 (c)(2) requires that the camera equipment be capable of "recording audio from all areas of the classroom or other special education setting." Who can request to view the footage and through what process? The following groups of people may have access to certain footage in certain situations:
A school district employee or a parent or guardian of a student who is involved in an incident documented by the recording for which a complaint has been reported to the district, on request of the employee, parent, or guardian, respectively;
Appropriate Department of Family and Protective Services personnel as part of an investigation of child abuse or neglect in a school setting under Section 261.406 of the Texas Family Code;
A peace officer, a school nurse, a district administrator trained in de-escalation and restraint techniques as provided by commissioner rule, or a human resources staff member designated by the board of trustees of the school district or the governing body of the open-enrollment charter school in response to a complaint or an investigation of district or school personnel or a complaint of abuse committed by a student; or
Appropriate agency or State Board for Educator Certification (SBEC) personnel or agents as part of an investigation.
The process for requesting access to a recording is not specified in SB 507. However, the bill does grant the commissioner of education rulemaking authority with regard to implementation. Therefore it is likely that the process for requesting access will be part of a commissioner's rule that is yet to be drafted.
Who will pay for the equipment, monitoring, storage, and other administration required under SB 507?
School districts are required to foot the bill using existing funds. The legislature appropriated no extra dollars to fund SB 507. The bill does specify that districts may accept donations and grant money to fund the purchase of equipment. Districts, however, were already able to accept grants and donations for virtually any educational purpose prior to this legislation and did not need statutory authority to receive or spend philanthropic dollars in this way. The bill also directs the commissioner of education to create a grant program that would be funded in the event and to the degree the state appropriates more money to the Foundation School Program than what districts are owed based on the formulas. If funded, the program would be used to repay some districts for some of the upfront costs of implementing SB 507. There is no way to say how much or even if there will be any funding available for this grant program at this point.
When does SB 507 go into effect?
The bill's requirement to install video equipment and monitor classrooms under TEC Section 29.022 doesn't apply until the 2016-17 school year. The Commissioner's grant program, should there be any funding for it, would begin in the 2015-16 school year.
Does the bill require video surveillance of life skills and behavior unit classrooms for students in special education programs?
Most likely, yes. Under TEC Section 29.002(a), the bill requires that districts "place, operate, and maintain one or more video cameras in each self-contained classroom or other special education setting in which a majority of the students in regular attendance are:
(1)  provided special education and related services; and
(2)  assigned to a self-contained classroom or other special education setting for at least 50 percent of the instructional day."
However, under Section 29.002(k), the commissioner may adopt rules to implement and administer this section, including rules regarding the special education settings to which this section applies. That would likely include a determination on whether life skills and behavior unit classrooms constitute special education settings under SB 507. Stay tuned for updates once the rulemaking process is completed.
Can a parent opt his or her child out of being recorded?
It is very unlikely that a parent would be able to opt not to have his child monitored by video. There is no opt out provision in the statute and no practical way for a school district to comply with the law and ensure access to an unmonitored classroom setting covered by SB 507. Under the bill, a classroom must be monitored by video surveillance even if only a single parent requests it. While it is theoretically possible for a district to set up a classroom designed for only those children of parents who object to video monitoring, it is not really practical and the bill doesn't require such an accommodation.
What implications does FERPA (the Family Educational Rights and Privacy Act) have on viewing a video under SB 507?
There is no way to definitively say at this point whether common situations that would occur under SB 507 would violate the FERPA privacy protections, but likely the bill can be implemented without causing a violation of the federal law. In any event, it is important to remember that potential FERPA violations caused by SB 507 are ultimately not something that should cause much worry for an individual educator. FERPA very specifically makes the institution (i.e. the school district, in this case) responsible for maintaining confidentiality – not individual educators. The only problem an educator could have is if the educator violates a school district policy with regard to the bill and the district then tries to take negative employment action against the educator; similarly, SBEC could pursue sanctions against an individual educator for violation of a local school district policy. For those still interested in whether the law might create a violation under FERPA, it is important to distinguish between the legality of
making
 a recording and the legality of
showing
that recording to a specific individual. Because FERPA regulates disclosure, it is unlikely that requiring districts to create a recording implicates the federal law at all. FERPA only applies when an educational record (in this case the video of the classroom) is shared with someone who is not the maker of the video (i.e. the district). So the questions that follow are these: What obligations does a school district have when deciding who gets to see the videotape, and what must a district do to redact such a videotape before allowing someone without a legitimate educational purpose or one of the other exceptions written into the regulations to see it? A parent seeing a child, other than his own, in a self-contained special education setting likely establishes that the child is receiving special education services, which
might
be characterized as a violation of confidentiality. A district could likely avoid this potential violation by only sharing the video after blurring the images of other students. In fact, there are already instances in which school districts have provided video recordings involving students after blurring out the students' faces to protect their anonymity, ostensibly to avoid any potential FERPA violations. You can read more about common FERPA questions at this
FERPA FAQ
 posted online by the U.S. Department of Education.
What was ATPE's official position on SB 507?
As is often the case with high-profile legislation, SB 507 presented both positive and negative implications. After careful consideration of the pros and cons, ATPE chose not to register a formal position for or against the bill as part of official testimony before the House Public Education Committee or Senate Education Committee when those committees considered the bill this legislative session. In fact, no representatives of the state's major educator groups registered a position for or against this bill. Most of the testimony was provided by parents, educators with particular expertise in special education, and representatives of school districts. SB 507 is likely to have a far greater impact on school districts and school boards, which ATPE does not directly represent, than it is expected to have on individual educators, which make up the majority of our membership. ATPE certainly agrees with the intent of the bill – to deter classroom violence, aggression, or abuse. Our decisions on how to respond to SB 507 were based in part on how the bill addressed the issue of classroom violence – not whether or not that issue should be addressed. Any level of classroom violence, whether perpetrated by a teacher or student or against a teacher or student, is without question unacceptable and should not be tolerated. A few important questions that must be considered, however, when tackling this issue include these: 1) Is requiring video monitoring of classroom the most efficient and effective way of addressing classroom violence?  2) Does requiring video monitoring do more harm or good on balance? SB 507 requires that certain classrooms as detailed above be equipped with audio and video monitoring equipment. However, the bill also provides that an area of a monitored room that is used to change a student's clothing or to facilitate a student using the restroom may not be visually monitored. Even considering that SB 507 requires such "no view" areas, the bill will almost certainly have some deterrent effect on classroom violence. However, it is ATPE's informed opinion that video surveillance is neither the most efficient nor the most effective means of deterrence. In the vast majority of cases, enhanced educator and administrator training would be less costly and equally effective at decreasing the incidents of classroom violence. Training would also likely have positive spillover effects within the educational environment that cameras do not offer. Likely the most effective deterrent, though not less expensive, would be to require that each self-contained special education setting be staffed by a trained para-professional in addition to the classroom teacher. Many organizations have a policy of requiring two adults to be present with a group of children in order to achieve this exact deterrent effect. Even more than training, this alternative would also provide massive additional benefits to the educational environment that a camera simply can't provide. While some educators feel that cameras are a justified expense to promote student and educator safety, other educators feel that SB 507 creates an unnecessary invasion of privacy, implies that they are incapable of performing their jobs in a responsible manner, or perpetuates a myth about widespread child abuse occurring in school settings. However, it's important for educators to consider that video recordings may be just as likely or even more likely to exonerate them from false accusations as they are likely to result in new allegations of educator misconduct. Having access to an objective record of actual events in the classroom can eliminate "he said/she said" complaints otherwise devoid of hard evidence and can also provide educators with valuable support in instances where educators have been assaulted by students. Additionally, it's important to remember that school districts have already had authority – even before passage of this bill – to videotape their classrooms. Video cameras are commonly found in school hallways, cafeterias, and other common areas. Cost constraints have been one of the primary reasons that schools have not previously chosen to deploy additional cameras both for security and educational purposes; and concerns about inadequate funding were the primary reason that administrator and school board associations voiced opposition to SB 507 during the legislative session. Ultimately, ATPE concluded during the legislative session that SB 507, on balance, would not result in vastly greater harm or good than the status quo. The new law is a somewhat expensive diversion of limited education resources (as the state appropriated no additional dollars to fund this very specific mandate), but it will likely have some deterrent effect. The bill does involve a loss of educator (and student) privacy, but it is also likely to exonerate far more educators than it convicts. It was for these reasons that ATPE did not take an official position supporting or opposing the bill but instead worked behind the scenes this session to improve it. Some of the positive changes made to SB 507 included giving educators access to any tape capturing an incident in which they are implicated, as well as giving access to experts trained in proper restraint techniques who can more accurately identify what they are seeing on the video. We hope that some of the unanswered questions about SB 507 will become clearer after the commissioner of education proposes rules for implementation of the new law. Stay tuned for updates from Teach the Vote when that process occurs.  
*ATPE Managing Attorney Paul Tapp contributed additional information for this post.
06/02/2023
The HB 100 voucher scheme dies at the end of regular session, plus a special session and the TEA takeover of Houston ISD begin.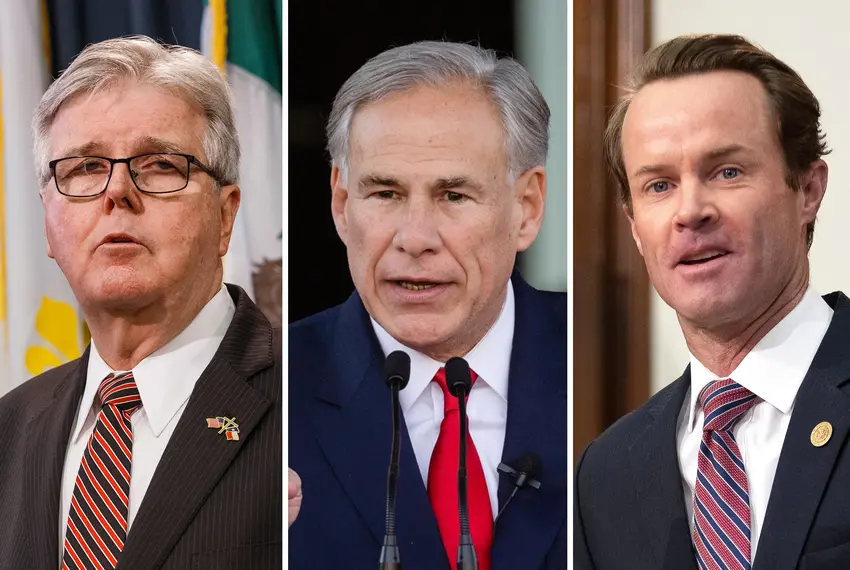 06/01/2023
Always happy to castigate the Texas House, Patrick breaks form to criticize the governor as misinformed and unsympathetic toward homeowners.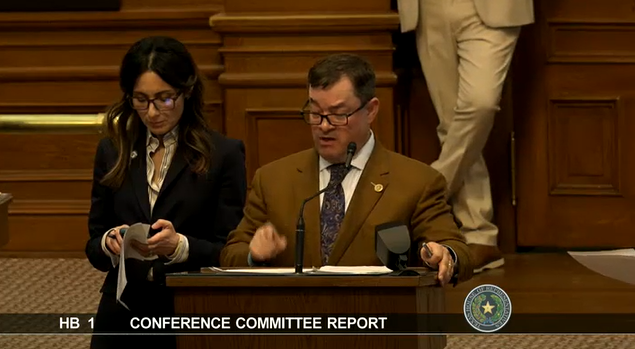 School Finance, Retirement | TRS | Social Security, Texas Legislature, Privatization | Vouchers, Educator Compensation | Benefits
05/30/2023
HB 100 was a casualty of a breakdown in communications between the House and Senate as the regular session drew to a close.