Evaluation steering committee interview—Part II

Teach the Vote
Date Posted: 6/11/2014 | Author: Jennifer Mitchell, CAE
The Teach the Vote Interview: 
ATPE Members Serving on the Texas Teacher Standards and Evaluation Steering Committee April 2014
PART II
Last year the Texas Education Agency (TEA) appointed a steering committee of educators to provide input on new teacher standards and a new evaluation system. This is the second post in our three-part interview with some of the ATPE members serving on that committee.
---
TEACH THE VOTE: SHOULD ALL TEACHERS BE EVALUATED ON AN ANNUAL BASIS?
Libbie Payne
: "I welcome annual observations because I see them as an as an opportunity for teachers to become absolutely the best teachers they can be, and I believe that they promote quality instruction. Frequently, an outside observer can help teachers identify strategies that will improve the quality of their teaching, ultimately make their jobs more satisfying and even  in some cases make their jobs less stressful. Likewise, it is affirming to be recognized for those practices that you do best. I would suggest that the constructive nature of the new tool that measures both the quantity of positive classroom practices as well as the quality of instruction should reduce the anxiety and stress some teachers experience with the current evaluation process, and ultimately they will welcome more regular evaluations because they promote satisfying teaching experiences."
Jeremy Wagner
: "Yes. This shouldn't be optional. Professionals should expect evaluations and should be constantly striving to become better. If we, as teachers, expect to be viewed as professionals then we need to accept this. …You need to be evaluated every year."
Stephanie Stoebe
: "All teachers need to be evaluated every year. Students test to show proficiency and growth. If the state is requiring students to be assessed on a yearly basis, then the same concept holds true for teachers. How can we ensure that students will be learning and growing? By ensuring that teachers are learning and growing."
Carlos Diaz-Rivera Jr.
: "For teachers that prove to be effective, I would suggest every other year."
TEACH THE VOTE: DESCRIBE THE ROLE YOU THINK OBSERVATION SHOULD PLAY IN TEACHER EVALUATIONS.
Diaz-Rivera Jr.
: "The observation piece should be central to the appraisal. It is what the teacher does on a daily basis and should be measured over time. …Observations should be frequent, announced and semi-announced, and should last a class period."
Payne
: "Administrators often neglect their roles as the instructional leaders of their campuses because of the demands of being a building administrator and manager.  By requiring more frequent observations, administrators will have greater opportunities to serve as the instructional leaders of their campuses, assess the overall strengths of their teachers, assign teachers where they will be most effective and select campus professional development that will address the unique needs of their individual campuses. … When classroom observations are conducted properly by highly trained observers, I believe they can potentially be a powerful tool for teacher development. With this in mind, I believe that teacher observations should carry the most weight in the total teacher appraisal process. In my opinion, observations should be both announced and unannounced. The announced observation should occur at least once per school year and should cover the entire span of one class period or one entire lesson. The announced observation should include a pre-observation conference that provides an opportunity for the teacher to familiarize the observer with the context of the classroom, the design of the lesson to be observed and any other student information that could potentially impact the observation. The announced visit should be more formal than an unannounced visit, and the teacher should have the option to request a second announced observation if the teacher feels it is needed. Unannounced observations (walk-throughs) should be less formal and shorter in length.  The frequency of these visits should be left to the judgment of the observer. In either case, timely feedback is critical to the purpose of the observation itself. Following the announced observation the teacher would complete a self-reflection piece that would include the teacher's self-assessment of the observed lesson that would include what went well and what did not. A post-observation conference would be conducted, and the discussion that would take place should focus on the teacher's self-reflection and the evidence collected by the observer. I believe this conversation is essential to the process and would help to build positive teacher practice and promote professional growth. I envision the post-observation conference as one that should include goal-setting along with action steps to help achieve the teacher's goal(s). Similarly it should be constructive and designed to move the teacher from the position of classroom director to that of facilitator and collaborator."
Wagner
: "Evaluators, peers, parents, students, and community members— all of these people need to be in and out of classrooms every day. Peers need to see master teachers at work and model after them, administrators need to be in classrooms as much as possible to provide accurate feedback, and community members need to be in the classrooms to help build relationships, provide input and see how hard teachers really are working. Teaching isn't about being an island with a closed door and an attitude that says, 'Leave me alone and let me teach.' … Teachers need to be [observed] multiple times a year.  I think a one-shot evaluation is too much like what we're asking our kids to do on the high-stakes state exams.  To actually provide data on growth a teacher needs at least three full-period observations, two of which should be unannounced, and weekly walkthroughs. That being said—before principals read this and decide I'm absolutely nuts— this will require a huge reworking of infrastructure. Principals can't do all of this alone. … Teachers need to be trained to evaluate other teachers."
TEACH THE VOTE: HOW DO YOU THINK APPRAISERS SHOULD BE SELECTED AND TRAINED?
Payne
: "All appraisers must be highly trained in the observation process. The announced observation should be performed by a campus administrator (principal/assistant principal). I would suggest that a campus or district peer review committee that would be composed of highly effective and distinguished teachers from a variety of subjects and grade levels who have been highly trained in the observation process could be utilized if the teacher were to request a second announced observation."
Diaz-Rivera Jr.:
 "I believe having one observer offers little feedback, therefore I suggest having multiple observers to provide more feedback."
Wagner
: "Principals and instructional coaches, mentor teachers or master teachers [should serve as appraisers]. …We need to develop a mentor-teacher kind of mentality in which peers are accepted as evaluators (instructional coaches, master teachers, etc.). Teachers need to be trained to evaluate other teachers. It will promote collaboration, it will promote growth for the evaluator and the person being evaluated, and it will make teachers better."
TEACH THE VOTE: SHOULD A TEACHER'S MENTOR ALSO SERVE AS THE TEACHER'S APPRAISER?
Wagner
: "Absolutely. When teachers evaluate other teachers, there's collaboration. The real issue here will be with matching up content expertise. This is easily overcome with proper planning and preparation."
Diaz-Rivera Jr.
: "The mentor has seen the teacher grow from a novice level. They can clearly see if the growth is appropriate or if more growth is needed."
Payne
: "As a mentor, I regularly observe the teachers I mentor. I am concerned that if the mentor becomes the appraiser the teaching element of the mentor's role could be affected."
TEACH THE VOTE: AS PART OF THE NCLB WAIVER, THE FEDERAL GOVERNMENT IS DEMANDING THAT STUDENT GROWTH BE A SIGNIFICANT FACTOR IN TEACHER EVALUATIONS. HOW SHOULD STUDENT GROWTH BE MEASURED FOR PURPOSES OF TEACHER EVALUATIONS?
Wagner
: "The best way [to measure student growth] is likely the least feasible with current budgets, teacher salary and school settings. The most authentic way to measure student growth would be through student portfolios with real examples that show what a child is truly capable of. Who would 'grade' these? Where would we store all of it? Should it be purely digital? How would this affect the teacher's contract year if they are to be used to 'grade' others? There are a lot of question that would have to be answered to make this feasible."
Diaz-Rivera Jr.
: "Student data from assessments such as STAAR and EOCs are quite possibly the best measures we can use and are available. Locally developed assessments can also be used for this purpose."
Payne
: "Prior to serving on the committee, I had not considered using student growth to measure an individual teacher's effectiveness. Initially, as this topic was introduced, the overall committee response was negative and most committee members were resistant to considering student growth as part of the teacher evaluation. Once the concept and different alternatives to measure student growth were introduced, I began to see that student growth could be included as a measure of teacher effectiveness. The alternatives that were proposed each have their strengths and weaknesses. The STAAR and EOC results are probably the easiest measurement to produce, but I believe they also have the most flaws and shortcomings. Furthermore, less than 30 percent of Texas teachers teach grades or subjects that are measured by these tests. That leaves a majority of Texas teachers using another method to measure student growth. The other methods proposed were student learning objectives, portfolios, and district developed tests. In some disciplines SLOs might be hard to develop, district developed tests could reduce equity between districts, and portfolio submission is time consuming and very subjective at best.  I would suggest that a combination of some or all of these strategies would give the truest picture of student growth in any given school year. This is a new concept and one that must be carefully considered and implemented. Because there is limited data that demonstrates that student growth measures teacher effectiveness, I am convinced that we must consider this option tentatively, collect our own data, and evaluate its effectiveness. We must not be married to this and leave this option open to modification, alignment, refinement and potentially even dismissal."
TEACH THE VOTE: TELL US A LITTLE ABOUT VALUE-ADDED MODELING (VAM), WHICH THE STATE PLANS TO USE IN THE NEW TEACHER EVALUATION SYSTEM. DO YOU THINK VAM IS AN APPROPRIATE WAY TO MEASURE STUDENT GROWTH FOR PURPOSES OF EVALUATIONS?
Wagner
: "I was extremely familiar with VAM before the committee ever met.  I took part in the Teacher Advancement Program (TAP) as a mentor teacher who evaluated other teachers using the VAM to help determine student growth for three years. With the current infrastructure in education and high-stakes state testing, [VAM] is probably the fairest way to measure student growth in math and reading. It's entirely different for science, social studies and writing. When applied for math and reading teachers, I am extremely confident [in the reliability of individual teacher-level VAM for evaluations].  Anyone with a statistics background that is familiar with VAM will say the same.  The challenge will be to make it easily understandable for people without a math degree. … There is a lot of research out there that shows how [VAM] has worked for other states or individual districts. Let's see how the pilot goes then make some more decisions then."
Diaz-Rivera Jr.
: "Prior to serving on the committee I had little knowledge on this matter. The Texas Comprehensive Center made available to us research and consultants who explained what this was, how it works and how it is used. I am still a little unsure of VAM and the impact it can have on the teacher evaluation."
Payne
: "Before serving on the committee I had only heard the term VAM tossed around in conversation with a handful of educators. I understand the concept, but still have lots of questions about how it will work. I would really like to have more data that supports its use. … I think the entire committee still has concerns about VAM."
TEACH THE VOTE: THERE'S A LOT OF DEBATE ABOUT THE USE OF CAMPUS-WIDE VAM SCORES VERSUS VAM CALCULATIONS THAT ARE MADE AT THE INDIVIDUAL TEACHER/CLASSROOM LEVEL. CAMPUS-WIDE VAM ENABLES DISTRICTS TO EVALUATE EVERY TEACHER USING THE SAME CRITERIA; INDIVIDUAL VAM CALCULATIONS ARE ONLY POSSIBLE IN CERTAIN TESTED SUBJECTS AND GRADES, WHICH MEANS TEACHERS WOULD BE EVALUATED DIFFERENTLY DEPENDING ON WHAT THEY TEACH. SHOULD VAM CALCULATIONS IN EVALUATIONS BE MADE AT THE INDIVIDUAL TEACHER LEVEL OR AT THE CAMPUS LEVEL?
Wagner
: "Honestly, I think it should be a combination of both. Teachers need to collaborate. If it's just individual teachers then that creates an incentive to hoard all your best stuff for yourself and shut out the world. If it's entirely campus level then you promote teachers relying on other teachers to pull up the scores and there isn't incentive for pushing for individual growth. I think there needs to be a balance of both."
Diaz-Rivera Jr.
: "My personal belief is that the entire faculty should be accountable for the students' growth on the state assessments [using the same evaluation criteria for all teachers]."
Payne
: "I would like to save my opinion on this question until after the pilot year is completed and feedback from the pilot districts has been reviewed."
TEACH THE VOTE: WHAT ARE YOUR THOUGHTS ON USING STUDENT LEARNING OBJECTIVES (SLOs) TO MEASURE STUDENT GROWTH FOR TEACHER EVALUATIONS?
Wagner
: "There needs to be more exploration of SLOs. There is a possibility that SLOs will just turn into benchmarking every year for science, social studies and writing. SLOs do, however, provide a great option for non-tested subjects such as electives. SLOs should have the same weight as the VAM for non-tested areas."
Payne
: "In some disciplines SLOs might be hard to develop."
TEACH THE VOTE: SHOULD SELF-ASSESSMENTS BE PART OF A TEACHER'S EVALUATION?
Diaz-Rivera Jr.
: "As a profession, we must self-assess at every point in the lesson, unit, or semester. [The evaluation] should also consider whether the teacher actively seeks opportunities for professional development beyond the minimum requirements."
Wagner
: "Teacher self-assessment will be part of every post-conference and part of the appraisal system in general."
TEACH THE VOTE: SOME HAVE SUGGESTED USING STUDENT SURVEYS IN TEACHER EVALUATIONS. WHAT DO YOU THINK ABOUT THAT IDEA?
Wagner
: "This would be helpful to some degree. The problem would be with fidelity and implementation."
Payne
: "I use them regularly because I have found they are an effective way to gauge how your teaching practices are impacting student engagement, but I would not suggest including them in the teacher's appraisal."
Diaz-Rivera Jr.:
 "These should be used by the teacher to reflect [but not incorporated into the evaluation]."
TEACH THE VOTE: THE FEDERAL GOVERNMENT IS REQUIRING STUDENT GROWTH TO MAKE UP A "SIGNIFICANT" PORTION OF A TEACHER'S EVALUATION, BUT THERE IS NO LEGAL OR STANDARD DEFINITION OF "SIGNIFICANT." WHAT PERCENTAGE SHOULD BE ASSIGNED TO THE STUDENT GROWTH COMPONENT OF THE EVALUATION, AND WHAT ABOUT THE OTHER COMPONENTS?
Diaz-Rivera Jr.
: "I believe that student growth should account for 20-33 percent of the appraisal. … I would say that 50 percent of the [appraisal] should be based on observations."
Payne
: "Somewhere between 20–33 percent [should be based on student growth], but only if we are genuinely able to document that student growth is a true measure of a teacher's effectiveness. By dedicating no more than 20 percent of the overall process to student growth, the remainder of the process should be left to observation, self-assessment and professional responsibility. I would suggest that the overall weights might be:
Student growth: 20 percent
Self-assessment: 20 percent
Professional responsibility (professional development, pre-observation conference, post-observation conference, connection with parents, colleagues and the greater school or professional community): 20 percent
Observation (announced and unannounced) 40 percent
Within the observation itself, I would suggest that instruction should command the heaviest weight followed by planning and finally by the learning environment. The committee looked at a model that was similar to this and, in fact, discussed at length what these percentages might look like. The group was almost perfectly split 50/50 with the division being related to the student growth element. The question was should student growth be 20 percent or 33 percent of the total appraisal process? I suggested that we begin with the pilot group at 20 percent student growth and based on feedback from the pilot group decide if the student growth element is a positive measure of teacher effectiveness and raise it to 33 percent."
Wagner
: "[The percentage of student growth that the federal government would consider to be 'significant' for evaluation purposes] was a question addressed by the committee and clarification was sought. The Department of Education returned with 20 percent as a minimum. [I believe student growth in the new system] will be set at 33 percent. It's difficult to say if this is too much or too little without more information about how this will work for Texas. … If VAM is being used, then that 33 percent should be split. I'm not sure what the best percentage split would be best, but it should probably be equally divided between individual and campus level [VAM calculations]. …You certainly don't want to underemphasize one portion. If it's a one shot style evaluation like PDAS is now, then [the weight of observations] should be minimal. If it's multiple, unannounced, observations with post conferences that provide meaningful feedback, then that provides a much clearer picture of what the teacher is actually capable of. We would avoid a 'dog and pony show' in that kind of setup."
---
NEXT: Read Part III of the evaluation steering committee interview.
06/02/2023
The HB 100 voucher scheme dies at the end of regular session, plus a special session and the TEA takeover of Houston ISD begin.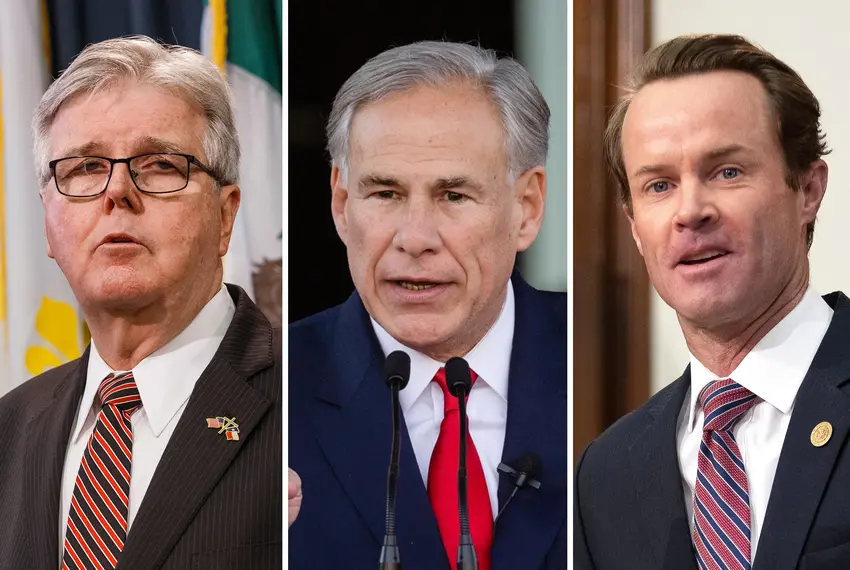 06/01/2023
Always happy to castigate the Texas House, Patrick breaks form to criticize the governor as misinformed and unsympathetic toward homeowners.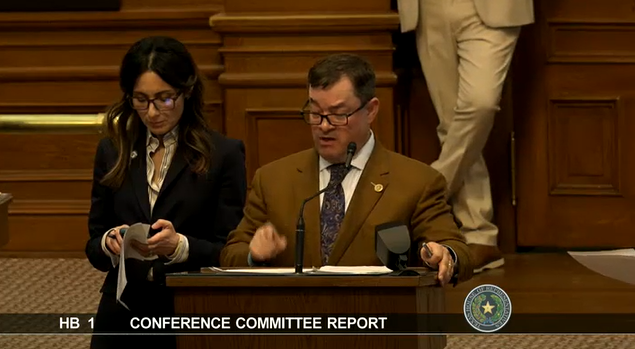 School Finance, Retirement | TRS | Social Security, Texas Legislature, Privatization | Vouchers, Educator Compensation | Benefits
05/30/2023
HB 100 was a casualty of a breakdown in communications between the House and Senate as the regular session drew to a close.