House Public Education Committee hears Senate bills on virtual schools, school safety

Teach the Vote
Texas Legislature
Date Posted: 5/07/2019 | Author: Andrea Chevalier
On Tuesday, May 7, 2019, the House Public Education Committee heard seven Senate bills on a variety of topics.
ATPE supported several of these bills, including the following:
SB 11 (Taylor, R-Friendswood): Would require several provisions intended to increase school safety, including TEA-developed facilities standards, mental health and substance use resources, safety training, improved coordination with the Texas School Safety Center, digital citizenship, threat assessment teams and threat reporting, and district-developed trauma-informed care policies.
SB 2042 (Fallon, R-Prosper): Would require TEA to study, evaluate, and report on current industry certifications, certificates being offered, workforce needs and any unmet needs, by each geographic region in Texas.
SB 2073 (Taylor, R-Friendswood): Would allow districts providing less than 180 days of student instruction during the school year to reduce the educators' required days of service in proportion without reducing an educator's salary. This is to address the state's shift to minutes, rather than days, of instruction.
ATPE provided written testimony on SB 1455 by Sen. Larry Taylor (R-Friendswood). ATPE believes that the bill as it left the Senate would greatly expand virtual schools, which is problematic because a growing body of evidence indicates full-time virtual school programs are a poor substitute for brick-and-mortar classrooms. Students enrolled in full-time virtual schools regularly underperform their peers enrolled in traditional classroom settings, as indicated by the multiple Improvement Required (IR) designations. Read our written testimony here.
ATPE Senior Lobbyist Monty Exter testifies neutrally on a proposed committee substitute for SB 1455 in the House Public Education Committee, May 7, 2019.
Rep. Ken King (R-Canadian) laid out a newer version of SB 1455 in committee this morning, stating substantive changes to eliminate the portions of the bill that he believes constitute a virtual voucher while maintaining the increased accountability for virtual school providers. ATPE Senior Lobbyist Monty Exter testified neutrally due to these changes in the proposed substitute bill. Exter explained that ATPE supports accountability standards for virtual schools that eliminate bad actors but is opposed to the expansion of virtual schools due to a significant amount of research on their limited effectiveness in promoting student learning.
The following bills were also heard by the Committee:
SB 1453 (Taylor, R-Friendswood): Would require school districts to allow students who are enrolled in courses requiring the use of a graphing calculator to use calculator applications on their phones or other devices.
SB 1776 (Campbell, R-New Braunfels): Would allow school district boards of trustees to permit and encourage schools to post the founding documents of the United States and would also require districts to provide a high school elective course on the founding principles of the United States.
SB 2180 (Nelson, R-Flower Mound): Would require the State Board of Education (SBOE) to create Texas Essential Knowledge and Skills (TEKS) that include coding, computer programming, computational thinking, and cybersecurity. Would also require TEA to create a computer science advisory committee to develop and provide recommendations for increasing computer science instruction and participation in public schools.
Chairman Huberty noted that the committee will vote on bills this afternoon. Based on tradition and previous statements from the chair, the House Public Education Committee will likely meet again next Tuesday, May 14, 2019, at 8 A.M.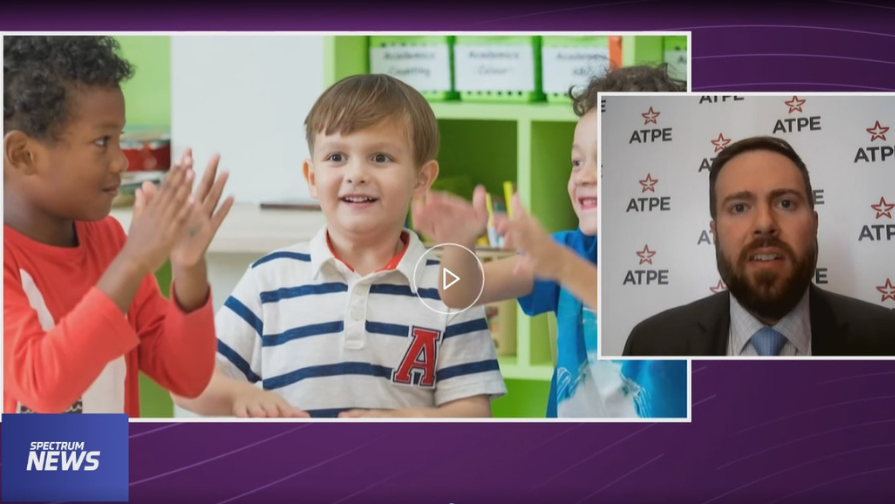 01/27/2023
Teacher pay and voucher bills are generating media attention, and Texas senators received their committee assignments this week.
Texas Legislature
01/23/2023
Texas Lt. Gov. Dan Patrick (R) announced Senate committee assignments Monday for the 2023 legislative session.
01/20/2023
Texas state leaders were inaugurated this week and previewed their priorities for the legislative session now underway. Read more from the ATPE lobby team.