Senate Education Committee takes up school finance bills

Teach the Vote
School Finance Texas Legislature
Date Posted: 4/25/2019 | Author: Mark Wiggins
After a long wait and repeated delays, the Senate Education Committee is hearing school finance reform legislation today, Thursday, April 25. Chairman Larry Taylor (R-Friendswood) laid out committee substitutes for the Senate's school finance bill, Senate Bill (SB) 4, and the school finance finance bill passed by the House, House Bill (HB) 3 this morning. The Senate's proposed substitute language is the same for each bill, and the committee is hearing testimony on both simultaneously.
Below are highlights of some of the main points of the Senate's version of HB 3/SB 4:
EDUCATION
Would expand free pre-K eligibility to teachers' children.
Would grant full-time teachers and librarians a $5,000 pay raise for the 2019-20 school year, and create an allotment to provide related funding to school districts for salaries of teachers and librarians.
Would institute a merit pay program by creating recognized, exemplary, and master teacher designations. The program would require districts to adopt new teacher evaluation criteria to be approved by the commissioner of education for purposes of ranking all teachers and determining which ones might qualify for additional incentive pay. The bill states that districts and the commissioner may not rely "solely" on students' standardized test results in making those determinations. However, ATPE believes that criteria for the distinctions and awards would still be based largely upon STAAR test results in order to facilitate statewide comparisons of teachers. School districts would be required to share all their teachers' evaluations with the Texas Education Agency.
Would create outcomes-based funding by which districts may receive additional funding based upon third grade reading STAAR test results and college, career, or military readiness indicators. This could increase the high-stakes emphasis on student testing and adversely affect funding for struggling schools that are in the greatest need of additional resources.
Would call for a study of education cost drivers and geographic differences in education costs.
Would create early reading funding for grades K-3 or full-day pre-K.
Would create additional funding for dyslexia, dual language, and blended learning programs.
Would require that high school students complete a free application for federal student aid (FAFSA) in order to graduate.
Would break the STAAR test into smaller tests and prohibit testing on a Monday.
Would create a campus turnaround plan as proposed in SB 1412, which includes incentive pay. Under this plan, teachers would be incentivized to work at campuses with higher needs, although there would likely be a student testing component. The plan also requires contracting with a third-party vendor.
SCHOOL FUNDING
Would increase the basic allotment to $5,880 from $5,140, but eliminates the adjusted basic alloment.
Would increase compensatory education funding and would fund based upon a spectrum that acknowledges students' varying degrees of economic disadvantage.
Would switch to tax collections based on current year property values.
Would repeal certain formulas, such as the cost of education index (CEI) and high school allotment, and roll them into the basic allotment.
Would attempt to ensure that recapture does not reduce school district budgets.
Would base transportation funding on mileage, but without setting a minimum rate.
Would require charter schools to pay into the Teacher Retirement System (TRS).
PROPERTY TAX
Would increase the homestead exemption by $15k to $40k contingent upon voter approval of a one cent sales tax increase, bringing the overall sales tax to the nation's highest at 9.25 percent.
During this morning's explanation of the bill and early testimony by Commissioner Mike Morath and other TEA staff, Sen. Paul Bettencourt (R-Houston) voiced "grave concerns" with the portion of the bill that makes property tax relief through an increase in the homestead exemption contingent upon Texas voters approving a sales tax increase. Sen. Bettencourt, who chairs the Senate Property Tax Relief Committee, argued that such a tax swap would not be neutral, and he suggested alternatives such as expanding the tax base to online sales.
SENATE VS. HOUSE
Senate Education Committee meeting April 25, 2019.
The version of the school finance bill discussed Thursday differs from the version of HB 3 that the House passed by a nearly unanimous vote. The new Senate version brings back outcomes-based funding and the merit pay provisions that ATPE opposed and House members wisely stripped out of HB 3. The Senate version increases the basic allotment to $5,880 versus $6,030 in the House version. The Senate version of HB 3/SB 4 includes a $5,000 pay raise for teachers and librarians, but the Senate proposal currently includes no language to ensure that the educators receive those raises in future years (unlike SB 3 that the Senate passed earlier this session). The property tax relief proposed in the Senate school finance bill includes an increase to the homestead exemption that is contingent upon a sales tax swap, while the House version does not offer an increase to the homestead exemption.
Both the Senate and House versions include additional funding for dyslexia, dual language, and blended learning programs. Both would increase compensatory education funding and would fund based upon a spectrum that acknowledges varying degrees of economic disadvantage. Both versions would base transportation funding on mileage and repeal outdated formulas, such as the cost of education index (CEI) and high school allotment, and roll them into the basic allotment.
The Senate Education Committee will be hearing public testimony on the bill throughout the day. Chairman Taylor indicated that the committee most likely will vote on the bill later next week. Stay tuned to Teach the Vote and follow us on Twitter for updates as the school finance hearing continues today and additional witnesses provide testimony, including ATPE.
12/02/2022
It's December! As ATPE gears up to fight for public education in the Texas legislative session starting next month, we're also pushing Congress to pass an important bill before its session ends.
Retirement | TRS | Social Security, Congress | Federal
12/02/2022
ATPE and retiree groups are urging Congressional leaders to complete negotiations by the end of 2022 on a deal to fix the Windfall Elimination Provision.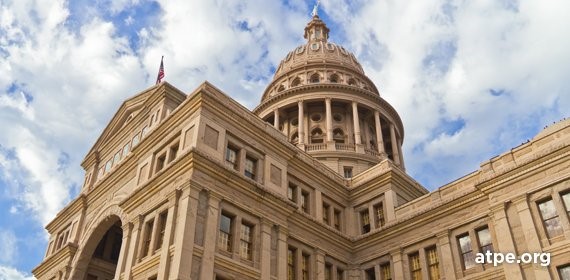 School Finance, Educator Preparation | Certification, Texas Legislature, Curriculum | Instruction, Privatization | Vouchers
12/01/2022
The Texas Commission on Virtual Education met Wednesday to discuss a draft of the commission's findings and recommendations for the 2023 legislative session.